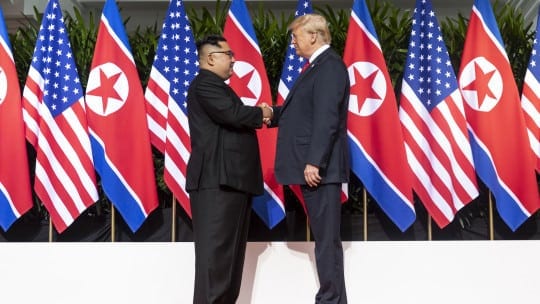 Video has become an essential communications tool across all walks of life—including, it would seem, international diplomacy.
At the June 12 meeting in Singapore between President Trump and North Korean leader Kim Jong Un, Trump showed Kim and a group of reporters a video in the style of a dramatic movie trailer. The narrative painted the two politicians as Hollywood film protagonists who hold the fate of the world in their hands.
The video is about four minutes long, and was shared with members of the international press during a press conference Trump gave after the meeting.
In the trailer, which makes ample use of stock footage, an offscreen narrator offers Kim the option to give up his nuclear weapons so that North Korea can end its isolation and reap the benefits of the rest of the world's technological advances.
If Kim does not do so, the trailer suggests that North Korea will become (or stay) a dystopia. Black-and-white footage of a war-torn country with distressed citizens is contrasted with color images of what appears to be a built-up North Korea with skyscrapers and condos (not to mention missiles reversing their trajectory).
In a White House transcript of the press conference, Trump claimed about the film that Kim "loved it," and the two signed a joint statement promising the "complete denuclearization" of the Korean Peninsula (but without any firm deadlines or details attached).
Though the outcome of the summit cannot yet be known, the trailer and its subsequent news cycle takeover affirms video's power as a messaging vehicle—even though, for many, the trailer carried shades of newsreel-era propaganda.
The New York Times is following suit in the format of its coverage of the video: The Times' video team released a "more honest makeover" of the tape on its Opinion page. And whether in parody or in earnest, both videos pack a greater punch than sound bites or still photographs alone as they match millions of viewers' media consumption habits, shot for shot.