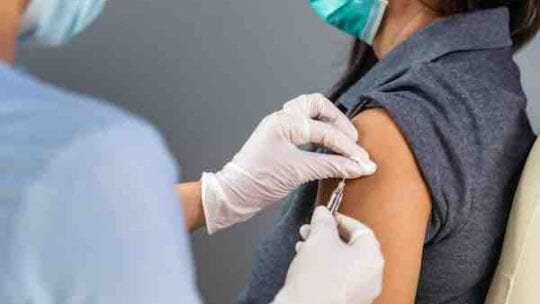 Media reports say President Biden's vaccine mandate for companies with 100+ employees could be finalized as soon as next week. While organizations and employees wait for implementation guidance from Washington, as well as the outcome of inevitable court challenges, communicators should be prepared.
If you haven't done so already, establish a framework for employee communication. Let staff know what's ahead, where they can go for additional information and when the mandate may begin. Doing this prior to the mandate's implementation can help build trust with employees. Moreover, it will diminish some negative consequences related to uncertainty and lack of information.
At this moment, health and safety should be a company's top priority related to the vaccine mandate. Emphasize it in internal messaging. The framework, as it relates to how and why the company is implementing a mandate, ensures an employee-centric value system is guiding the organization.
Language to Use
On a tactical level, use phrases like:
our primary focus is on providing a safe working environment for all employees...
to ensure we are doing our part to protect the health of those around us... or
we all want to get back to normal as soon as possible...
These phrases place implementation decisions within a broader context.
In addition, before the mandate starts, PR should work with company leadership on prioritizing and communicating a carrot approach to drive employee vaccination. In addition, prepare contingency messages for if/when it becomes necessary to shift to the stick.
Understand that unvaccinated employees likely have strong views on the issue. Here, communicators must reiterate the organization's priorities, ie, keeping employees safe and healthy while retaining the workforce.
HR Coordination
For unvaccinated employees, work with HR to communicate encouragement and engagement. For example, design an incentive system that considers vaccine-hesitant employees' perceptions. Think about how the organization can help them address or overcome their ideas, while remaining within the corporate structure and culture.
Last, to address potential staffing challenges, communicators should strategize if the aforementioned methods fail. Developing contingency plans and supporting recruiting with brand-focused messages and activities will serve as a failsafe against potential employee backlash, termination or resignation.
If you haven't already, collaborate now with HR. Conduct rapid risk assessments. Understand staffing levels and potential area(s) of concern as the mandate is implemented.
Based on this collaboration, establish clear internal messaging channels with HR. These channels will ensure results of the risk assessment are addressed appropriately, whether it be adjusting recruitment messaging or setting new expectations for current employees.
It is an incredibly competitive job market. While many employees may express reservations, or look to identify jobs that do not require vaccination, it remains to be seen how many will follow through on those concerns.
Regardless, communicators need to highlight areas of vulnerability to company leaders and have a plan to quickly address staff resourcing issues if needed.
Above all, establish regular, transparent communication, which includes executives speaking directly to employees. This will set the tone and offer a rationale for decisions. In addition, craft frequent updates and offer opportunities for employees to ask questions of and provide feedback to managers and HR staff.
Andrew Moyer is EVP & GM, Reputation Partners