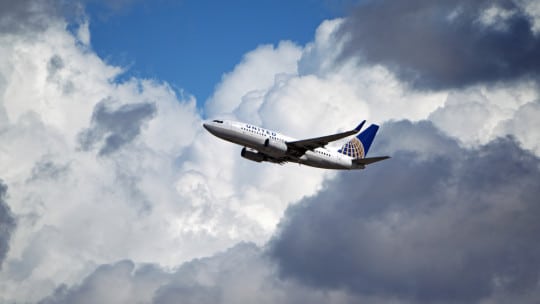 On March 26, a United Airlines gate agent barred two teenage girls and a child from boarding a Minneapolis-bound flight at Denver International Airport, citing a dress code violation. The teenagers, who were wearing spandex leggings, were banned from the flight altogether; the child was allowed to board with her family after changing into a dress.
One of the other passengers on the flight, Shannon Watts, founder of anti-gun violence advocacy group Moms Demand, live-tweeted the episode, voicing her protests against what, she argued, is a sexist policy to thousands of followers. Watts' tweets sparked a wave of Twitter ire around what some are calling United's double standard around women's wardrobe choices, as well as a #BoycottUnited hashtag. Watts has since been retweeted thousands of times and later penned a Medium article criticizing United for sexualizing young girls.
A 10-year-old girl in gray leggings. She looked normal and appropriate. Apparently @united is policing the clothing of women and girls. https://t.co/RKsIFoE8pq

— Shannon Watts (@shannonrwatts) March 26, 2017
While many brands might see a Twitter storm as reason enough to back down, United stood by its policy, tweeting back at Watts and other critics and pinning a statement to the company Twitter page that clarified United's no-leggings policy as exclusive to "pass-riders" (those traveling at a discounted rate) only, and not a regulation imposed on its regular customers. The policy, United said, is meant to ensure its discounted fliers act as "representatives of United," and as such, stay in compliance with company dress code.
Whatever one's stance is regarding United's decision to uphold its dress code policy, one thing is clear: United's response has been swift and consistent across channels. Responding and listening in a crisis, though, are two very different—and sometime disconnected—things.
Follow Sophie: @SophieMaerowitz