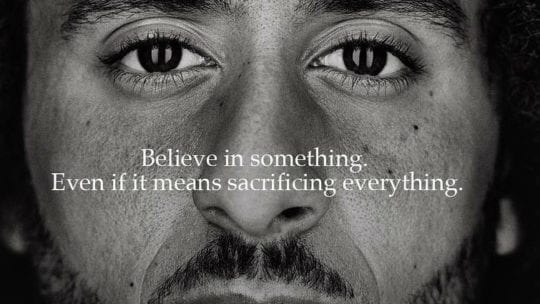 Brands taking a position on social or political issues has been all the rage, especially after Nike shook up marketing and dominated headlines by making Colin Kaepernick the face of the brand. Now new Unilever chief executive Alan Jope is taking things to the next level. In his vision for the gigantic company's marketing department, and the products it sells, he said the business will "dispose" of any brands that lack purposeful messaging.
At Cannes Lions, he also lamented a trend of brands hitching their wagons to popular causes, but only in words—not action. He called this "woke-washing."
"It's polluting purpose" he said. "It's putting in peril the very thing which offers us the opportunity to help tackle many of the world's issues. What's more, it threatens to further destroy trust in our industry, when it's already in short supply," The Drum reported.
What does it mean that he is forcing his brands to align with a purpose and position?
The company is working with Kantar to measure consumer perceptions around how Unilever brands are achieving their purpose-driven goals. Jope says those not living up to the company's high standards set are likely to be sold. He noted brands will have time to adjust and determine where they should align their missions.
This tracks with research showing that consumers want brands to take stands on issues and use their power to help change the world. WE Communications partnered with Quartz earlier this year on a study that showed just how important purpose is, and will be in the future. "Purpose is not a short-term, feel-good effort," WE Communications global CEO/founder Melissa Waggener Zorkin said in an article she wrote for PRNEWS. She noted that 73 percent of respondents think a long-term purpose strategy will become as important as an organization's financial performance.
And what's more, 74 percent of the leaders surveyed believe customers will walk away from brands that don't share their values. "That's an industry-agnostic wakeup call," Zorkin wrote. "If you're not developing how to authentically put purpose into action, get cracking."
So are Jope's strong public statements and threat to cull brands a shot across marketing's bow? Will the rest of the industry follow suit, making sure they're "walking the talk" when they take a controversial position?
If so, it would be a significant shift. Many brands display their purpose on a pedestal. Some make promises that time demonstrates are empty.
Take, for example, Facebook. The company and its CEO Mark Zuckerberg declared it would be a beacon of transparency, with a mission and vision to connect the world. Most would agree that this goal was achieved. But in doing so, an alternative motive emerged, as Facebook gathered and sold its customer data. And when that was discovered, Facebook did not take responsibility for its actions, but tried to conceal and deny them. Then came the NY Times' 5,600-word exposé detailing alleged nefarious lobbying and PR activities. This was in direct opposition to the brand's positioning and damaged the public's trust in social media as a whole. What happened to the brand's altruism?
If Jope follows through on his threat to oust brands that don't have a strong purpose and mission beyond selling their products, it will set a new bar for other brands. But two questions remain: Will other brands follow this example? And in the end, will consumers demand it? Time will tell.