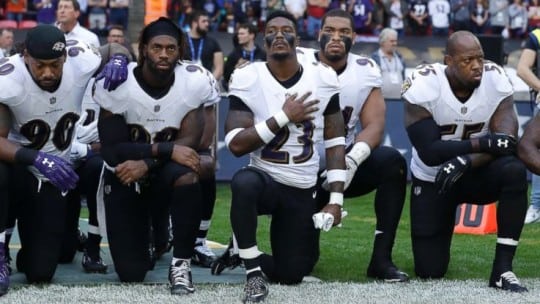 For President Donald Trump, it's par for the course to attack a brand, thus forcing it to decide whether to ignore, acquiesce or resist. But his remarks on Friday, Sept. 22, that ballooned over the weekend into a national controversy didn't target just any brand with a centralized communications department and carefully crafted messaging: They targeted the NFL, a brand whose employees are millionaire celebrities with huge followings in their own right.
It all started Sept. 22 at a campaign rally in Huntsville, Ala., for Luther Strange, Republican candidate for Senate, where Trump said, "Wouldn't you love to see one of these NFL owners, when somebody disrespects our flag, to say, 'Get that son of a bitch off the field right now, out. He's fired. He's fired!" The reference was most likely to Colin Kaepernick, who as quarterback for the San Francisco 49ers would take a knee instead of standing during the playing of the national anthem, a silent protest against the oppression of people of color in the U.S.
The NFL and the NFL Players Association had a challenging task in representing the diverse opinions of their stakeholders. Ultimately both the league and the NFL Players Association defended players' right to express their views without fear of reprisal. NFL Commissioner Roger Goodell said in a statement, "Divisive comments like [Trump's] demonstrate an unfortunate lack of respect for the NFL, our great game and all of our players, and a failure to understand the overwhelming force for good our clubs and players represent in our communities." NFLPA executive director DeMaurice Smith's statement read in part, "No man or woman should ever have to choose a job that forces them to surrender their rights…We understand that our job as a union is not to win a popularity contest and it comes with a duty to protect the rights of our members. For that we make no apologies and never will." George Atallah, assistant executive director of external affairs for the NFL Players Association, was unavailable for comment.
The NFL also ran an ad with an inspirational message of unity during Sunday Night Football. The ad had originally been produced for Super Bowl LI:
There was also pressure on NFL players to decide what to do: Those who played over the weekend would be on national television as they either stood during the national anthem or knelt in solidarity with Kaepernick. As it turned out, there was a third option: The Pittsburgh Steelers opted to remain in the locker room, with the exception of former Army Ranger Alejandro Villanueva.
But there was widespread kneeling in games over the weekend from more than 150 players across the NFL. Perhaps most notably, NFL figures who are or were affiliated with Trump pushed back against him on the issue:
New England Patriots QB Tom Brady, who has described Trump as a friend, disagreed with his remarks in a radio interview, saying "I thought it was just divisive."
Patriots owner Robert Kraft, who gave Trump a Super Bowl ring, also said he supported players' right to protest. "I am deeply disappointed by the tone of the comments made by the president," Kraft said.
Former Buffalo Bills coach Rex Ryan, who supported Trump during the campaign and introduced him at a rally, said he was "pissed off": "I'm reading these comments and it's appalling to me and I'm sure it's appalling to almost any citizen in our country. It should be."
Houston Texans owner Bob McNair, who donated $1 million to Trump's inaugural committee, said, "The comments made by the president were divisive and counterproductive to what our country needs right now."
Follow Ian on Twitter: @ianwright0101