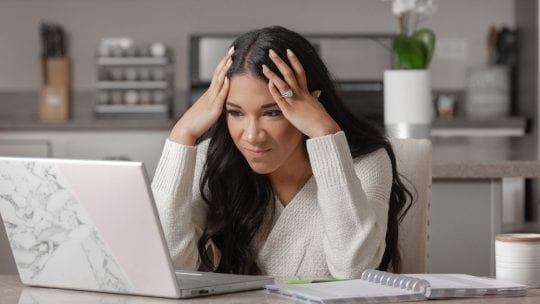 On June 2, former U.S. President Donald Trump's blog, "From the Desk of Donald J. Trump," disappeared from its website, replaced by a sign-up page to "receive EXCLUSIVE updates."
Trump advisors told The New York Times that the decision to shutter the blog, launched only a month prior, was merely a pivot to a new social platform (surely not Facebook or Twitter, which have upheld their suspension of Trump's accounts).
Although Trump and his circle have not conceded that the blog shuttered due to low readership, the numbers show otherwise.
Last month The Washington Post reported dismal numbers, noting that the website housing the blog "attracted fewer estimated visitors than the pet-adoption service Petfinder and the recipe site Delish." The article added that Trump's social media engagement has fallen 95 percent since January.
While some reporters may be a mite gleeful about the former president's low engagement in a post-Trump tweet news cycle era, many communicators have felt the sting of taking the time to launch a blog for an executive or brand, only to have it flop.
So, what are some ways PR pros can help ensure their blogging efforts don't go the way of the dinosaur? PRNEWS checked in with some experts.
Make sure there's search intent before you post
In their "WTF is SEO" newsletter, an SEO tips publication targeted to publishers, search pros Shelby Blackley and Jessie Wilms write about the importance of search intent, or the 'why' driving a Google query. Intent is "widely considered" a ranking factor, they write.
That means that if you're covering a topic that few people are searching for—say, a story boasting about your company's achievements, when your potential readers are seeking to solve a problem relevant to the brand's offering—you've lost a chance at ranking on the first page of search results.
Evidently, few were searching for answers vis a vis Trump's blog, or the keywords the blog used did not adequately match their queries in search. Setting Google Alerts for relevant terms can help publishers land on ideal topics, Blackley and Wilms write.
Listen and learn
Another great way to find a topic that will resonate is through smart social listening, says Sabrina Merritt, founder and CEO of October Social Media. "If a lot of people are talking about your topic online, you know there is a built-in interest," she notes. Merritt recommends tools such as Sprout Social, Mention or Union Metrics to track keywords that relate to, and help you narrow down, blog topics.
For tight budgets, "you can also do hashtag searches on Twitter and Instagram to get a sense of popular blog topics if you know your target audience frequents these platforms and you're not ready to pay for social listening software," she advises. Merritt also recommends checking the Amazon Best Sellers list to pinpoint topics that are resonating in your industry, as well as Reddit to "get really specific in searching threads that speak to your target audience."
Interaction matters
In a post to his blog "Without Bullsh*t," Josh Bernoff writes that a key failing of Trump's effort was not the content itself, but the lack of audience interaction. Without a Comments section, Trump's blog posts were a one-way megaphone with little opportunity for engagement. At this point, it is fair to say the era of "push marketing" is long gone.
Separate from social
Perhaps Trump's biggest misstep was expecting the same-sized footprint as his erstwhile Twitter presence. "A blog is not social media. They are two different tools in the digital communicator's tool kit," says Jim Nickerson, lead instructor of digital marketing at General Assembly.
"Smart digital communicators use blogs in addition to, not instead of, social media," he says. That might mean using a blog as a "digital journal" with little mind to building brand awareness, but that doesn't mean communicators should ignore search optimization.
"Writing for SEO...making sure all the analytics are connected behind your good words...that makes all the difference," Nickerson adds.
Play the long game
Shutting down his blog 30 days after launch indicates an underestimation of the time it takes to build an audience on a new channel, says Justin Buchbinder, social media director at FINN Partners. "Launching blogs, especially today, is a war, not a battle. You're playing the long game," Buchbinder argues. If you are impatient, and seeking immediate traffic, blogging "is not the place for you."
Long-term consistency in cadence is crucial. That means regularly posting content that "speaks to trends and what your audience is looking for (both informed by research), and over time it will grow." Buchbinder recommends visiting marketing and search expert Neil Patel's blog for inspiration.
Be aware of late pandemic trends
"Post-pandemic, it'll be very interesting to see what happens to the trends around tourism, travel and luxuries. These areas were hit extremely hard, but there's already an increase in people searching where to travel after COVID-19," notes "WTF is SEO" co-writer Blackley. She thinks there will be "more bottom-of-the-funnel terms that result in people paying immediately for excursions they missed out on, or looking for the safest places for their families to spend a day." It stands to reason that a blog recommending bargain travel locations or tourist attractions would perform well as we head into summer.
"People have spent a lot of time inside over the past year. This is their time to go where they want, and search trends will heavily reflect that," Blackley adds.
Sophie Maerowitz is senior content manager for PRNEWS. Follow her @SophieMaerowitz.