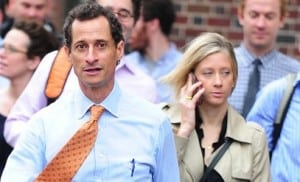 If Anthony Weiner thought his campaign woes couldn't get any worse, then Barbara Morgan has probably changed his mind. Morgan is Weiner's communications director and yesterday she responded to a former intern's tell-all article in the Daily News with a barrage of insults and obscenities, which adds yet another layer of outlandish behavior to Weiner's mayoral campaign.
The upside for Weiner is that Morgan's interview with TPM has temporarily shifted the focus away from his sex scandal. However, the downside is that Morgan's interview stoked a fire that is already raging.
It's difficult to summarize Morgan's character assessment of the former campaign intern, Olivia Nuzzi, because entirely too many expletives would have to be deleted. But the G-rated version is that Morgan was upset by Nuzzi's article; she thinks Nuzzi has questionable character attributes and believes that her job performance was lackluster. Perhaps if Morgan stated things that way she wouldn't be in such hot water today.
Instead, Morgan spouted vile insults to a reporter, transitioned her sentences with the word "like" more than is ever necessary; made empty threats and presented herself much like a teenager who is mad at her parents for taking away the keys to the family car.
Her discourse was spontaneous and from the gut, and that is precisely the problem. As a communications director, Morgan should have presented a carefully prepared statement and attempted to reframe the story. Campaign leaks like Nuzzi's are commonplace in politics, so it is hard to imagine that Morgan could be surprised by the Daily News piece, especially in light of Weiner's torrid past and recent scandal.
Morgan did offer an apology Tuesday night, just as the story was screaming across social media channels. Part of that apology included a claim that she believed she was off the record—a naïve assertion that was humorously embraced by many in the Twitterverse. A communicator should know that he or she is always on the record, and act (and speak) accordingly.

Morgan said that she was "wrong" and "very sorry," and mentioned that she reached out to Nuzzi to apologize. Taking ownership is important in a crisis situation, and a heartfelt apology can go a long way. Still, Morgan could have avoided the dust-up had she followed the basic principals of media relations. Instead, she displayed a shocking level of unprofessionalism, providing PR professionals and communicators with a valuable lesson on what not to do.
Follow Caysey Welton: @CayseyW