More than one year into the pandemic, are audiences ready for a return to more playful messaging from brands?
That was the question of the week leading up to April Fools' Day.
Finn Partners' social media director Justin Buchbinder thinks we are ready for levity. "While the world is still a scary, sad, and difficult place, I absolutely believe that we can appreciate a good laugh—even if just for today," he says.
Noting that April Fools' Day is a longstanding digital tradition, Buchbinder argues "it's the closest social media comes to a true holiday." That's saying a lot, given myriad 'social media holidays' that often amount to here today, gone tomorrow hashtag frenzies for brands and consumers.
Volkswagen fails to electrify the media
For Volkswagen, the temptation to entertain overshadowed a full consideration of reputation risk.
In a move that may have reminded some of iHop's iHob or Buffalo Wild Wings' Boneless Thugs-N-Harmony name-changing stunts, Volkswagen issued a release March 29 saying it was changing its name to Voltswagen in the U.S., a nod to its upcoming electric model.
As questions began to swirl around whether or not the company was serious about the name change, the brand put out a fuller version of the press release the next morning (March 30) in response to incredulous social media posters and journalists. Hours later, the release was pulled and Volkswagen issued a follow-up statement that the name change was "in the spirit of April Fool's Day."
The press was quick to pounce. As Bloomberg's Gabrielle Coppola and Christoph Rauwald point out, the car brand is working to establish itself as a leader in the electric vehicle space and "distance itself from a disastrous diesel-emissions scandal." By over-hyping its electric offering in a humorous way, the car brand drew fire instead of accolades, reopening old wounds from its history of emissions-related falsehoods.
However, the issue may have simply been one of timing, says Buchbinder. "Yes, the Volkswagen plot backfired, but in my opinion that's only because it didn't happen on April 1. It actually fooled people, especially the media, and nobody was here for that."
Perhaps Volkswagen was attempting to get ahead of the flood of April Fools' pitches that journalists have received this week. Maybe the brand's marketing team failed to anticipate the U.S. media's long memory of scandals past. In any case, the brand may have to repair some trust before it surpasses Tesla for most-talked-about electric vehicle stateside.
Timely toilet jokes ruled the day
Americans love a good potty joke. After 2020's toilet paper shortage (and a potential repeat this year as a result of the Suez Canal blockage) bathroom-oriented April Fool's campaigns are clogging up inboxes and social media feeds alike.
The PRNEWS team received several toilet-related pitches this week on behalf of bidet maker Tushy and toilet repair company Fluidmaster (if you're not mid-meal as you read this, check the Emergency Wiping Rock microsite).
Microsites were indeed in full sup-"ply" this year. Language teaching app Duolingo flooded feeds with a link to its Duolingo Roll: toilet paper featuring educational non sequiturs in multiple languages. Along with ample puns, colorful mockups and infographics, Duolingo's April Fool's site included a sound bite reminiscent of many a PR pitch.
"The average human spends 14 minutes every day sitting on a toilet. Yet, our work shows that it only takes 5 minutes a day to learn a new language. Our learning scientists have systematically engineered a new bottom-up approach to language acquisition."

— Dr. Suzanne Diamond
Evidently, the brand had some IRL products manufactured—CNET reports the company produced printed rolls for English, Spanish, Portuguese, Japanese and Chinese speakers and plans a giveaway on social media.
Meanwhile, Sour Patch Kids ran a highly participatory prank contest on TikTok (their pitch was smart to include safety disclaimers, given TikTokers' history of dangerous "challenges"), promoting it with yet another gag of the toilet variety.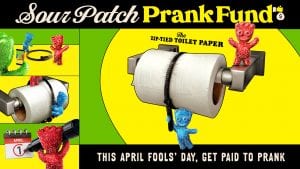 Other brand pranks that made it into trade publication and mainstream April Fool's roundups without raising too many eyebrows included Green Giant's cauliflower-flavored Peeps and a faux Velveeta skincare line.
Truth or dare (to fib)
Volkswagen's gaffe doesn't necessarily signal that every brand should sit out this year, says Buchbinder, even though journalists like The Verge's Chaim Gartenberg would like to see a complete moratorium on April Fool's campaigns. Nor does it mean that brands must keep it serious this year, as with T-Mobile's earnest #GiveThanksNotPranks fundraiser.
Communicators might do well to remember what the holiday is about at its core: on one day each year, and one day only, it's OK to fib, Buchbinder says. "April Fools' Day is great because it's a silent agreement between the foolers and the fooled: Today there can jokes and lies, and we will allow it. That's what makes it fun."
Far from grumbling, Buchbinder enjoyed checking his social media feeds this morning to see who fooled him most. "The one that got me the best? SocialBakers announcing that Instagram was now allowing clickable links in captions. Alas, maybe some day!"
Instagram's announced they're planning to add clickable links in post captions 🚨

Read all about it: https://t.co/0XzDNFId3K pic.twitter.com/rvupm8ROwj

— Socialbakers (@socialbakers) April 1, 2021
Sophie is senior content manager at PRNEWS and The Social Shake-Up. Follow her @SophieMaerowitz