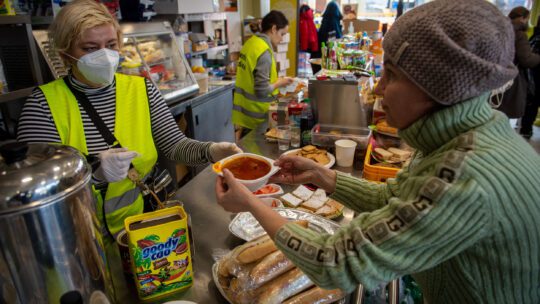 [Editor's Note: Find a version of this essay here.]
Apart from heeding government sanctions, companies and organizations must decide whether and, if so, how to take a stand on Russia's invasion of Ukraine in words and deeds. Any action—or inaction—can influence corporate reputation.
As we've seen, the number of international companies suspending operations or divesting assets in Russia continues growing. In addition, companies are donating and making special offers to help during this humanitarian crisis.
Consumer Support
At the moment, polls show broad US consumer support for these moves. Morning Consult's February 26-27 survey shows 75 percent of US adults support brands cutting business ties with Russia and/or stopping sales of products and services.
Research offers an idea of how corporate initiatives related to social and political causes might influence consumer purchases. A 2019 survey in 64 global markets shows that many consumers moved to brands that support a social cause that they believe in. Yet there are wide geographic differences, ranging from 85 percent in Vietnam to 48 percent among US consumers.
On the other hand, the share of consumers who abandoned brands because of their support for a social causes they disagreed with tended to be smaller.
In addition, not all issues are equal in consumers' minds, 2021 research shows. For example, US consumers are more likely to buy a brand that provides information on its efforts around fair pricing or labor conditions than on climate change.
Considerations Before Acting
By ceasing business with Russian entities, companies are reacting to employees, customers, sports fans, investors and other stakeholders.
Yet actions taken under time pressure during any situation can have long-term implications for reputation and management. Here are six considerations to help communicators and companies define, communicate and measure corporate responses to Ukraine and similar pressing issues:
1. Adopt a decision framework in advance
Deciding whether and how to respond to current events, including humanitarian crises, is much easier when you have a playbook that lays out a process and decision criteria.
2. Communicate promptly, regularly and consistently
Things move fast during a crisis. Prepare communication teams for quick response and regular cadence. Explain actions to multiple stakeholders, including employees, customers, investors and the community at large. Ideally, tie corporate action to company values and brand DNA. Even if communication channels, format and frequency vary, messaging should be consistent.
3. Be specific about commitments
This will help the company set expectations. For example, some mobile services providers are offering free calls to and from Ukraine for a specific period. This can help to preempt disappointment due to ambiguity.
4. Have a long-term plan
Even actions decided under time pressure need to be thought through as much as possible. You may want to consider potential alternative exit plans which, depending on the uncertainty of the situation, could be communicated upfront in part or full.
5. Preempt perceptions of inconsistency or virtue signaling
Keep in mind that any action can set a precedent. Consider other current or future situations might be similar (or will be perceived that way) and how the company might react—or not react—to them. Try to be consistent in your decisions on how to respond to preempt stakeholder claims of perceived hypocrisy or inauthenticity.
6. Measure
Keeping track of the perceptions of employees, customers, investors and other stakeholders typically is an under-leveraged piece of the process. Yet, it can be invaluable for learning how corporate reputation is built and maintained. Track perception via pre- and post-action surveys, social media listening, job applications and other data-based analyses.
Denise Dahlhoff, PhD is a senior researcher, consumer research, at The Conference Board