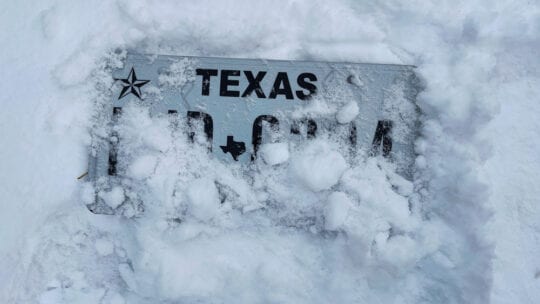 On top of a global pandemic and unprecedented economic downturn, Texans also had to deal with the fury of Mother Nature over the past week, when an unlikely winter storm wreaked havoc on one of the nation's largest states. 
In an area not exactly used to dealing with snow, ice and frigid temperatures, the utility infrastructure crumbled, leaving millions without power, heat and fresh water for days. Getting important information out to those who need it can be extremely difficult for audiences who primarily depend on electricity, internet and wifi to power their communications needs. 
The Power of Communication
The strength of a communications strategy really shows its true colors when a crisis hits. And the key to a proper response lies in the preparation. 
"When a crisis hits, it exposes many businesses' issues," said Jessica Nunez, founder and president of TruePoint Communications. "And often, communication falls by the wayside as companies are frantically addressing these issues."
As pointed out by Nunez, many Texans sought answers to what could be considered "life-saving questions,"  and municipalities left citizens without answers, resulting in a reputational crisis.
"While energy providers were communicating with elected leaders and the broader news media about an unprecedented power crisis, many customers felt left in the dark," she said. "Consumer trust was lost. Once that trust is broken, it's hard to regain."
Uneven Messaging
It's now known information that the Texas power grid operates in a vacuum. Cut off from the national power grid, the Electric Reliability Council of Texas (ERCOT) oversees the flow of electricity to 90 percent of Texas—over 26 million customers. Underneath that organizational umbrella lives a group of regional electricity providers, who provided various updates over the past week for Texans. Some did a better job offering important information than others, while attempting to follow the information coming from ERCOT, but as evidenced there is a lack of uniformity when it comes to messaging. 
ERCOT calls for rotating outages as extreme winter weather forces generating units offline. "Every grid operator and every electric company is fighting to restore power right now," said ERCOT President and CEO Bill Magness. https://t.co/rKoWcBZSew

— ERCOT (@ERCOT_ISO) February 15, 2021
AEP Texas funneled timely ERCOT updates to followers.
ERCOT initiates directive for controlled rotating outages; Rotation anticipated to continue over next 24 hourshttps://t.co/nBb61L0EMN

— AEP Texas (@AEPTexas) February 15, 2021
CenterPoint Energy provided helpful tips for customers via Twitter.
Think #SafetyFirst: Never use stoves and ovens for space heating. Use space heaters safely - use one with an automatic shut-off, and keep children, pets and all items at least three feet away. A space heater that uses gas, propane or wood should be vented to the outside. pic.twitter.com/9CkVeoFmM5

— CenterPoint Energy (@CNPalerts) February 17, 2021
And Oncor provided bilingual updates for its English and Spanish-speaking customers.
As outage restorations are underway, here is some additional information as we continue our repair work: pic.twitter.com/XJdHMdE1Ie

— Oncor (@oncor) February 21, 2021
ERCOT remains in a reputational crisis, as more news surfaces regarding its lack of attention to preparing for the storm. The Austin-American Statesman found five of the board members to live outside of Texas, as well as information regarding only 40 seconds spent discussing storm preparation for the utilities at its last meeting on Feb. 9, days before the disaster hit. This news will surely hit Texans hard, as the company needs to find a way to connect during this crisis. 
"While brands are treating crisis communications more seriously than ever, they need to remember their core values when determining a response plan and the role communications with all audiences plays," Nunez said.
From Darkness Comes Light 
However, challenging times can also bring out some of the best in people and organizations. For those able to charge their phones, The Austin-American Statesman launched a text message update program to get timely details to Texans in need. It also provided a two-way communications system where citizens could reach out with questions regarding non-emergency topics. 
And H-E-B, a beloved Texas grocery chain, continues to put customers first. When power went out in stores last week, while many were acquiring storm supplies, H-E-B allowed customers to leave with their goods, free of charge. Nunez said H-E-B serves as a prime example for how companies should build trust with communities. 
"H-E-B is a purpose-driven brand that has proven time and time again to be a vital, reliable source that their customers, employees and communities can rely on in any situation," she said. 
Providing a lifeline to a community, when it truly needed it, and in an efficient manner, shows that all audiences, with or without power, could be reached. 
"H-E-B, who has been referred to as 'the moral center of Texas,' communicated with both internal and external audiences to set expectations that accounted for the health and welfare of everyone," Nunez said.
Nicole Schuman is senior editor for PRNEWS. Follow her @buffalogal