Influence and Shape Perceptions: Effectively.
Whether you seek strategic-level insights or tactical examples, tools and tips, PR News premium service brings you the solutions, ideas and connections you need to propel your business and career forward.
A subscription is your pathway to excellence in the field of digital communications, public relations, and social marketing. Subscribe now and join your peers who are shaping the future of digital PR.
Premium Benefits Include:
The Latest Strategies and Tactics:

Monthly issues of PR News emailed and available online
This Week in PR, emailed to you each Wednesday afternoon
Password access to PR News online, with 10+ years of research & case studies, and reference material
Quarterly teleconferences to discuss hot topics facing communicators

Event Discounts and VIP Service:

33% Registration discount to all PR News conferences & bootcamps
33% Registration discount to all PR News webinars
VIP Treatment at conferences: guarantees your questions will be addressed, personal introductions to speakers, and expedited registration

Guidebooks from the PR News Bookstore (Free to Subscribers):

Crisis Management Guidebook ($399 Value)
PR Measurement Guidebook ($399 Value)
Annual PR News Salary Survey ($199 Value)
The Social Media Guidebook ($399 Value)

Resources and Consulting:

Subscriber Resources: Downloadable slides and reference material to make meetings more effective
Writing/Editing Assistance: One hour/month of editing, copyediting and consulting on writing to help you and your team present the sharpest written communication
Concierge Service: PR News will connect you to experts, sources and content to help you do your job more effectively.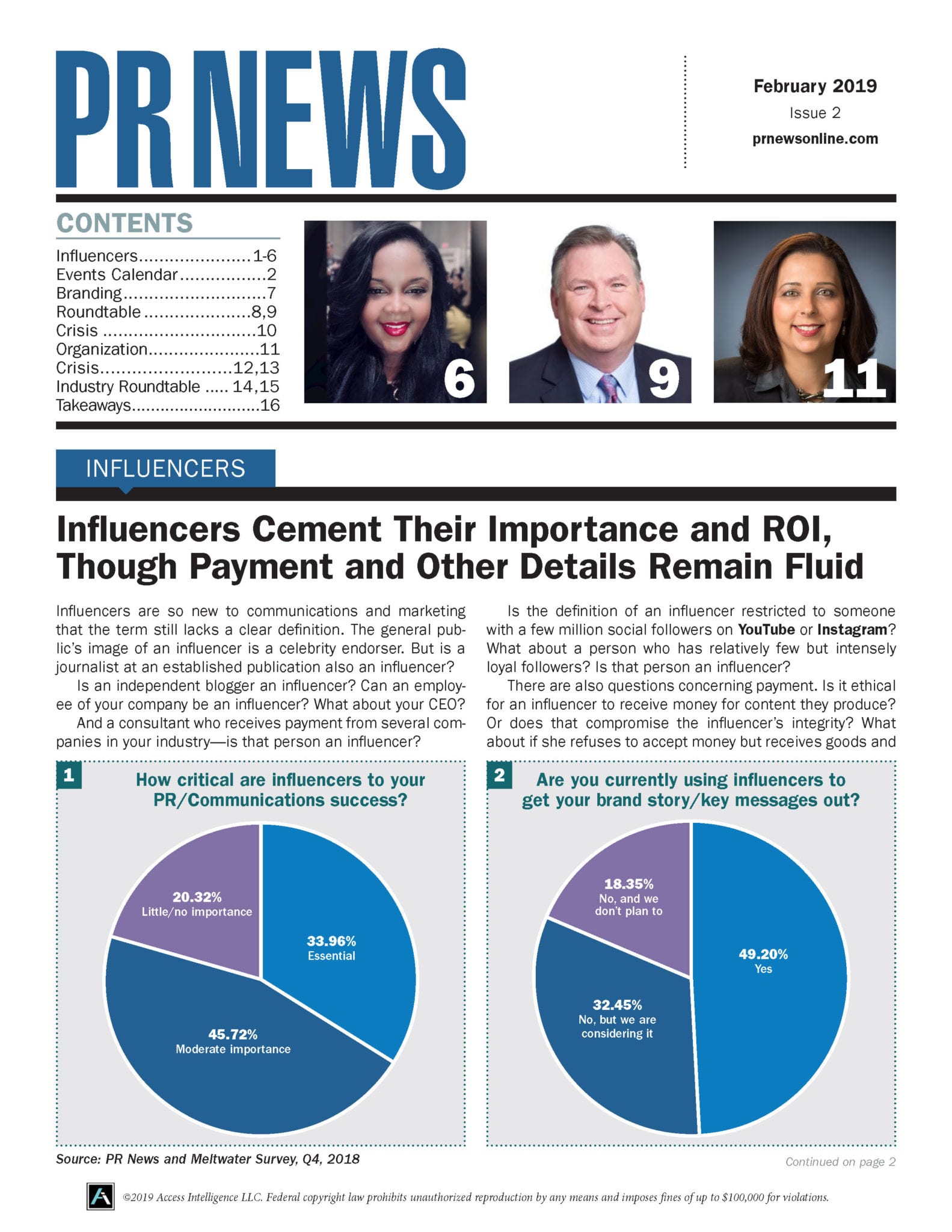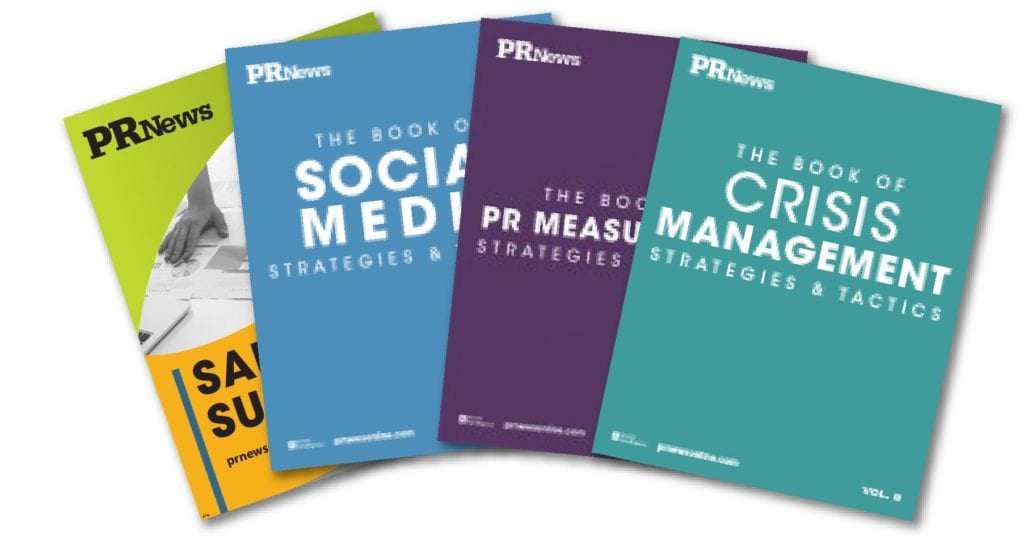 ---
Digital Subscription
1-Year Subscription: $995
2-Year Subscription: $1795 (save $200)
Add Print Delivery to your Service
1-Year Subscription: $1295
2-Year Subscription: $2390 (save $200)
---
Subscribe today, and elevate your expertise in all-things PR, including:
Social media
Crisis management
Digital PR and marketing
Measurement practices
Media relations
Influencing
Non-profit PR
CSR
Internal communications
SEO
Web tools
Writing
---
"PR News is my 'go-to' source for gaining invaluable knowledge about the latest trends and best practices which helps us enhance our organization's corporate communications function."
MARK FRIEDLANDER, HEAD OF CORPORATE COMMUNICATIONS, THE MAIN STREET AMERICA GROUP
"PR News is an invaluable asset to communications professionals because it provides in-depth information and analysis. Its articles are commonly the center of discussion among our staff. We appreciate PR News' wide range of coverage, attention to detail and cutting-edge reporting and feel that it does a great service in improving the public relations profession."
CHRISTINE BARNEY, CEO, RBB PUBLIC RELATIONS
"All members of our staff—from agency executive and management teams to our newest professionals—recognize PR News as a go-to resource for comprehensive news and fresh, critical perspectives on the job we do every day. PR News is an outlet that truly covers all the bases."
JANET TYLER, CO-CEO, AIRFOIL PUBLIC RELATIONS
"PR News is one of the few industry publications I consider mandatory reading because it is always full of timely, rich information and critical thinking. I appreciate that PR News contributors are usually senior leaders in the field who boil complex information down into usable how-to's. I also think PR News puts on the best conferences in the industry, bar none!"
ANGELA JEFFREY, APR, FOUNDER, ANGELA JEFFREY & ASSOCIATES
"PR News is one of the most reliable and valuable sources of insights on current best practices in the PR profession. Whether it is summaries of current research, case studies or interviews with practitioners sharing intelligence on what works, and doesn't, in today's complex communications environment, PR News consistently delivers."
JANICE MAIMAN, CAE, SR. VP, COMMUNICATIONS & MEDIA CHANNELS, AICPA
"PR News is filled with the most relevant public relations information available in today's rapidly-changing news environment. Since I am on the road weekly, I bring copies of PR News with me wherever I go. The detailed stories, communication strategies, case studies and commentaries give me a competitive edge as I travel the world. I rely on PR News and so do my staff. It is an exceptional tool and resource for PR professionals."
BILL IMADA, CEO, IW GROUP, INC.
---
If you have questions or need assistance with your membership, please contact Carol Brault at cbrault@accessintel.com.