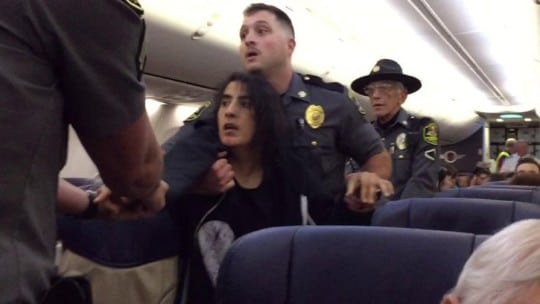 You've probably seen the video: A customer was forcibly removed from a Southwest Airlines flight by local law enforcement Sept. 26. The passenger, Anila Daulatzai, took issue with the presence of dogs (one pet, one service animal) on the flight, claiming she had a life-threatening allergy and demanding that they be removed from the flight. On its website, Southwest says that an allergic passenger can be seated as far away as possible from animals if the passenger gives notice at the departure gate, but Daulatzai did not have any medical documentation.
The incident escalated, and Maryland Transportation Authority Police dragged an uncooperative Daulatzai off the plane and charged her with "disorderly conduct, failure to obey a reasonable and lawful order, disturbing the peace, obstructing and hindering a police officer and resisting arrest."
From a reputation standpoint this could have been similar to the David Dao incident, which was a serious black eye for United Airlines earlier this year, but an unscientific sampling of public sentiment seems to indicate sympathy for Southwest. Apart from the specific details of this case, this could easily be due in part to the reputation the airline has built for itself through its efforts at transparency, customer service and good deeds. (Southwest spokesperson Chris Mainz told PR News, "We acknowledge that these were two separate incidents, on separate airlines, with different facts, but we do spend a lot of time, effort and resources in generating an affinity toward our brand.")
For instance, look at this search engine results page for the query "Southwest Airlines dogs":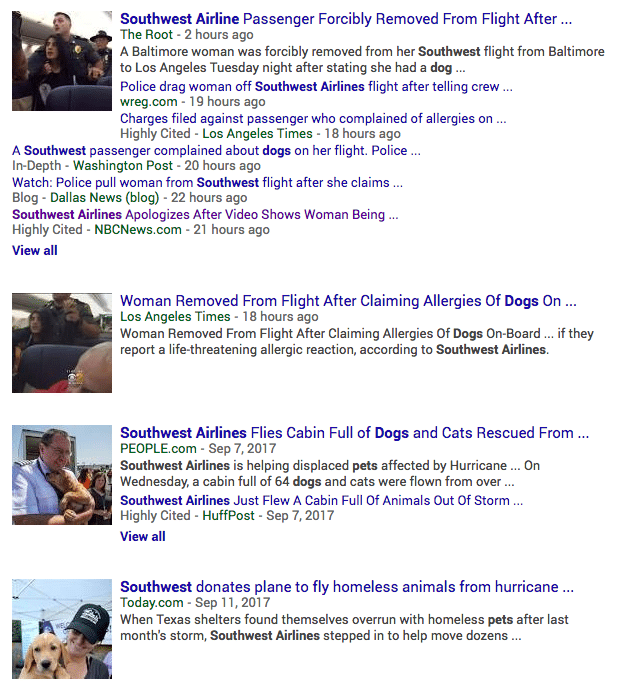 The first few results relate to this incident, but they're quickly followed by a recent story about how Southwest rescued 64 shelter dogs and cats from an oncoming Hurricane Harvey on a donated 1,400-mile flight. When brands think about SEO, they're often concentrating on the mouth of the marketing funnel and getting more clicks to their website through searches of brand-related terms; too often they don't consider how proactive PR can help their reputation during a crisis.
In a statement, Southwest said, "We are disheartened by the way this situation unfolded and the Customer's removal by local law enforcement officers…We publicly offer our apologies to this Customer for her experience and we will be contacting her directly to address her concerns. Southwest Airlines was built on Customer Service, and it is always our goal for all Customers to have a positive experience." Linda Rutherford, chief communications officer for Southwest, gave a similar statement and recounted the incident on YouTube:
Follow Ian on Twitter: @ianwright0101