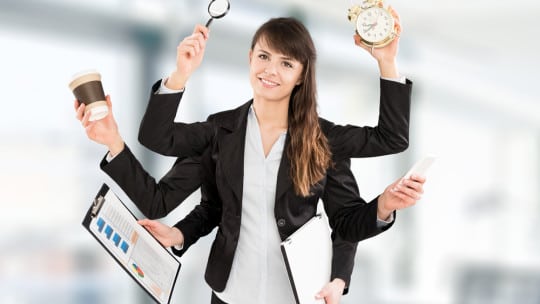 The most expensive and precious resource for solo social media practitioners is time.
Most organizations are short on time, money and headcount when it comes to social media, says Aidan Lukomnik, head of social impact at Hotwire, The Global Communications Agency. So, when juggling multiple social media channels and campaigns, it's paramount that communicators manage their resources effectively and efficiently.
Lukomnik, who will be speaking at the Social Shake-Up May 5-7 in Atlanta, trains clients on how to work smarter when it comes to crossing every item off of their social media to-do list, and shares three time-saving tips for those working on social media solo.
Gather images from nontraditional sources. Rather than doing all photography in-house (and taking on the hefty budgeting, editing, organizing and attribution tasks involved), Lukomnik suggests communicators use stock photos. But he's not talking about the corporate stock photos that elicit eye-rolls from audiences and become the target of viral memes. Instead, he recommends seeking out nontraditional stock photo libraries including Gratisography, Death to Stock, Unsplash and Life of Pix, among others.
Find your inner octopus. Like an eight-armed cephalopod, Lukomnik says solo social media practitioners must always have their feelers out and be "flexible, patient and communicative." When starting a new project, they should extend a line (or tentacle) to each of their department heads and ask colleagues what they're working on and most excited about. This can be an efficient way to source employee ambassadors, while simultaneously setting clear expectations and goals at the outset of a campaign.
And like octopi, who communicate frequently with each other in their natural habitat, Lukomnik stresses that internal communications regarding social media should err on the side of too much repetition. He points to the Barbara Bates quote: "You have to say something 18 times before it sinks in. Only when it's boring to you have you finally broken through."
Cultivate long-term employee ambassador relationships. Fellow employees are a great source of content relevant to your brand (that you don't need to create yourself). To keep the employee-ambassador engine humming, Lukomnik suggests that solo social media practitioners invest initially in building one-on-one relationships with potential sources. He adds that interns and entry-level employees are often more valuable employee ambassadors than senior leaders, as they're more likely to be "someone who wants to write more, someone who wants to get their name out there, someone who is passionate about a topic."
Follow Aidan: @ALukomnik
Follow Sophie: @SophieMaerowitz