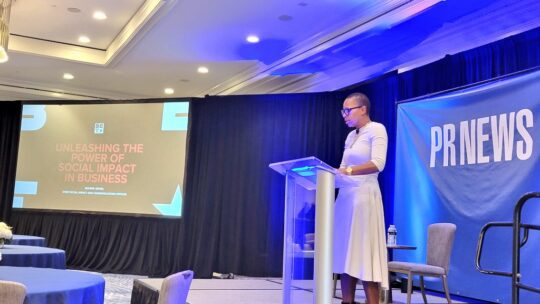 Developing a social impact initiative can be a daunting, slow-moving process and can sometimes require personal courage. Accordingly, communicators working in the space must ready themselves to play "the long game" and make sure their strategy for social change does not stem from an arbitrary promise, said Jeanine Liburd, BET Networks' chief social impact and communications officer.
Companies must commit to a continuous effort for maximum change, she added. 
Liburd keynoted the second day of the PRNEWS Social Impact Summit in Pentagon City, Va., near Washington, D.C.. 
"I'm proud of the work so many brands have done involving social justice, civic education, financial empowerment. And no matter the foundation, it's really rooted in longevity," said Liburd. Moreover, "consumers are paying attention." As such, Liburd said, "just get started." Don't overthink things.
Be true to your brand
Liburd outlined several pillars of corporate social impact work. The first pillar is that social impact is not only critical to business today, but crucial to communicating a company's tenets. She challenged the audience to determine issues that matter to their stakeholders. "We've all seen epic fails from certain brands and we can see that those initiatives veer from who they are," she said.  
Consumers, Liburd said, can differentiate an authentic and a performative call to action.  
Collaboration 
Liburd also asserted companies can't do everything. As such, partnerships, the second pillar, are critical. 
BET's COVID relief effort encompassed both pillars, she said. Liburd related that as many people transitioned into remote work at the beginning of the pandemic, research showed that only 30 percent of African Americans had jobs that allowed work from home. This meant Black people would be disproportionately affected.  
"We partnered with MDRC, which helped us reach out to our financial and media partners and our advertisers," she said. "It empowered us to make a $1 million investment into six cities for food and housing assistance and to work closely with local communities on how to distribute the money." 
For Liburd, this experience emphasized the importance of collaboration and responding to community needs. 
Learn about the community
To understand your community, the first step is doing the work. 
"Sometimes we think, 'I've done the research, I've done the work, and now I'm going to go with our plan,'" said Liburd. It's not always enough. "I think the key is finding the community," internally and externally, "and bringing them into the fold to add to the conversation." 
For example, she has enlisted experts—people in the field who know the pulse. In addition, it is imperative to build a team with diverse backgrounds that provide knowledge and experience in a wide range of issues. 
Liburd referenced an instance where she became aware that BET had room to improve on LGBTQIA+ issues. There was no one on her team who could speak expertly about issues in that community. Eventually, she brought someone on the team who could.  
"You have to accept the fact that you don't know everything," Liburd said. "And be really thoughtful about who you surround yourself with." 
Andrew Byrd is a media associate with PRNEWS