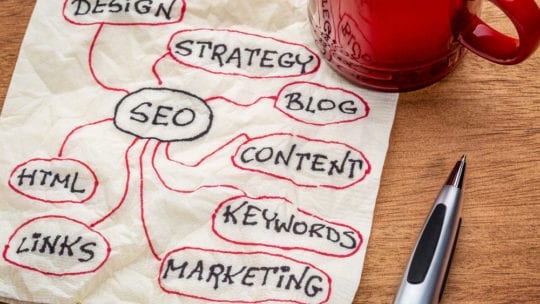 Communicators know words mean everything. What you say in a press release, advertisement or tweet can make or break a brand in an instant. So it's not a surprise that search engine optimization remains an important strategic tactic on a digital level. Proper SEO makes sure brands get noticed in that continuous quest to the first page of Google, Yahoo or Bing.
And SEO remains a dynamic practice. Continual changes to algorithms in search and social media keep professionals on their toes to tweak tactics and update strategies. With the rise of new technology and tactics such as blockchain, influencers, and artificial intelligence, as well as expanded traditional methods of video and engaging custom content, there's an opportunity to expand SEO on many levels.
The team at Logo Design Guru created the infographic below to highlight 10 trends in SEO that companies should watch. Incorporating these strategies can not only introduce a brand to new audiences, but keep the path of the consumer in the forefront.
Mobile Experiences
For example, 80 percent of adults own a smartphone in the United States. Is your site optimized for mobile so readers can have the best possible experience? A seamless user experience reduces bounce rate from your website, ranking you higher in search. Eighty-four percent of people expect brands to create engaging and educational content. Think of your reader or buyer's journey when developing useful content, because keyword stuffing will no longer get you there.
And SEO doesn't just relate to your website, it transfers to your social media platforms as well. Working with influencers? Those content-rich posts can create valuable backlinks through tagging, as well as keyword targeting. This helps spread the word about a brand, making it easily searchable and bumping it up in the SEO food chain.
For more tips, click on the infographic below: