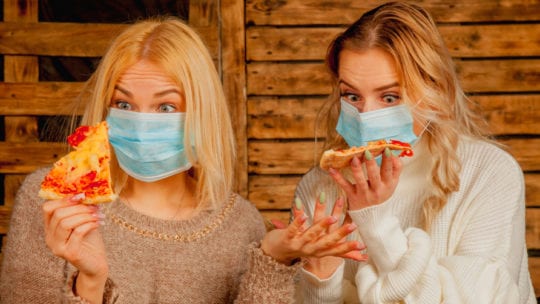 For many, eating out is not only a treat for a special occasion, but a way of life. Busy families meet at neighborhood diners and chains for quick, daily meals.  Workers look forward to lunch as a break, opting for fast casual fare at venues such as Chipotle, Chopt or Subway. Foodies scour cities and states not only for innovative chefs, but consistent ones, as they attempt to make meals an experience.
As much of the country waits for the moment it can again enjoy meals inside restaurants and fast-food outlets, the question for many is...when will it be safe?
It seems everyone, from consumers to restaurant owners and food service staff, is asking this question. The answer could be that there is no clear answer, at least for now.
A Mix of Rules and Circumstances
As you will see below, there are myriad concerns around reopening restaurants. In addition, America's fragmented public health system has offered a mix of reopening guidelines. In some parts of the country guidelines lagged behind restaurants' reopening.
Though most restaurants are closed, VP Mike Pence today dined inside a Florida burger joint. He did not wear a mask, neither did patrons or wait staff at the venue, Beth's Burger. Kitchen staffers were mask-less too.
Uncertainty about restaurant safety opens a lane for communicators to explain things. Restoring consumer confidence will fall to PR pros.
And some people believe it's unsafe to visit restaurants, even just for take-out. Hundreds of workers at McDonald's' outlets were set to protest today, claiming the burger chain has failed to protect them against coronavirus. Another group of employees is suing the chain over unsafe conditions.
Another view is that restaurants will not be completely safe for some time. Without a vaccine or treatment, there's no full-proof way to protect yourself against coronavirus, no matter if you're in a restaurant, an office or a plant. PR pros need to consider this when communicating about the safety of reopening.
Safety Preparation
It's also prudent to have statements ready should your company need to close quickly after reopening. Look at the auto industry, which was idle for two months until reopening just three days ago. Just days later, Ford was forced to close plants in 2 states owing to workers testing positive for coronavirus.
There are several areas of concern specific to reopening restaurants. Restaurant goers are mainly worried about exposure to the virus from other guests, according to "Eating 2020," a survey from Inspire PR Group and Illuminology. Droplets from speaking can remain in the air for as long as 14 minutes, a new study shows.
As such, communicators will need to convey what food establishments are doing to ensure safety, such as distancing and sanitizing tables and chairs. In addition, communicators need to clearly explain house rules concerning masks. The variations already are wide.
For example, some restaurants require guests to wear masks unless they're eating or drinking.  Masks are optional in other eateries. In some restaurants, guests can choose whether or not their server wears a mask.
A best practice: make certain patrons are aware of the rules about distancing and mask prior to making a reservation or entering an establishment. Mishaps at Costco illustrate why this is important.
Give Us Our Daily Rest(room)
Another concern, which goes unsaid for obvious reasons, is restrooms. In the best of times restaurant restrooms' cleanliness often seemed iffy. In this pandemic moment, they could be petri dishes of coronavirus.
"Public restrooms...generally have open toilet seats–no lids–and high-pressure flushes create a plume of droplets that extends at least six feet," Dr. Steven Soifer, president, American Restrooms Association, told the Washington Post. Moreover, science has established links between coronavirus and human waste.
In addition, think of the many surfaces one touches in a restaurant restroom. Also consider restroom air blowers and cramped quarters, which make distancing hopeless. As such, establishments are removing blowers and installing paper towel dispensers. To ease traffic in restrooms, some establishments are turning to portable toilets. (We hear you groaning about the hygiene of portable toilets.)
Clear Communications
Into this void of uncertain safety, it is important that restaurants "clearly communicate well-defined health and safety protocols," said Hinda Mitchell, Inspire's founder.
Successful restaurants will offer communication that is "direct and actionable, anticipating guests' expectations and responding to them before they become an issue," she added.
As in all communications, clarity is important. Few PR pros dream of crafting communication about restaurant bathrooms. Times have changed. Instead of jargon-filled messages, "communication about health and safety protocols should be easy for the public to understand," Mitchell said.
In addition, restaurants should make health and safety policies easy to find. They should share these policies online and within restaurants, such as on menus and in restrooms. In addition, with so many potential customers online, policies should be visible on websites and social media. Arming customers beforehand with policies likely will help them feel more at ease when dining.
All-You-Can Communicate, Not
On the other hand, Mitchell cautioned against overloading consumers. "Less is more–people are weary of lengthy and dramatic over-communications. Restaurants should tell guests what they'll do to protect their health–and then do it."
Indeed, the food industry is eager to reopen. With all 50 states now easing pandemic-related restrictions in some fashion, 79 restaurant and food companies have unveiled revised policies. These include new procedures for operations and revisions of employee benefits, according to a daily tracker in Restaurant Dive.
The aforementioned McDonald's, for instance, offered franchisees a 59-page reopening guide earlier this month. It included content about distancing and suggestions for protective panels at counters and drive-throughs.
In addition, there are suggestions about how to converse with customers not wearing masks. Bathrooms should be cleaned every 30 minutes and retrofitted with touch-less sinks, the guidelines suggest. Moreover, the entire restaurant needs to be deep-cleaned before the company will sanction reopening.
Reeling from low sales, franchisees are concerned about reopening costs. Besides the touch-less sinks ($718), additional costs include hiring staff to supervise distancing and handle bathroom cleaning. McDonald's has said it will chip in $100 million for these and other costs, though details remain to be worked out.
Agency Partnerships
Other restaurant groups have formulated policies in tandem with trade organizations and government agencies. The National Restaurant Association hosts an informative web page about COVID policies. In addition to resources for reopening, the page provides tips about communicating critical procedures to the public.
Issues with federal guidelines for restaurant and bar reopening illustrate why consumers and restaurant owners are confused. In April, the Centers for Disease Control and Prevention (CDC) allegedly prepared two reopening guides. Neither was released, however. Amidst controversy, the CDC released six one-page decision tools for reopening.
Critics charge language in the CDC decision tool for restaurant and bar reopening is watered down from the earlier planned guidances.
More confusion. Late today the CDC confirmed that over the weekend it uploaded a 60-page document about reopening to its site. Apparently, it is a version of one of the earlier guides that never saw the light of day. It is uncertain whether the document will influence the food industry's reopening plans, which are well underway at this point.
Online Newsrooms
Some companies are infusing their reopening plans with empathy and care through online newsrooms. This week Restaurant Brands International (RBI), the holding company for Burger King, Popeyes and Tim Hortons, published a letter from CEO José Cil.
The letter was delivered as a press release, but, importantly at this moment, contains much personal nuance.
"We have fully embraced the notion that parts of our restaurants need to change–certainly, for the foreseeable future and possibly forever. For instance, while we have mandated masks and gloves in the short-term, our brand and operations teams are now evaluating more comfortable and reusable masks that may become part of our standard uniforms."
Note the word choices in another portion of the letter.
"We are maintaining a 'safe distance' rule in our dining rooms–whether communities require it or not. We have designed beautiful tabletop signage to indicate which tables are open and which ones are reserved to help maintain safe distances."
Gil said staff will sanitize tables and chairs after each use. In addition, venues will have hand sanitizer available in dining rooms for guests.
Most important, he acknowledged that this is not a be-all, end-all plan. He ended the letter simply with, "More to come."