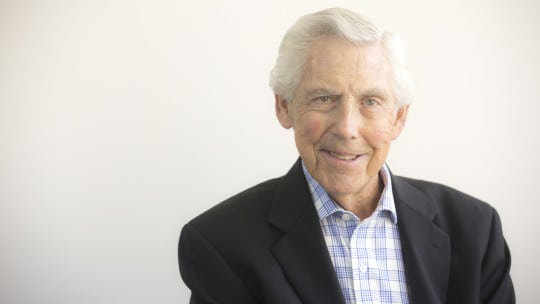 Al Golin, founder of global PR firm Golin and a legendary 20th (and 21st) century public relations leader, passed away peacefully at the age of 87 on April 8, according to a press release on Golin's website. More than just the mind behind one of PR's most successful agencies, Al Golin made many contributions to the evolution of public relations, launching groundbreaking socially minded initiatives, mentoring scores of PR professionals and making the greater good a core part of his company's culture.
Golin signed the agency's longest-standing client, McDonald's, and promoted and expanded McDonald's' now-famous CSR programs such as Ronald McDonald House Charities, the McDonald's All-American High School Basketball Game and the McDonald's All-American High School Band.
In all of his business dealings, Golin stressed the importance of building trust between brands and their audiences. His book Trust or Consequences was published in 2003 and promoted trust-building and consistent public engagement as crucial components of a successful PR strategy.
PR pros everywhere, from the intern just starting at her first agency to the seasoned CEO, can glean much from Golin's long career. Here are three ways Golin changed the face of PR over the course of his career.
Introduction of the 'Trust Bank'
Golin coined the term "trust bank," wherein brands build trust with their audiences over the long term to avoid losing goodwill during periods of crisis. Golin convinced McDonald's to take Ronald McDonald House Charities nationwide, helping the brand build build "deposits" of goodwill in case they might need it for a "withdrawal" when crisis invariably strikes. Golin's "fix it before it breaks" philosophy led McDonald's to establish an Al Golin Trust Bank Award, annually presented to the McDonald's franchisee who best represents the spirit of community engagement.
Making Social Good Part of the PR Practice
On Al's Day, an annual day of service inspired by Golin's commitment to giving back to the community, Golin offices are closed so that employees can spend the day volunteering at local charities and nonprofit organizations. (Golin was known for showing up in person at volunteer sites, rolling up his sleeves to help paint a Chicago YMCA or clean a Red Cross trailer). This principled approach will continue to be more and more important in an age where a single tweet or Facebook post on a hot-button issue can turn online audiences against a brand. As Golin once put it himself, "People and companies can't get away with unethical or questionable actions–with the watchdogs in government, media and consumer groups that are active today."
Guiding PR Professionals Toward Love of Their Work
Golin was often quoted for his belief that "happy employees make for happy clients," and made company culture a priority. He spent decades counseling employees, retaining his advisory role at Golin even into his final weeks. Golin instituted Casual Fridays at all of his offices, one of several company perks that have since been adopted by other agencies industry-wide. Even Golin's youngest and greenest employees had a chance to receive mentorship and advice—Golin regularly sat in at intern trainings and encouraged young staffers to "find a job you love and you will never work another day the rest of your life."