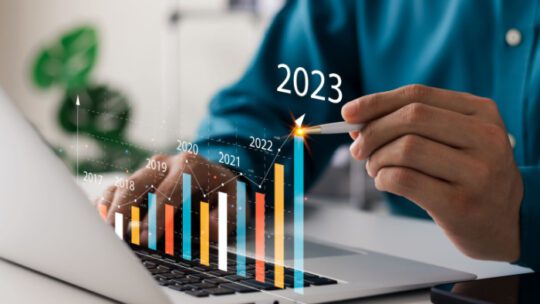 You may have seen our yearly PR predictions feature and PR Wishes for 2023. So, why are we offering more predictions?
As strategic advisors, PR pros must look ahead. Their job includes preparing companies and brands for the future as much solving current issues.
In a sense, PR done well is a long game and it's never finished. For example, you won't hear a communicator say,  'I completed building the company's reputation today. And I've solved all its existing and future communication issues. Now, I can rest.'
As such, here's another group of PR-related predictions for 2023, in 100-words-or-fewer. Making this feature more diverse, we include insight from two students who'll receive their B.S. in PR this spring. We wish them well in their careers and wish all a happy New Year.
DEI and ESG
Kiana Claire Khoshnoud
S.I. Newhouse School of Public Communications
Bachelor of Science in Public Relations, 2023
Belonging will become a necessity in the workplace and a major part of DEI as it seeks to make all employees feel valued within their organizations. Leaders will need to take the first step in changing workplace culture. If organizations don't integrate belonging, they risk losing Generation-Z talent.
"Woke" culture, aka social consciousness, will grow as a consideration for consumers. This will lead to a rise in influencer marketing, as consumers want to purchase products from a recommendation of people they trust.
My PR wish for 2023 is that environmental responsibility will take more precedent for organizations.
Camran Shealy
S.I. Newhouse School of Public Communications
Bachelor of Science in Public Relations and Politics, 2023
Internal attention to DEI will become a make-or-break point for recruitment and retention within PR. Companies willing to prioritize inclusivity, even at the cost of existing power structures, will become desirable destinations for young professionals. Inversely, companies unwilling to compromise archaic practices and workplace dynamics risk alienating emerging talent.
Media and Social Media
Mary Poliakova
Co-founder
Drofa Comms
Data journalism is no longer a novelty, with such giants as WSJ and Deutsche Welle employing full-fledged data teams. PR is slowly but steadily catching up. In 2023, PR pros will focus on data, increasing use of interactive content and infographics and proving they can effectively communicate with journalists in the language of data. Accordingly, data-focused specialists will become the future of PR and data managers its hottest specialty.
John Raffetto
CEO and co-founder
Raffetto Herman Strategic Communications
Expect more norm-busting within the news and influence landscape as consumers' trusted information sources shift from old-guard media to unpredictable platforms, like Elon's Twitter. Does this mean communicators should withdraw from a tempestuous landscape and play it safe? Probably not. Like it or not, the world is spawning new divisions. Brands that hope to stay broadly relevant must revise rules of engagement that guide communication and meet people where they are, without sacrificing corporate values.
Jonathan Rick
President
The Jonathan Rick Group
Even before advertisers were abandoning Muskian Twitter, many decision makers were turning to a rival platform to show off their expertise: LinkedIn. It's likely this will accelerate in 2023; those whose job title includes the word "chief" will tap the old-but-safe channel to burnish their brand with thought-leadership articles. Executives will create content, have PR pros do so or invest in ghost writers because they recognize a basic truth of communicating today: to break through the clutter, crap and cacophony, you need content that's as entertaining as it is enlightening.
Measurement
Babajide Adesesan
Communications Growth Lead
Made By Giants 
 In a year where showing value will be more prominent than most, measurement will have an active role in PR discussions. As B2B tech PR budgets are reviewed, you'll see more questions about how PR slots into the business's strategic needs and if it should be measured in a more sophisticated way to show clear value, whether that's by lead generation, website demand, the share of search, recruitment levels, or more funding (to name a few). With a demanding year ahead, B2B brands must move beyond vanity metrics to drive meaningful business goals.
PR and the Economy
Tadd Schwartz
President
Schwartz Media Strategies
There's an economic storm brewing, with uncertainty in various segments of the market fueling it. The way a brand or company communicates with employees, clients, partners and the public takes on added importance when the economy enters choppy waters. It's critical that businesses stay visible, transparent and authentic during turbulent times. It's just as important that communication agencies counsel clients in an honest, no-nonsense manner. Times of unease are when brands should step on the gas with their communication–as opposed to slamming on the brakes.
Trust
Mike Blight
Senior Market Research Manager
Sprout Social
Authenticity was big in 2022. Next year, brands will have to dig deeper, bolstering trust throughout every step of customers' journeys. This means crafting meaningful communication that responds to customer needs and aligns with shared values. Customers must feel taken care of and part of a brand's story. While PR is just a piece of this puzzle, its role is vital. PR pros must understand how their work directly influences and builds customer trust. Listening to customer needs and knowing industry trends, communicators can create content that helps foster authentic interactions and lasting customer relationships.