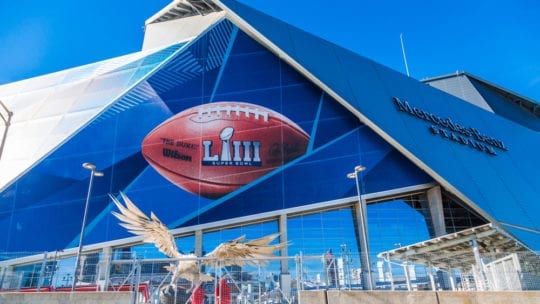 It's that time of year again, when your belly yearns for wings, nachos and beer—Super Bowl LIII is almost upon us. Millions will tune in to watch the Patriots and the Rams square off on Sunday, but many more will also be watching for the Super Bowl ads, the priciest block of advertising time in broadcast history that are sure to inspire brand wins and losses of their own.
Statista reports that Americans will spend around $81 dollars on average around this year's game. Between the ads, the huge amounts of money being spent, and the politics that the sport has found itself engulfed in over the past year, let's look at some of the biggest PR wins and a big loss ahead of Super Bowl LIII.
Use your big ad spend to create FOMO and lead gen
Anheuser-Busch InBev has long been synonymous with football, and they traditionally go all out for the big game with their ads. Though the company behind Budweiser hasn't reported their 2019 Super Bowl ad spend, industry sources estimate it is more than $50 million—up from the reportedly $42 million that the brewer spent for just four minutes of ad spots in 2018. It's part of the brewer's attempt to recapture parts of the market lost to the increasingly popular trend of craft breweries and Mexican imports.
Meanwhile, Kraft Heinz decided to promote a Super Bowl campaign around its frozen "Devour" meals by running ads for one day on the popular pornography site, PornHub. The ad, which featured a fork through the website's logo and the phrase "see foodporn now", signals the company's attempts to suggest that these microwavable eats are so delectable and aesthetically pleasing that they are akin to... you get it. One can't imagine that the NFL, which constantly espouses its emphasis on family values, is psyched about this campaign. Edginess aside, the campaign will likely be a win for Kraft Heinz, which released an "uncensored" version of the ad and plans to share a "censored" version during the big game. They're also launching a tongue-in-cheek addiction hotline.
It's not uncommon for brands to share a longer version of their Super Bowl campaign online, as that broadcast time is so precious and expensive. Doing so artfully can create a solid Fear of Missing Out (FOMO) around a product, but also serve as a call to action, signaling prospective customers that they can only get the full story by engaging with your brand further and therefore creating some lead gen for the brand. That sounds like a touchdown to us.
The NFL's effort to keep the halftime show 'about the music' fails miserably
Sports media coverage has folded in several substantive topics of the day into its reportage, whether the NFL likes it or not. From reports of mental health and domestic violence to Colin Kaepernick's taking a knee during The National Anthem in protest of police brutality, no amount of "just focus on the game" talk seems to quell these evergreen stories from remaining relevant.
Surely, former Pink Floyd member Roger Waters understood this when he posted a statement online yesterday, pleading with halftime show performers Maroon Five, Travis Scott and Big Boi to take a knee during the performance.
There is a petition at https://t.co/9j587BT76U aimed at persuading @maroon5, @trvisXX and @BigBoi to #TakeAKnee at halftime on Sunday @SuperBowl. @Change

This is my band taking a knee at the end of a gig in Hartford on the 24th of Sep. 2017.

Read more: https://t.co/V9NfPPRQaK pic.twitter.com/5c8M5NOpzx

— Roger Waters (@rogerwaters) January 31, 2019
It's no surprise that the NFL cancelled Maroon Five's press conference about the show. In a recent interview on Entertainment Tonight, band frontman Adam Levine noted that there's always a hotbed of controversy around the halftime show. "I'm not in the right profession if I can't handle a little bit of controversy," he said. "It's what it is. We expected it. We would like to move on from it, and like, I said earlier, speak through the music."
The problem with claiming that you just want to focus on 'the music' is problematic, though, as pro sports and music have very different expectations when it comes to engaging in politically charged discussions. More than the progressively-leaning NBA or even the NHL (which launched a huge campaign today to celebrate Black History Month), the NFL remains reluctant to engage in substantive dialogue about uncomfortable topics related to football culture. Music, by contrast, thrives on stories of identity and political push in this divided time. Maybe it's the fact that artists are expected to have an opinion on the cultural and political zeitgeist, while athletes are not.
Either way, Waters' push for these performers to take a knee highlights a double standard that doesn't look good for any of the performers involved.