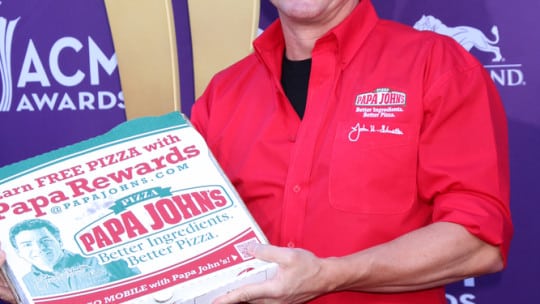 "We used to say, 'Expect internal messages to show up externally within a few days,'" ESPN VP, corporate communications Katina Arnold told us recently. "Today, in the digital age, [messages] reappear [externally] within a few hours, minutes or even seconds. You must adopt a mindset that anything you say internally could be immediately consumed externally."
The topic under discussion with Arnold was internal communications best practices, but her comments can apply to nearly anything said, done, written or videotaped internally in corporate America.
In the wake of John Schnatter's abrupt ouster as board chairman of Papa John's Pizza International, announced late yesterday (July 11), the validity of the nondisclosure agreement for media training is being questioned. Do such agreements mean anything anymore? Or are all bets off when extremely distasteful words are used during media training or anywhere else? Do communicators have a duty to report use of certain words to their company's management? To the media?
"It's an ironclad rule that media training sessions are private…it's a time to make mistakes...much of what's said...is not for prime time. I'm surprised this leaked," a veteran media trainer said. [See update at bottom of story]
Does Off the Record Exist?
What about the convention of off the record (OTR)? For some in PR, like PR News contributor Arthur Solomon, there's no such animal as OTR.
While no PR pros would go on the record to advocate leaking conversations during media training, several said certain words are unacceptable at any time. "All the media training in the world can't cover for the fact that racist comments have no place in today's world," APCO Worldwide's senior media director Anthony DeAngelo said.
Andy Gilman, president & CEO, CommCore Consulting Group, agreed: "In our current society, certain words are toxic and should never be used. Period." He also said media training must be a closed affair.
Added DeAngelo, "Good media training tackles tough topics and should do so in a confidential setting, but that is a completely separate issue from what brought Papa John's into the news."
Laundry's Ready
While on a conference call in May with advertising and talent management agency Laundry Service, Schnatter used the N-word, according to Forbes, which broke the story.
Laundry Service was contracted to provide media training to Schnatter. It's unclear whether or not Laundry Service had a nondisclosure clause in its contract. Also unclear is how the story about Schnatter using the N-word leaked. Officials from Papa John's and Laundry Service were on the call, Forbes says. Laundry Service halted its work with Schnatter sometime after contents of the call were relayed to management.
The call was set up as an exercise designed to train Schnatter to avoid doing and saying things publicly that he'd regret later.
Forbes reported the Papa John's board insisted Schnatter undertake the training after remarks he'd made in November 2017 condemning the NFL's handling of its players-kneeling-during-the-national-anthem controversy. Schnatter felt the NFL should have disciplined the players.
He also partly blamed the NFL and that issue for declining sales of Papa John's products. The brand was an NFL sponsor at the time. Social media exploded, largely blasting Schnatter and poking fun at the quality of his pizza. Even a few competitors joined the scrum. Papa John's shares have fallen 25% since those remarks. Schnatter was forced to step down as CEO at that point in January and ordered to keep a low profile. The media training in May was supposed to be in preparation for his comeback, Forbes reports.
The Colonel's to Blame?
Back to the present, though, where allegedly Schnatter made a comment related to the behavior of the late Col. Harland Sanders, who, like Schnatter, is literally the face of a large food brand.
Schnatter was asked during the call, per Forbes, how he'd distance himself from racist groups online. He responded that his comments about the NFL were overblown, adding Col. Sanders used the N-word all the time and received no backlash. When Schnatter uttered the comment, he actually used the N-word.
He also apparently mentioned his childhood in Indiana, where African-Americans were dragged from trucks until they died. Forbes reported Schnatter brought up that example to convey his distaste for racism, "but multiple individuals on the call found [his remarks]…offensive, a source familiar with the matter said," according to Forbes.
It is not clear when Forbes questioned Schnatter about what he'd said during the call in May. In any case, yesterday Schnatter confirmed to Forbes via email he'd made those remarks. "News reports attributing the use of inappropriate and hurtful language to me during a media training session regarding race are true…Regardless of the context, I apologize. Simply stated, racism has no place in our society," he wrote in the email.
Several hours later Schnatter resigned as chairman.
Face of the Brand and Money
Talk about a brand needing a refresh—Schnatter's face is part of the Papa John's logo. It was on the letterhead of the press release from the company's board announcing his resignation. [The picture at the top of this article is intentional as we assume Schnatter's head won't be part of the brand for much longer.]
While not belittling racism or wondering how a top executive could think it's acceptable to use certain racial terms in a corporate setting, it's important to understand the story's financial element. Make no mistake, Papa John's board lived with Schnatter for months before yesterday's ouster. Of course, he was still board chair. Somewhat similarly, ABC was in bed with Roseanne Barr  and her nasty tweets for more than one year before her dismissal.
Just hours after the Forbes story and prior to Schnatter's resignation, Major League Baseball canceled a promotion with Papa John's. The NFL canceled Papa John's sponsorship months ago, after Schnatter's comments. Papa John's board made a financial calculation that Schnatter's association with the brand was hurting revenue. At that point, he was forced to go.
Indeed, Papa John's lost $96 million in market value late yesterday after the Forbes story published. Before noon ET today (June 12), its shares surged more than 10%, recovering the loss entirely.
Seth Arenstein is editor of PR News. Follow him:@skarenstein 
Update, July 17, 2018: Schnatter now claims Laundry Service blackmailed him. The company, he says, demanded $6 million in return for remaining quiet about the racist remarks he made during the media relations training in May. Laundry Service denies the allegations. In addition, several organizations, including his hometown, the University of Louisville and Papa John's, have distanced themselves from Schnatter in the wake of his ouster.