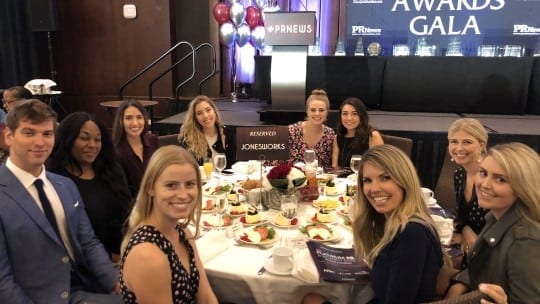 PR professionals from agencies around the country came together to celebrate each other at PR News' Platinum PR and Agency Elite Awards luncheon at the Grand Hyatt in New York City on Sept. 21 to celebrate the winners and honorable mentions of PR News' 2017 Agency Elite Awards.
The Agency Elite awards benchmark excellence in PR agencies' key practice areas, from advocacy, crisis communications and social media to internal communications, media relations and reputation management.
Presenting the awards with PR News content manager Justin Joffe was Sean O'Neal, president of AirPR, one of the sponsors of the event. Also presenting was Tatiana Holifield-Arthur, senior director of social media and digital marketing strategy at BET.
Winning for Agency Team of the Year was the Valley Forge Tourism and Convention Board Marketing Team, a group that brought home over 20 industry awards in 2017—a record for the group—as it continued on its mission to strengthen economic prosperity in Montgomery County, Pennsylvania.
Communications and media manager Rachel Riley told the audience that she sees her job as "not so much about storytelling but story-making."
Agency Elite awardees, even while celebrating recent successes, also looked to the future. Mylan Cannon, senior video producer at APCO Worldwide, said activism is a key consideration for any strategy. "Millennial consumers expect brands to take a stance on the important issues of the day," he said. APCO took home an award for its work with client Danfoss, in the category of "Shoestring Campaign."
View all winners at the Platinum PR and Agency Elite Awards website.