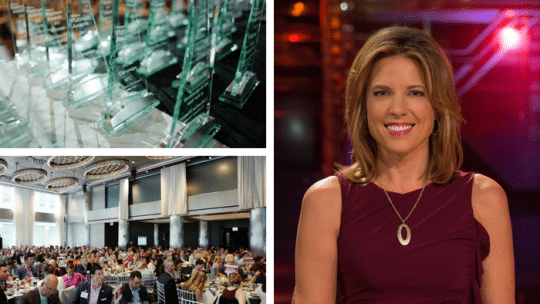 Twitter battles. Flame art. The life cycle of an aluminum can.
All three of the above are examples of the ingenuity exhibited by PR News' 2018 Platinum PR Awards finalists. Armed with sharp storytelling skills and a mastery of communications tactics, PR News' Platinum PR Awards finalists have driven measurable successes for the brands and charitable causes they champion.
At PR News' annual Platinum & Agency Elite Awards luncheon—which this year will be held Sept. 21 at the Grand Hyatt in New York City—hundreds of communications professionals gather to celebrate the top communications and marketing campaigns of the last year, as well as the PR and marketing professionals behind the strategy and execution of those initiatives.
This year's Platinum & Agency Elite Awards luncheon will be hosted by ESPN's Hannah Storm, an award-winning journalist, producer and director. Storm, a pioneer in the field of sports broadcasting for women, an advocate for children's issues and a published author, joined ESPN in 2008, and now serves as an anchor for SportsCenter, the ESPYs and more.
Previous to joining ESPN, Storm spent five years at CBS News as host of "The Early Show," covering numerous major news events ranging from the 2004 presidential election to the Iraq War and Hurricane Katrina.
In an exclusive fireside chat at the Awards luncheon, Storm will discuss the storytelling techniques her production company, Brainstormin' Productions, uses in its documentaries and branded content for clients. She'll also speak about her experience as a woman working in the broadcasting industry leading up to and during the #MeToo era.
A full list of PR News' 2018 Platinum PR Awards finalists is below. Winners in each category will be announced at the Sept. 21 awards ceremony and luncheon in New York.
PR News Platinum PR Awards Finalists 2018
 24-Hour Campaign
Consulate General of Switzerland in New York - Twitter Battle between Switzerland and Sweden
Consumer Reports - Romaine/E. Coli Warning
MIX Public Relations - Malwarebytes Rapid Response Program
National Association of Manufacturers - Best Seat in the House
 Activism Campaign
Novelis and Discovery Education - Life of a Can
Consumer Reports - Equifax Data Breach
DeVries Globala - Pantene Gold Series All Strong Hair is Beautiful Hair Campaign
HP Inc. - Reinventing Sustainable Impact: One HP Original Ink Cartridge at a Time
IBM - The Fight for Equality in the Lone Star State
PepsiCo - Rush2Recycle
ROX United/Curacao - "Mi Voz Cuenta": My Voice Matters
SAG-AFTRA - Workplace Safety Campaign
 Anniversary
Food Lion - A Neighbor to Count On: Food Lion Celebrates its 60th Anniversary
Kurio // The Social Media Age(ncy) - Finlandia by Forest Machines
M Booth - The Estée Lauder Companies' Breast Cancer Campaign Reaches 25-Year Milestone
Marina Maher Communications and Rabin Martin - Merck for Mothers – UNGA: A TIME for Mothers
PJ Lhuillier, Inc. - Thank You for 30!
Sheridan College - Sheridan@50: A Creative History for a Creative Campus
Sparkpr - MapleStory Fest: The Perfect 13th Anniversary Celebration
Susan Davis International - Centennial Commemoration of America's Entry into WWI
Annual Report
Argo/Pace - Beyond the Numbers: Reimagining the Annual Report
The Association of Junior Leagues International - Progress Is Plural
Consumer Technology Association
National Retail Federation
Norfolk Redevelopment and Housing Authority
Sparkpr - eHarmony's Happiness Index
Thomson Reuters - Trust in Motion
United Nations Foundation - Global Bureau Year in Review
Blog
Butin Integrated Communications - NFI Dish on Fish
Cold Spring Harbor Laboratory - CSHL Labdish
Microsoft - Transform
National Association of Manufacturers - Shopfloor
PureTemp LLC - Phase Change Matters
R&R Partners - The Blonde Abroad: Vegas Bucket List
Boutique Firm
Cheer Partners
King Media
Parker Sanpei - Lifestyle & Hospitality Marketing 
Brand Turnaround Campaign
Cardinal Innovations Healthcare
DeVries Globala - JOHNSON'S "Remove the Wonder If" Campaign
ECMC Group - Reinventing the Reputation of an Acquired Brand
Edelman - Mitsubishi Regional Jet: Progress & Commitment
Branding
APCO Worldwide - USA Pavilion at Expo 2017
Clorox with Ketchum - Clean is the Beginning
DeVries Globala - Zippo Flame Art
Diffusion PR - Elevating the USA TODAY NETWORK brand: more than a newspaper company
Hilton Garden Inn with Ketchum - Taking "Simple Things" to a Refreshing New Level
Lyft Launches Five Star Lager
Rogers & Cowan - Jockey 'Show Em What's Underneath'
Cause-Related Marketing
21st Century Fox - The Search for Hidden Figures
Biosector 2, a Syneos Health company - Be Vocal: Speak Up for Mental Health
Habitat for Humanity International and Porter Novelli - Home is the Key 2017
M Booth - Ready, set, share! Johnson & Johnson Ignites Global Moms Relay for Family Health
M Booth - The Estée Lauder Companies' Breast Cancer Campaign Reaches 25-Year Milestone
MSLGROUP - Trades Training: Addressing the Skilled Labor Gap While Serving Separating Military Members
Novartis with Biosector 2, a Syneos Health Company - Telling Metastatic Breast Cancer to "Kiss This!" with #KissThis4MBC
The Thomas Collective - Look Up
CEO of the Year
Kathy Bloomgarden, Ruder Finn
Peter Finn, Finn Partners
Ashok Vemuri, Conduent
Community Relations
Allstate Foundation - Helping Hands Grants
Aramco Services - Aramco Answers the Call: Hurricane Harvey Response
Cherokee Nation Businesses - Where the Casino Money
FleishmanHillard & Anheuser Busch - The United States of Beer
Goldwind Americas & Mahoney Communications Group - Goldwind Works
Havas PR with MilliporeSigma - Curiosity Cube Ignites Scientific Passion Across the U.S
Jackson Spalding - Atlanta Braves Parking and Transportation Campaign
Mastercard - Girls4Tech
Novelis and Discovery Education - Life of a Can
Toyota and Discovery Education - TeenDrive365 In School
Weber Shandwick - Cancer Screen Week
Content Marketing
AICPA - Enhancing Audit Quality
Ferrovial - Content Marketing
Hampton by Hilton Uses Comedy to Connect With "Real" Travelers and Break the Aspirational Mold
Kovert Creative - Fight Dirty
Luxottica Pearle Vision - Thinking Small to Win Big
Northwell Health - What Cancer Took and What Cancer Gave: The Well
Old Spice and Citizen Relations - Get Wild (And Real) with Moms and Sons
PepsiCo - Rush2Recycle
Planet Fitness - Gut Check: Dad Bods Rule
Planet Fitness - Love at First Lift: A Dream Wedding
Stein IAS & Ingredion - You Are How You Eat
Crisis Management
BASF US Crop Protection - Bringing Down Weeds, Raising Up Farmers
Children's Health - Hurricane Harvey Response: How Children's Health Responded to One of the Largest Disasters in Texas History
Dallas Fort Worth International Airport - DFW Airport Communicates During Executive Order
Exxon Mobil Corporation - Fueling Recovery During Hurricane Harvey
FKQ Advertising + Marketing - Protecting Your Client from a Serial Killer and Ensuing Media Pressure
Florida International University - Crisis Communications: Hurricane Irma
Medtronic Puts 5,000 Employees First in Wake of Hurricane Maria
Newell Brands - #CrockPotIsInnocent
US Postal Service - Delivering 131 Days of Crisis Messages for USPS
Virginia Tourism Corporation - Stand for LOVE - Re-positioning Virginia after the Crisis in Charlottesville
Weber Shandwick and Sutter Health- Heroes Among Us: Sutter Health Emerges as a Role Model for Natural Disaster Response in 2017
Data Insights
Ameripirse - Family Wealth Checkup study
APCO Worldwide - VantageScore B2C Pivot Research
Bsquare/Voxus PR - 2017 Annual IIOT Maturity Study
Burson Cohn & Wolfe - Fifth Annual Super Bowl Survey
Dell - Applying Digital Transformation to inform IT Transformation
Ketchum Global Research & Analytics - Clean & The Human Psyche
Old Spice and Citizen Relations - Get Wild (And Real) with Moms and Sons
Planet Fitness - Gut Check: Dad Bods Rule with Planet Fitness
The USG Corporation + U.S. Chamber of Commerce Commercial Construction Index
VSC and HoneyBook Empower the Creative Economy with Fair Wage Insights and Legal Protections
Digital Communications
aptitude LLC - aptitude 2020 educational series
Fleishman Hillard - Don't Say VELCRO
Golin - Lime-A-Rita Launches #RitaSays, Serves Up Straight Talk to Millennials with a Social Media Advice Column
International SOS - 2018 Travel Risk Outlook & Business Resilience Trends Watch
Kovert Creative - Fight Dirty
Kovert Creative - Howler Soccer Ball Phone
Microsoft - Education event newsroom
Microsoft - Marea subsea cable newsroom
PepsiCo - Rush2Recycle
Taft Communications - ReThink Energy NJ "Stop PennEast" Campaign
Weber Shandwick - Transforming Classic Kid's Drink to Athlete's Secret Weapon 
Diversity & Inclusion Campaign
The Association of Junior Leagues International - Progress Is Plural
USC Shoah Foundation and Discovery Education - 2018 iWitness Video Challenge
TGR Foundation and Discovery Education - Explore
Food Lion - Reshaping our CIAA Partnership to "Slam Dunk" Hunger In Our Communities
PwC - CEO Action for Diversity & Inclusion
Swimsuits for All 
Employee Relations
Dallas Fort Worth International Airport - D&I is in Our DNA
DuPont with Gagen MacDonald and Think Marketing - Countdown to Day One: Creating DowDuPont
FleishmanHillard – Emerson: Creating a Values Compass to Guide Business Transformation
Medtronic Puts 5,000 Employees First in Wake of Hurricane Maria
Weill Cornell Medicine - We Are Weill Cornell
Event Marketing
Agency Spring & Grundfos - "Best Installer" – Reaching the hearts of installers through their hands
CandlePower by Yankee Candle - Newell Brands Ignites a Flame in SoHo
Catalyst Public Relations - Courtyard Super Bowl Sleepover
Comcast NBCUniversal - The Xfinity California Drone Speed Challenge!
Cox Communications - Smart Home Events
Goldman Sachs - 10,000 Small Businesses Summit: The Big Power of Small Business
Hunter Public Relations - Scotch-Brite Brand #WorthTheMess
Kajeet - Homework Gap Heroes
Ketchum and Mastercard - Mastercard Brings Start Something Priceless to Life Leading into the 60th Annual GRAMMY Awards in NYC
LEWIS - Event Series: Fake News, Real Consequences 
External Publication
Cherokee Nation & Cherokee Nation Businesses - Anadisgoi magazine
Children's Health - Taking Pediatric Health Care and Welfare 'Beyond ABC'
Covered California - Issue Briefs
Danfoss Solutions Magazine
MullenLowe U.S. - Futures Magazine 2017
New York Independent System Operator (NYISO) - Power Trends 2017: New York's Evolving Electric Grid
Upstate Medical University - Upstate Health magazine
US Postal Service - Postal Facts 2018
The USG Corporation + U.S. Chamber of Commerce Commercial Construction Index
Facebook Communications
Association of International Certified Professional Accountants - Human Intelligence
Golin - JetBlue's No Blackout Non-Eclipse Non-Event
KWI Communications - Aflac and the Power to Do Good
Maryland Department of Transportation State Highway Administration - Severn River Bridge and MDOT SHA Cares
Financial/Investor Relations
Abbott - An All-Time High for Financial Communications
BECU & C+C - BECU's Closing for Good and "The Next Big Talk"
Cherokee Nation Businesses - Economic Impact on Oklahoma
LaVoieHealthScience - Publicly Traded Company Releases Pivotal Clinical Trial Data
PAN Communications - Positioning Quanterix for a Successful IPO
Precision Tsugami (China) Corporation Limited- Precision Built for Success
Viacom - Fiscal 2018 Second Quarter Earnings Results 
Global PR Campaign
DeVries Globala - Zippo Flame Art
HP Inc. at Cannes
HP Inc. - The Wolf
IBM Research - Quantum Computing
O'Malley Hansen Communications - HanesBrands Latin America Public
UTC Climate, Controls & Security – HEALTHfx: The Benefits of Green Buildings: Energy, Emissions and Health
Visit Orlando - Orlando's BIG Thank You
Walt Disney Studios - Black Panther 

Healthcare Communications
American Dental Association - Combatting the Opioid Epidemic: ADA Launches New Policy
American Kidney Fund - Hurricane Disaster Relief for Dialysis Patients
Biosector 2, a Syneos Health company - Telling Metastatic Breast Cancer to "Kiss This!" with #KissThis4MBC
Cision Distribution for Varian Medical Systems
DEA and Discovery Education - Operation Prevention
GCI Health - Raising Awareness of gammaCore: The first non-invasive treatment for patients with migraine and cluster headaches
Gedeon Richter Plc. - Richter Health City Program
Golin - Humana Champions Boomers at National Senior Games
MDR & Sanford Health - Year-round Youth Health Activation Through the Classroom
Ogilvy & Boehringer Ingelheim - Bernie Williams Hits a Breathless Homerun
RXMOSAIC - #NoHormonesPLZ inspires women to ask for what they want – or don't want – in their birth control
Shield HealthCare - OstomyLife
UnitedHealthcare - PreCheck MyScript
UnitedHealthcare Motion
Weber Shandwick and Sutter Health – Heroes Among Us: Sutter Health Emerges as a Role Model for Natural Disaster Response in 2017
Weill Cornell Medicine - We Are Weill Cornell
Influencer Communications
AARP with Rogers & Cowan - AARP Studios Dinner With Don
American Public University System - Social Influencer Program
BASF US Crop Protection - Bonding with Farmers on the Dirt Road Tour
California Pizza Kitchen - #PoweredByCauliflower
Golin - JetBlue Check In For Good
Havas PR - Transitions Change Agents: Appealing to Younger Eyes
InterContinental Hotels Group - Holiday Inn Influencer Communications Campaign
Marina Maher Communications - Merck Women's Health Helps Women Plan for "Her Life. Her Adventures
PNC Financial Services Group - PNC Bank's 2017 Christmas Price Index Social Media Influencer Campaign
Rpr Marketing Communications - Neutrogena Makeup SkinClearing Campaign
Sony Electronics - Sony Alpha Imaging Collective
Team Epiphany - Heineken and BAPE collaborate for 2017 #Heineken100 program
Weber Shandwick - Cancer Screen Week
Weber Shandwick - Milk: Beyond the brand: how MilkPEP built consumer confidence with trusted voices
Instagram Campaign
IBM
Kivvit - Wynwood Business Improvement District
M Booth - Johnson & Johnson Donate a Photo Influencer Program: Driving Affinity Through Photography
RIDGID - Summer Brews
Synchrony - Not Just A Purchase
UN Foundation - #EyeOnClimate
Internal Publication
Children's Health - 'Balloon Beat' Rises Above the Industry Standard
Coca-Cola North America - Strategic Employee Newsletter Program
KFC Corporation - The Bucket Newsletter
MWW PR - FirstEnergy-TV
Stein IAS - The Post-Modernist
Turner International - On Location With Gerhard
Union Pacific - 2018 Strategy Publication
Viabuzz - The Voice of Viacom18
Large PR Firm of the Year
Finn Partners
FleishmanHillard
Ruder Finn
LinkedIn Communications
Cisco Talent Brand - LinkedIn Life / Career Pages
FleishmanHillard - Amplifying Executive Voices to Share Thought Leadership Perspectives
Live Streaming
Cisco - WeAreCisco Facebook Live Employee Culture Correspondents
Golin - JetBlue's No Blackout Non-Eclipse Non-Event
Hampton by Hilton Uses Comedy to Connect With "Real" Travelers and Break the Aspirational Mold
IBM
Racepoint Global - Imagine the Future, Dassault Systemes 3DEXPERIENCE Forum
Texas A&M University - Midnight Yell Livestream Campaign
WE Communications - "Racing The Sun" with the New 2018 Volvo
Marketing Communications
BackBay Communications & Murray Devine - Spend Less, Reach More
Edelman - Dove and Shonda Rhimes Launch Real Beauty Productions
FleishmanHillard - Emerson Top Quartile Industry Thought Leadership
HP Digital Artistry House: Reinventing Digital Storytelling
Lippe Taylor - Deion Sanders for BOTOX Cosmetic
Nationwide - 'GOALS' campaign / Walter Payton NFL Man of the Year
Newell Brands - Elmer's Glue: It's Slime Time
Oracle - Putting Mack Trucks in the Driver's Seat of a B2B
Sparkpr - eHarmony's Happiness Index
Tourism Australia - Dundee Tourism Campaign
UTC Climate, Controls & Security - HEALTHfx – The Benefits of Green Buildings: Energy, Emissions and Health
Visit Orlando - Orlando's BIG Thank You
Marketing Team of the Year
CSRA
Luxottica Pearle Vision - Thinking Small To Win Big
Mitsubishi Electric
Modernist Cuisine
Parallel Wireless Dynamic 4
RIDGID
Rogers & Cowan
SignUpGenius 
Measurement
APCO Worldwide - VantageScore B2C Pivot Research
Dell – IT Transformation - Social Intelligence
H&R Block - Ditching impressions and revamping PR measurement
Hill+Knowlton Strategies - Aflac 2017 Open Enrollment Campaign
Ketchum Global Research & Analytics – New York International Auto Show: Impact Analysis
SAP - Measurement - Aligning company revenue directly to PR (finally!)
Media Event
Allied Integrated Marketing - WWE WrestleMania 33 Media Blitz
Burrell Communications - Toyota Music: The Quintessential NYC Night
California Milk Processor Board - Three Kings' Day and Milk
Canadian Tire - Play Finds A Way Launch
Consumer Technology Association
Covered California - "Covered in Art" Open Enrollment Bus Tour
Finn Partners /DHL - DHL eCommerce 2018 San Francisco Media Day
KFC Corporation - KFC Georgia Gold Launch
Intel - Experience the Moment: Intel House Press Day
National Geographic - JANE at the Hollywood Bowl
Reebok x Nina Dobrev x Les Mills Ultimate Staycation
Rogers & Cowan - Elton John Bids Farewell to the Road
Rogers & Cowan and FRUKT - Delta Air Lines Silent Disco
UTC Climate, Controls & Security - Excitement is Building: Introducing the UTC Center for Intelligent Buildings
Media Relations
Abbott & GCI Health - Bringing the FreeStyle Libre Revolution to the U.S.: Transforming the Lives of People Living with Diabetes by Liberating Them from the Pain and Hassles of Routine Fingersticks
Activision, PMK*BNC, Step 3– Destiny 2
Children's Health - We Have Heart: Building Awareness of the Heart Center at Children's Health
FleishmanHillard - CERAWeek with Emerson Goldwind Americas - Goldwind Works
Golin - JetBlue's No Blackout Non-Eclipse Non-Event
Intel - Experience the Moment
Jessica L. Daitch Communications LLC - CreakyJoints® Don't Hold Back the Activated Arthritis Patient
KFC Corporation - Fried Chicken Scratch 'n' Sniff Valentine's Day Cards
Kivvit - DSM Change the World
lotus823 & Nuheara - Listening in as Hearables Brand
Modernist Cuisine – Modernist Bread Book Launch
Mower - Paychex
O'Malley Hansen Communications & MKTG - NFL Extra Points Credit Card at Super Bowl 51
PAN Communications - A Swipe Right on Application Security: Checkmarx Discovers Vulnerability in Tinder
Raytheon - Elevating Raytheon's Cyber Brand
U. S. Travel Association - Sparking a National Conversation to Win Back America's Lost Vacation Days
Weber Shandwick – Ancestry – Declaration Descendants
WE Communications - "Racing the Sun" with the New 2018 Volvo XC60
Medium PR Firm of the Year
Cone Communications
Havas Formula
Hotwire
Lambert, Edwards & Associates
Matter Communications
PAN Communications
Peppercomm
Praytell
Spectrum
Tonic Life Communications
Multicultural Campaign
21st Century Fox - The Search for Hidden Figures
The Axis Agency - ALDI First, Primero ALDI
Burrell Communications - Toyota Green Initiative
Covered California - Targeted Segment Outreach
d expósito & Partners - Campaign Categories/Multicultural Campaign - Cada paso del camino (Every Step of the Way): An AARP Documentary on Latino Family Caregiving
DC Health Benefit Exchange Authority - DC Health Link: Get the Facts. Get Covered, A Campaign to Cover the District's Uninsured
DeVries Globala - Pantene Gold Series All Strong Hair is Beautiful Hair Campaign
Marina Maher Communications - Love Over Bias
Republica - Toyota, Juntos Somos Imparables
On a Shoestring Campaign
Allied Integrated Marketing - 2018 Philadelphia Environmental Film Festival PR Campaign
Amélie Company - Lockdown Your Car PR Campaign
APCO Worldwide - Danfoss
BML Public Relations - BMLPR & Finlandia's Commemorative Cheeseware in Honor of Finland's 100th Anniversary
BWK New York - Ideas worth Spreading: Taking the TED Fellows' Big Ideas Beyond the TED Stage
The Dialog Lab - Credibility Through Coverage: Stealth to Exit in Under a Year
Entercom Communications - Winning with Audio: Entercom as America's New Media Powerhouse
Global Wildlife Conservation - The Search for Lost Species
HP Inc. - HP ENVY ISS Printer
ICR - Super Bowl LII "Philly Market" Stunt by Boston Market
PAN Communications - Trinity Partners Identifies Similarities Between Most Expensive Novel Drugs
PPG - COLORFUL COMMUNITIES Program
Rogers & Cowan - Keratin PBO
Online Press Room/Media Center
Alibaba Group – Alizila
Cherokee Nation & Cherokee Nation Businesses - Anadisgoi.com
Intel - Experience the Moment - Intel Newsroom
Microsoft Stories
Wells Fargo
Podcast
Cambia Health Solutions - HealthChangers Podcast
Cold Spring Harbor Laboratory - Base Pairs
CropLife America - POPagriculture
Microsoft - .future 
PR Professional of the Year
Michele Barmash, Reebok
Staci Rawls, KFC Corporation
Adam Ritchie, Adam Ritchie Brand Direction
Esther Mireya Tejeda, Entercom Communications
Jon Sullivan, Aflac 
PR Team of the Year
All Suites brands by Hilton
EY
IBM Research - Quantum Computing
Ketchum - The Puerto Rico Tourism Company
Kite Hill PR
National Association of Manufacturers
National Geographic
National Retail Federation
Reebok
UN Foundation
Visa Global
Press Release
BBB Investigates - All Things Country
Golin - Dewey Ryder Writes A Press Release for MTN DEW
Hager Sharp - 2017 NAEP Mathematics and Reading Press Release
Hong Kong Tourism Board - "Believe it or not, it's Hong Kong!" HKTB launches Hong Kong's Great Outdoors Campaign
Intel - Experience the Moment
National Geographic - Nat Geo WILD's 2017 SharkFest Announcement
Smithsonian National Museum of American History - 2018 is Year of the Tractor
Pro Bono Campaign
DEVENEY Launches Palm Beach - The Essential Guide to America's Legendary Resort Town
Hydrogen Advertising - Cascade Effect
Hydrogen Advertising - Let's Finish the Job
Republica - Broken Crayons
TogoRun - Pure Earth Highlights Global Impact of Pollution to Public Health Problem and Economics 
Product Launch
5w Public Relations - All-Clad Revolutionizes the Culinary Standard With Prep & Cook Launch
Abbott & GCI Health - Bringing the FreeStyle Libre Revolution to the U.S.: Transforming the Lives of People Living with Diabetes by Liberating Them from the Pain and Hassles of Routine Fingersticks
California Pizza Kitchen and Coast Public Relations - #PoweredByCauliflower
DeVries Global - Celebrity Edge Reveal: Using Innovation to Drive Wanderlust
Golin - The Launch of MTN DEW
Jackson Spalding - Launching the Blue Delta SkyMiles Credit Card from American Express
KFC Corporation - Georgia Gold Launch
Lyft Launches Five Star Lager
Modernist Cuisine - Bread Book Launch
O'Malley Hansen Communications - Ninja Intelli-Sense Kitchen System Launch
Sharp Communications - Benjamin Moore Launches CENTURY
T-Mobile - ONE Unlimited 55+ 
Product Launch - B2B
BLASTmedia - CloudPassage Container Secure Launch
Edelman - Mitsubishi Regional Jet: Progress & Commitment
IBM Research - Quantum Computing
March Communications - First Face, Now Voice: March Brings Affectiva's AI Vision to the Public
Parallel Wireless - Jakes 2nd submission
RIDGID - PEX-One Product Launch 
PSA
American Academy of Orthopaedic Surgeons - Painkillers are easy to get into. Hard to escape.
American Humane - Arks of Hope
Citizen Relations - Duracell Daylight Saving
Molina Healthcare - Healthcare Answer Event: Woman on the Street
Republica - Broken Crayons 
Toyota and Discovery Education - TeenDrive365 In School
Public Affairs
American Medical Association - Putting Patients Before Politics in the National Health Reform Debate
APCO Worldwide - Nuclear
Association of Washington Business - Grow Here Employer Image Campaign
CLS Strategies - Medicare the Pod: CLS Strategies Fight for Type 1 Diabetes Patients
DEA and Discovery Education - Operation Prevention
FleishmanHillard & Anheuser Busch - The United States of Beer
IBM - Bridging America's Skills Gap with New Collar Jobs
Impact Public Affairs - CADA Campaign on Bill S-2
KFC Corporation - Antibiotics Commitment PR Campaign
Kivvit - New Yorkers Against Corruption
Re-branding/Repositioning – Stephen Payne
Aflac Supported by FleishmanHillard, KWI, Marina Maher Communications and Carol Cone on Purpose  - Aflac "Out-Paddles" a Reputational Deficit
Airfoil Group and Village Green Reimagine Distinctive
Akrete and Skender - Revolutionizing How the Industry Builds by Integrating Design, Manufacturing and Construction
Allstate Foundation - Helping Hands Grants
Edelman - The Evaus
Edelman - TRESemmé x Work It
Entercom Communications - Winning with Audio: Entercom as America's New Media Powerhouse
Hotwire - Breaking The Agency Mold
Miller PR - Bumble gets into the Bizz - introducing Bumble's networking platform
RF|Binder and McGraw-Hill Education - Repositioning an Established Brand to Reflect a New Corporate Vision 
Satellite Media Tours
Burson-Marsteller and Bank of America - Uncovering the Joy of Travel
Multivu, a Cision Company – The Toy Guy
U.S. Food and Drug Administration, IQ Solutions & Subject Matter - Every Try Counts Campaign
Small PR Firm of the Year
Arketi Group
ARPR
Beehive Strategic Communication
Butin Integrated Communications
High10 Media LLC
JONESWORKS
JPA Health Communications
MIX Public Relations
Sachs Media Group
Sharp Communications
Susan Davis International
United Collective - ROX United 
Warschawski
Social Good Campaign
Aflac - Take only memories, leave only duck prints
BASF US Crop Protection - Engaging Farm Families to Grow Butterfly Habitat
CITGO - Fueling Good. Rebuilding Lives.
Dallas Fort Worth International Airport - DFW Live Green Campaign
Edelman - Dove and Shonda Rhimes Launch Real Beauty Productions
Kivvit - DSM Change the World
Social Media Campaign
AARP with Rogers & Cowan - AARP Studios Dinner with Don
AbelsonTaylor - Sunovion's #MyE
AT&T With FleishmanHillard - #OneWith Camp Mars, AT&T + Thirty Seconds to Mars Social Campaign
Cisco - #WeAreCisco #LoveWhereYouWork #Maythe4th Be With You!
Golin - JetBlue's No Blackout Non-Eclipse Non-Event
Novartis with Biosector 2, a Syneos Health company - Telling Metastatic Breast Cancer to "Kiss This!" with #KissThis4MBC
Otis Elevator Company - #reIMAGINEtheGlobe
RIDGID - Summer Brews
Sony Electronics - Sony Alpha Imaging Collective
Stein IAS & Getty Images - The Not So Stock Answer
Union Pacific - Your Life is Worth the Wait
VisitPITTSBURGH - Mighty. Beautiful. Third Word Campaign
Speech/Series of Speeches
The Coca-Cola Company - Writing Our Next Chapter Together
Finn Partners - When Core Values Collide: Diversity, Inclusion, and Free Speech
KDaly Communications - #Impact by Kristen Daly
National Association of Manufacturers - 2018 State of Manufacturing Address by Jay Timmons
Trade Show/Event PR
AARP with Rogers & Cowan - AARP Movies for Grown-ups Awards 2017
APCO Worldwide - USA Pavilion at Expo 2017
Current PR - Willow Frees Nursing Moms with First Wearable Breast Pump
Edelman - Mitsubishi Regional Jet: Progress & Commitment
HP Inc. - Forces of Fashion
HP Inc. inspires Creativity for Today's Students and Tomorrow's Reinventors
MIX Public Relations - MIS Training Institute's InfoSec World 2018 Conference and Expo
Parallel Wireless at Mobile World Congress 2018
Sharp Communications - Launch of Kips Bay Palm Beach Show House 
Twitter Campaign
Dallas Fort Worth International Airport - #DFWBracket Challenge
DCG Communications - #WearBlueDay
Video
American Academy of Ophthalmology - 8 Steps to Protect Your Sight from Contact Lens Infections
Biosector 2, a Syneos Health company - Beyond Silence
CEMEX USA - Building a Better Future in 2018
King Media - AGC of Michigan Recruitment Campaign
Kovert Creative - Fight Dirty
Kovert Creative - Howler Soccer Ball Phone
Lippe Taylor - MonaLisa Touch Gives Postmenopausal Women a "Voice" in "Real Patients Anthem" Campaign Featuring Original Song
Marina Maher Communications - Merck Redefines Medicine as Invention
Microsoft - Explanimators
The Orange Catholic Foundation - Thank You
Planet Fitness - Love at First Lift: A Dream Wedding at Planet Fitness
RBC Wealth Management - Women of RBC
Smithsonian National Museum of American History - Hispanic Advertising and Broadcasting in Spotlight for Hispanic Heritage Month
Visual Storytelling Campaign
DeVries Globala - Zippo Flame Art
Golin - CTCA: Passion to Care
IBM – The Curiosity Shop
M Booth
Makovsky Integrated Communications - Vericool Cartoon Campaign
SAP North America - The Office Video Series
Swimsuits For All
The Thomas Collective - Look Up
Website Marketing
McCabe Message Partners - SafeNeedleDisposal.org
Walker Sands - CloudCraze Demand Gen Program 
Word of Mouth Marketing
Dairy Farmers of Wisconsin - #SXSWisconsin: The World's Longest Cheeseboard...from Wisconsin, of course!
Intermark Group - America's Original Mardi Gras – Sweet Home Alabama
Tier One Partners - The Georges Are Coming! Ally Promotes 'Hardest Working Dollar' Campaign by Putting Troop of Fun-loving George Washingtons to Work
Tourism Australia - Dundee Tourism Campaign 
WOW! Award
Covered California - "Covered in Art" Open Enrollment Bus Tour
Global Wildlife Conservation - Finding a Match for Romeo, the World's Loneliest Frog
HP Inc. - ENVY ISS Printer
HP Inc. Inspires Creativity for Today's Students and Tomorrow's
Intel - Experience the Moment - Guinness World Record-Breaking Drone Light Show
KFC Corporation - Zinger PR Campaign
Mastercard - Girls4Tech
Reputation Partners - Lyft Launches Five Star Lager
Rogers & Cowan and Verizon- Dear Basketball