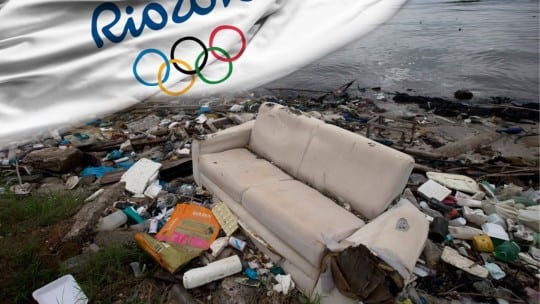 Not so many Olympics ago, after a candidate city emerged victorious, PR, advertising agencies and sponsors would whip out their playbook, make minor changes and, presto, have a 'new' campaign. But to those who follow Olympics campaigns, especially their PR approaches, the new too often resembled the old.
Things changed, though. The Sochi (2014) and Rio games (2016) are largely responsible. In past Olympics controversies, U.S. sponsors remained largely untarnished, as you'll see below. However, Sochi and Rio showed that brands now are part of negative media coverage.
Will They Stay or Go?
Protests already have marred the upcoming Tokyo 2020 Summer Olympics. That's not a typo. The 2020 games are scheduled to open July 23, 2021.
Some surveys show that almost 80 percent of Japanese citizens want the games cancelled or postponed because of COVID-19 concerns. And on May 14, 2021, an online petition attracted 350,000 signatures urging that the games be cancelled.
Nevertheless, the International Olympic Committee (IOC), oblivious to concerns of citizens in host countries, insists the games will be held.
Human rights groups, before, during and after the 2022 Winter Olympics in Beijing will target U.S. sponsors for their support of a totalitarian regime. Efforts against February's winter games are certain to accelerate in late July, immediately after the Olympics flame in Tokyo is extinguished.
History
Prior to the 1936 Olympics, U.S. corporations with business in Germany stood silent or, as Coca-Cola did, supported the Nazi-hosted Olympics, ignoring that the first concentration camp opened three years earlier. Despite vocal opposition from prominent U.S. sports and government officials, the American Olympic Committee (USOC) participated in the games, providing Hitler with a huge propaganda vehicle.
When Russia passed its anti-gay laws, U.S. sponsors, with the exception of AT&T, remained mute. And they kept quiet during the public whipping of Pussy Riot protestors not far from the Sochi Olympics venues in 2014. When, shortly after the Olympics, Vladimir Putin sent troops to Ukraine, U.S. sponsors again kept mum, as did the IOC and USOC.
Lochte's Headaches
But activists' successful protests and social media attacks against Coca-Cola, McDonald's, Visa, Proctor & Gamble and others caused sponsors to change or ditch their Sochi plans.
At the Rio games, sponsors of Ryan Lochte had to play catch-up when negative stories about his behavior dominated coverage for almost a week.
Protests against Olympics are as certain as the marathon. Protesters have a long list of issues to attack. They can decry the costs, corruption, environmental issues and often the dislocation of poor people from their communities. In autocratic countries, the regime's strong-arm tactics make a large target.
As we said, the Teflon umbrella protecting sponsors is gone, at least in the U.S. In addition, sponsors must prepare for the worst because special interests groups are sure to attack them in the future.
Protests against holding the games in Japan next month receive almost daily news coverage. Those activities likely are mild compared to what's coming for February's Winter Olympics in Beijing.
Sponsors Need PR Plans
To counteract protests, sponsors should have a PR plan that can be activated asap in response to negative media coverage.
There are several tactics they should consider that might limit damage from protests and the resulting negative media coverage:
Separation: Brands must demonstrate that sponsoring the Olympics does not mean they are automatically dismissing activists' concerns. One way to do this is to let activists state their case on a portion of sponsors' web sites. In addition, sponsors can post print and TV stories about protests on their sites.
Reach Out: Prior to planning media strategy, sponsors should meet with activists in host countries to hear their grievances and consider them.
Contact: Sponsors should appoint an ombudsman to maintain continuous contact with activist groups in the years prior to and during the Olympics.
Protest: As long as host-city activist groups stage peaceful protests, sponsors should do their best to ensure these activities are permitted.
Politics: Sponsors should use their economic muscle to prevent the IOC from awarding the games to authoritarian regimes. Negative media makes life difficult for PR pros attempting to gain positive coverage for clients.
Teams: Sponsors should rethink using specific athletes in promotions. This lessens chances of being associated with an athlete-gone-bad. Instead, sponsor teams.
Being proactive, doing your homework and tossing the old playbook can position sponsors as open-minded and willing to listen to differing viewpoints. It just might protect them from activist groups' attacks, or limit reputation damage. At the very least, it is certain to result in decent to good press, which, along with increased products sales, is why sponsors spend big bucks on mega sports events.
Arthur Solomon was SVP/senior counselor at Burson-Marsteller. He is on the nominating committee of the Seoul Peace Prize. Contact him: arthursolomon4pr@juno.com