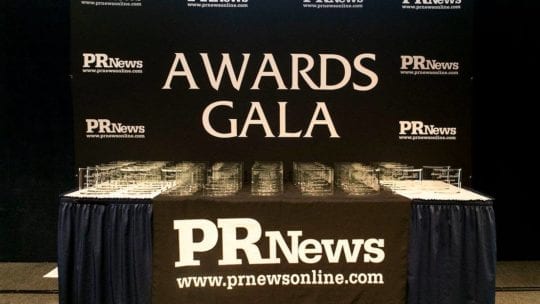 A map of arts organizations of color. An empowerment initiative for female rabbis. A social-led effort to curb teen bullying.
These ambitious initiatives are just a few of the campaigns championed by the finalists at PR News' nonprofit awards, a lion's share of great brands that have launched incredible nonprofit campaigns over the last year.  PR News will celebrate our 2019 Nonprofit winners at a luncheon ceremony on March 15 at the National Press Club in Washington, D.C.
Winners will be judged based on the strength of their research, the tactics they used, as well as the campaign's overall measure of success.
The full list of Nonprofit finalists is below. Profiles of each winner will be available following the ceremony in March.
Nonprofit Communicator of the Year
• Audrey Alwell, Midwest Organic and Sustainable Education Service
• Maureen Maycheco, Reach Out and Read Colorado
• Linda Solomon, Pictures of Hope
Annual Publication or Brochure
• AAP Foundation
• Air Movement and Control Association International Inc. - 2018 edition of AMCA inmotion magazine
• Hong Kong Tourism Board - We Make the Difference
Branding/Re-Branding
• Center for Constitutional Rights
• Connected Nation
• Valley Forge Tourism & Convention Board - Montco Makers & Patriot Trails Refresh
Corporate/Nonprofit Partnership
• AARP - Disrupt Dementia
• Children's Miracle Network Hospitals - Dairy Queen Chief Blizzard Officer
• Microsoft - Women-in-Cloud
Crisis Management
• The TASC Group - Protecting the Role of Female Rabbis in the Orthodox Jewish Community
• WordWrite Communications - YMCA of Greater Pittsburgh's CPR Plan
Digital PR and Marketing
• AACC - Laboratories
• Easterseals Southern California - Changing the Way You See Disability
• GMMB - You Can
• Milton Hershey School - Voices of Diversity
• VSP Global - When Waters Rise
Employee/Internal Communications
• Crossroads - "Balloon Beat" Lifts to New Heights
• University of Maryland, Baltimore - UMB Live Near Your Work Campaign
Event PR
• Global Business Travel Association
• Habitat for Humanity International - Communications Department
• San Diego Convention Center Corporation - Comic-Con Security Integrated Communications Plan
• Scott Circle - 2018 Capital Fringe Festival
External Publication or Report (online or print)
• Air Movement and Control Association International Inc. - 2018 edition of AMCA inmotion magazine
• Alliance for Strong Families and Communities - The National Imperative: Joining Forces to Strengthen Human Services in America
• BBB Central Texas - BBB serving the Heart of Texas's Trust Talk Magazine
• CECP - Giving in Numbers
• Crossroads - Children's Health Takes Pediatric Health Care and Welfare 'Beyond ABC'
• Kenneth Rainin Foundation and Akonadi Foundation - Mapping Small Arts and Culture Organizations of Color in Oakland
• Midwest Organic and Sustainable Education Service - Organic Broadcaster
• Reach Out and Read Colorado - A Story About Reading | New Parent Empowerment Initiative
• The Wilson Quarterly
Internal Publication (online or print)
• American Osteopathic Association - The DO
• Florida Realtors - Take the Lead
• Walled Lake Consolidated School District - Insider Internal Weekly Publication
Media Relations
• American Osteopathic Association – Good Fitness Goes the Distance
• Habitat for Humanity International - Communications Department
• Havas PR - Bob Woodruff Foundation
• Havas PR - Walking with the Wounded Walk of America
• The TASC Group - Protecting the Role of Female Rabbis in the Orthodox Jewish Community
• World Wildlife Fund - Living Planet Report 2018
Natural Disaster Communications
• AbbVie - From Relief to Resilience: AbbVie Supports Hurricane Relief in Puerto Rico
• Crossroads - Children's Health Response to Hurricane Harvey, One of the Largest Disasters in Texas History
PR on a Shoestring Budget
• The National Creditors Bar Association - Re-Branding AGAIN on a Budget
• The TASC Group - Protecting the Role of Female Rabbis in the Orthodox Jewish Community
Social Media
• Crossroads - Children's Health Response to Hurricane Harvey, One of the Largest Disasters in Texas History
• FleishmanHillard - Ascension Thought Leadership
• HelpGood - Because Of You: Teen Bullying Prevention
• Miami-Dade County Department of Transportation and Public Works - Abuela's Transit Tips
• Princeton HealthCare System - Princeton Stars
Social Responsibility Campaign/Initiatives
• Havas PR - Walking with the Wounded Walk of America
• MullenLowe - The Evolution of Drink Good Do Good: Helping Increase Access and Awareness to Affordable, Quality, Fresh Fruits and Vegetables
• Starlight Children's Foundation - Starlight's Design-a-Gown Campaign
• United Way Worldwide - Campaign to Fight for an End to Hunger
• Valley Forge Tourism & Convention Board - Valley Forge Revolutionary 5-Mile Run
Video and/or Podcast Program
• Greenough - Last Seen Podcast
• Lupus Research Alliance - Lupus Stories
• National Beer Wholesalers Association – Everyday Heroes
• VSP Global - When Waters Rise
Web Site
• Farm Credit Administration
• HelpGood - Animal League America: Muttigrees.org
• Priority PR - Fellowship of Reconciliation Website & Rebanding Effort
• The Lymphoma Research Foundation