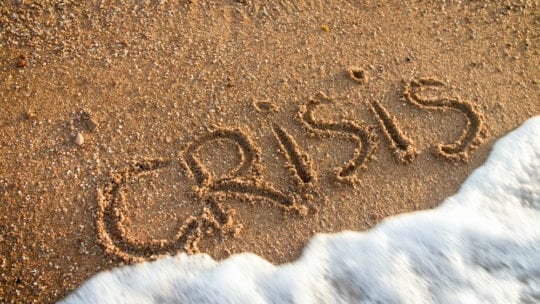 With the start of a new year comes an inevitable onslaught of high-profile crises that could have been avoided. Crisis communications remains a central editorial focus for PR News because with each public shaming of a brand that makes the news comes lessons on what could have been done differently.
As part of our commitment to bring PR pros practical tips on navigating choppy waters, PR News partners with expert communicators who have been through the storm and kept the proverbial ship afloat. That's why we're hosting a Crisis Management Summit, Feb. 27-28 at the Eden Roc on Miami Beach.
Here are some of the tools that communicators will be speaking about at the summit.
Pivot Tables
Making a living pivot table, a sort of "if this/then that" document, can help you be calm and organized when it comes time to speak on your crisis externally. Kaelan Hollon, VP, Global & Content Protection Communications at the Motion Picture Association of America, says that this assists with the process of figuring out who owns what "people know who's exactly approving what messages and why." She'll be speaking about her strategy with pivot tables, and more, during the Media Relations breakout session at our Crisis Summit.
Crisis Plans and Playbooks
Though we have a dedicated session on crisis plans, attendees should expect to hear brand communicators speak on their approach to developing a plan throughout the day. Errol Cockburn, SVP of Communications at MSNBC, will speak to the importance of creating a plan beforehand through a tabletop training session. Kena Lewis, director of public affairs and media relations at the Orlando Health network of hospitals, will talk about her dedicated emergency management team, which uses a grid exercise to piece together different pieces of a crisis statement to shape them into an optimal response. She'll also speak to the Incident Command System, a physical map used by government organizations like FEMA in order to find out who takes ownership of what when a crisis hits. Ronn Torossian, CEO of 5WPR, will speak to the role that legal counsel should—and shouldn't—play when developing a crisis plan.
Digital Crisis Simulation Exercises
As a big part of any crisis plan should involve crisis simulation, we'll hear about some innovative approaches in crisis training. Among them, APCO Worldwide has a particularly innovative approach, which will be detailed by global crisis practice lead Eliot Hoff during his breakout session about leading a cross-department crisis team: a digital simulation, presented in the form of a game, that can be administered to a team with or without informing them that a simulation is actually occurring. As with all crisis simulations, the intention is to figure out what communicators will actually do versus what they say they'll do. An advantage to this particular approach is a bevy of real-time analytics about the potential crisis that are collected both during and after the simulation.
Internal Surveys
We'll also hear about the vital role that conducting internal surveys plays in flagging potential risks that executives might have missed. While almost every large corporation has a structured enterprise risk management assessment group that branches down to the operations group, even communicators at smaller organizations will come away with some ideas on how to scale this process down. People in various departments of your organization often know what the risks or disruptors are, but what protocol do you have to make sure those are heard and communicated up?
Internal Education Initiatives
Beyond a formal survey, educating your internal stakeholders on what potential risks they should flag, and how to communicate those risks, is paramount to the 'proactive, not reactive' philosophy of crisis management. To that end, our speakers will share some key tips for educating those within their organization on best crisis management practices. Tori Carter, public relations manager for KFC Global, will share her learnings from KFC's "Crisis College", an internal educational program that works with franchisees in markets throughout the chicken purveyor's vast global network, training them on what issues to flag and when/how to escalate to the global office.
External Education Initiatives
The role that educational initiatives can play in mitigating a crisis must not be understated, as it involves communications with your brand's audience and customers, too. As part of her case study breakout session, Equifax's global university relations lead for technology and cybersecurity, Marisa Salcines, will share her story of transition from Equifax's senior director of PR to her current role in the wake of the credit reporting bureau's massive 2017 data breach.
Herbalife VP of communications Jennifer Butler will speak to the role that education played in curbing preconceptions about her brand, including how working with influencers and earned media to educate the general public on Herbalife's practices helped change the brand stigma.
Social Listening Hives and Tools
Expect many recommendations for social listening strategies at the summit, including how KFC's Tori Carter uses a social listening hive to monitor global markets and make sure they are engaged in robust social engagement practices. On the tools front, you'll hear about innovative proprietary dashboards from communicators like Bjorn Trowery, director of corporate communications and brand pr for Heineken, along with some favorite tools of JUUL CCO Matt David and MSNBC's Errol Cockfield. Our sponsors Dataminr and Crisp Thinking, along with media partner Muck Rack, will also share some best practices for social listening around their platforms and beyond.
Brand Voice
We'll also learn how brand voice is an invaluable tool when properly deployed.  JUUL CCO Matt David will share the story of his time as the Starbucks lead at Edelman during its 2018 racial bias crisis, wherein two black men were wrongfully arrested in a Philly store, and how the brand developed a diversity and inclusion identity after the crisis that it has since carried into every fiber of its corporate DNA.
Go Bags
Last but not least, we'll get some pro-tips on how effective something as simple as a "go bag"—an emergency preparedness bag that you have ready in advance—can be in moments of serious disaster. We'll hear stories about how having a phone charger can make or break your communications strategy when the power goes out, and what to bring when you're forced to relocate.