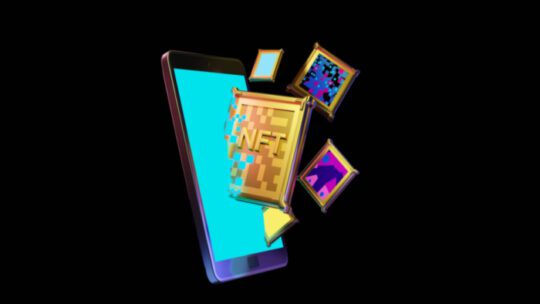 "I'm all about experiences we, as marketers, can create for consumers," Michael Lamp, chief digital and social officer at HUNTER, told us several years ago. At the time, Augmented Reality (AR) and Virtual Reality (VR) were in diapers. Yet Lamp envisioned creating AR- and VR-based experiences.
For example, he mentioned devising experiences for customers who live far from physical attractions, such as theme parks and museums. These customers, Lamp said, could maintain and enhance their ties via virtual tours and rides they could enjoy in their living rooms.
As we know, the pandemic catalyzed these AR and VR concepts into reality.
Skip to today and Lamp's jazzed with the metaverse's vast potential for creating unique experiences for consumers. One of the tools he's looking at is the NFT, or non-fungible token.
Owning a Piece of the Museum
Lamp relishes the idea of NFTs facilitating consumer ownership of one-of-a-kind, brand-related collectibles, such as a piece of art, a meme or viral graphic.
Founded in 1753, the British Museum is issuing NFTs. Its NFT series lets people 'own' its paintings, actually, digital representations of them.
Costing $500 to $10,000, these NFTs not only provide a revenue stream for the Museum, but they also create an experience for people who've never stepped inside the revered British institution.
Odds are that most people, including those visiting the British Museum, don't know what an NFT is. There's no shame in that.
What's an NFT?
An NFT essentially is a digital-based ownership device. Owning an NFT signifies that the holder possesses a unique (non-fungible) item, such as a piece of art, a meme, video or music clip.
A record of the NFT transaction–a person owning, say, a piece of digital art–is stored on a blockchain-powered digital ledger. Owners also have a record of the NFT in their digital wallet.
Theoretically, such wallets and blockchain technology are 100% secure against criminals. Well, perhaps not 100%.
Losing a Digital Wallet
For instance, at our press time, a crime wave emptied a slew of digital wallets.
In an earlier but similar incident, someone pilfered actor Seth Green's digital wallet. The criminals stole an NFT memorializing Green's ownership of a piece of art depicting a bored ape, a metaverse hit.
As its value is in the millions of dollars, Green's NFT is a juicy target for thieves. Eventually, Green paid dearly for the NFT's return, media reports say. (Incidentally, the FBI recommends investing in a highly secure hard wallet for storage of NFTs and other digital assets.)
Like other purchasers, Green likely acquired his bored ape NFT with digital currency, aka cryptocurrency. And, as we saw in Green's case, an NFT's value depends on the scarcity and quality of the art or music it represents.
Let's say the creator of digital art the NFT represents is Alexis Ohanian, Serena Williams's husband. The art and the NFT have celebrity cache. In addition, the art is rare, unless Ohanian creates more of it.
As such, Ohanian's creation likely is worth a great deal of money at the moment. The same goes for the NFT series Lady Gaga issued recently with an artist, at the Louvre no less.
NFTs representing less-desirable art, the creation of an unknown artist without a pop culture endorser, for example, will have far lower values initially. They might fetch a few digital coins on the secondary market, where NFTs are bought and sold.
Celeb NFTs, Cool and Small
In today's celeb culture, owning pieces of the same NFT series as Jay-Z does is a status symbol. Similarly, owning NFTs, as Paris Hilton and Jimmy Fallon do, gives a consumer cool street cred and bragging rights. It's your entry into an exclusive club. The more exclusive, the higher value the NFT likely has.
Speaking of exclusive, how about this? Purchase an NFT for $14,000 (or the equivalent in crypto) and you'll be one of just a few hundred people allowed entry into a yet-to-open NYC restaurant. That's the plan digital guru Gary Vaynerchuck is overseeing. Still, you'll have to call ahead for reservations. On top of that, owning the NFT won't get you free food. Diners must pay for their food and drink.
Yet, in many ways, celebrities, early adopters and investors are participating in an NFT sphere that eventually will represent only a small fraction of the NFT ecosystem. The future NFT largely will equate to a sophisticated marketing tool, creating unique experiences and bolstering loyalty. And brands will be the catalysts.
NFTs as Marketing Vehicles
As we said above, initially NFTs corresponded to ownership of a digital art work or piece of music. Now, though, marketers at some consumer-facing companies are upending NFT basics.
For instance, brand marketers are coupling non-fungible art with a slew of things. As such, the digital art component often is incidental. Instead, perks and experiences available only for NFT owners are becoming the thing. They're driving NFT value.
"Brands are looking into what NFTs can mean for an enhanced experience," says Nick Casares, head of product at Web3 marketing technology firm PolyientX. He believes within the next 6 months to 2 years "you'll see more mainstream adoption as brands experiment with NFTs as vehicles for customer experience."
Moreover, some of the extras included in NFT ownership constitute the consumer experiences Michael Lamp mentioned at the start of this article.
Michael Orefice, VP, Excel Sports Management, also sees NFTs moving beyond collector pieces for the rich. The emphasis, he says, will center on "what you'd call [an NFT's] utilities and experiences."
They're Free
On top of that, some brands are doing things that seem blasphemous, at least for the small group of well-heeled investors and celebrities buying NFTs as status symbols. Brands are giving away NFTs for free.
Free distribution of NFTs serves several purposes. First, it helps consumers become comfortable with NFTs and digital or crypto currencies.
It also helps brands get comfortable. "The majority of companies that are direct-to-consumer will probably have to adapt to accepting crypto in some way, shape or form," Orefice says. "If not, you're cutting out an entire new demographic of consumer that's going to have buying power."
Similarly, since some marketers believe many consumers eventually will have digital wallets, a free NFT is one way for brands to get inside those wallets.
A New Consumer Class
In addition, brand marketers are creating a special class of consumers with free NFTs. A class much larger than celebrities paying millions for NFTs of bored apes.
This group likely is a young demo interested in digital currency and related issues. Perhaps it's also a demo with a bit more spending power than the average customer, or at least one more willing to experiment. Again, attracting this group with a free NFT appears a good route.
Understand, though, even NFTs offered for free initially may accrue value. Below we'll describe how the National Football League (NFL) kickstarted its NFT involvement in 2021 with free NFTs. Slightly more than one year later, those tokens are trading for several hundred dollars.
In addition, like all digital things, NFTs last forever, in theory. So, a parent could leave an NFT to a child in her will. Assuming the NFT has a sizable monetary value, such a bequest could be significant.
(You can imagine marketers salivating at the idea of consumers handing down a piece of a brand for generations.)
It's Happening Now
The story for PRN readers is that some companies, usually large ones, but not exclusively, already are experimenting with NFT marketing. In a gross sense, they're hoping to create customer loyalty through a new spin on rewards programs.
Indeed, Casares believes eventually "we all have NFTs...they'll be free and as ubiquitous as phone apps." They'll be the new frequent buyer's club, he says. The big difference is they'll be transferable and permanent.
There's also a fascinating movement afoot that uses NFTs as a means of creating a company from scratch.
Profiting from an Old Product
Imagine monetizing a fan community for a product more than 40 years old. It's happening. Kind of. Marketed as giving "the public a…glimpse into" unseen material from the film hit "Pulp Fiction," Quentin Tarantino is issuing a Tarantino NFT series.
Aimed at film buffs and collectors, these NFTs represent portions of the Pulp script, plus digital clips from the 1994 hit. In addition, some NFTs in the series include director-writer Tarantino's exclusive film commentary and his hand-written script notes.
Unfortunately for Tarantino, Miramax Films, the film's distributor, is suing him. It claims Tarantino doesn't own those assets. Tarantino says Miramax is wrong.
Far from Hollywood, indie filmmakers see NFTs as a funding mechanism. Issuing NFTs, indie filmmakers are raising capital for projects, bypassing producers, bankers and studios. The ideal, of course, is that NFT fundraising will alleviate the headaches Tarantino presumably is experiencing now.
Similar to Tarantino's offering, indie filmmakers' NFTs include access to rushes, or unedited footage, digital or physical script snippets.
Film costumes offer a slew of possibilities. For instance, an NFT could represent a costume design, an actual costume or a piece of digital art showing a favorite actor wearing the costume.
So, instead of seeing NFTs as representing digital art, think of NFTs as storage lockers. As such, brands can load all sorts of things in them. In fact, Casares and Orifice are convinced brand-based NFTs will live or die based on the package of perks they offer.
More than Digital Objects
Going back to the film example, why not issue an NFT that, along with digital film footage, also includes an invitation to an on-set meet-and-greet with filmmakers and stars? How about merchandise exclusives or viewing parties where admission is your NFT?
A fascinating off-shoot of NFT ownership is using them as digital shares of stock. So, holders of an indie filmmaker's-issued NFT could literally own pieces of a fledgling movie company. As such, NFT owners could participate in votes about how a film is made, story choices, marketing plans, etc.
Another marketing tactic, applicable to indie or Hollywood productions, is embedding content in films accessible only to, you guessed it, NFT owners.
Fan Engagement
Similarly, how's this for fan engagement and loyalty? In April, director Kevin Smith said his film "KillRoy Was Here," exclusive art from it, behind-the-scenes clips and his commentary would launch as a 5,555-piece NFT series.
In a release, Smith and his partners said, "This launch represents the first time in history that a movie will be released via NFT, expanding the possibilities of what NFTs can provide in a quickly evolving entertainment business…." And, yes, only those holding the KillRoy NFT can view the film.
In addition, KillRoy NFT owners, Smith says, own a "specific version of KillRoy" and can do "whatever you want: Make your own movie, turn it into a cartoon, license him for lunchboxes! We started the story, now YOU get to continue it with your very own version of our titular character!"
Next year, when Smith shoots the sequel, "the shorts and animation that the KillRoy NFT owners create with their own KillRoys will make up the bulk of our sequel anthology."
A variation on this is a large movie production company's plans for an issue of 10,000 NFTs in conjunction with a forthcoming 8-episode film called "Gossamer." The NFTs will depict digital art of the series' characters.
In addition, Gossamer NFT owners can enter the metaverse with 'their' characters and engage in a massive multiplayer online role-playing game based on the film. The NFTs sold out in hours.
That's the (Sporting) Ticket
The music festival sector has adopted several of film's NFT tactics. Recently, only NFT owners could attend the AfterParty music festival. Another festival, Coachella, is offering NFT owners lifetime tickets.
Possible variations: utilizing NFTs as digital tickets for exclusive parties at festivals, letting NFT holders vote on future festival dates, venues and musical acts.
Collectibles
Like cinema, sports audiences thrive on collectibles and memorabilia.
As you can imagine, NFTs are prime vehicles for this category. Already at nearly $2 billion, the NFT sports collectibles market is estimated to reach $92bln in 2032.
Entities like the NFL and Major League Baseball began experimenting with NFTs in 2021. The NFL began slowly, offering free NFTs to fans scanning mobile tickets for 20 regular-season games, all playoff contests and the Super Bowl were eligible for a free, collectible NFT.
Fans were sent an email asking them to claim their virtual commemorative tickets. The NFT they were given became their property to hold or sell.
In all, the NFL distributed some 250,000 NFTs for regular-season games and 100,000 for the playoffs.
Great Email Response
Music to a marketer's ears: an NFL official says fan response for the NFT NFT ticket offer was "off the charts." The email open rate was three times greater than that of the NFL's normal solicitation level of 20%. For playoff NFTs, the open rate was nearly 4 times greater than normal.
And note, the bulk of the NFL's NFTs were a somewhat generic piece of art. Only the Super Bowl NFT actually indicated the fan's seat and row number. The other NFTs were devoid of that information, showing only the date, time and place of the game.
In light of this enthusiasm, it makes sense that for the coming season, 2022-2023, mobile ticket-holders at 101 regular-season NFL games will have a chance to claim free NFTs. It's part of a renewed NFT partnership with TicketMaster.
An Experience: Meeting Athletes
Similarly, sports fans crave exclusive unique experiences, such as meeting athletes and coaches. As such, marketers released a bevy of NFTs that begin with a piece of digital art, like the NFL game ticket, but also include experiential packages.
For instance, like all MLB teams, the Washington Nationals issued one-of-a-kind NFTs last August (2021). The NFTs featured digital art depicting an artist's renderings of the team's stadium.
The Nationals held an auction for people to bid on the NFTs. The "gold edition" NFTs included not only the digital art, but: a personalized team jersey, two tickets to a game in the stadium's best seats, a ballpark tour, "a first-pitch experience," a Zoom conversation with one of the team's broadcasters and several other goodies.
The highest bid last August was $2,000. Later, bids on an NFT site fetched more than 4 times that price.
That NFTs possess a monetary value and can be bought and sold allows sports marketers to connect with another penchant of sports fans: gambling.
As such, sometimes the value of an NFT appreciates beyond the price the consumer paid for it. Other times, its value falls well below the initial price. We'll explore that issue and the importance of communicators educating the public about the plusses and minuses of NFTs in our next article in this series.