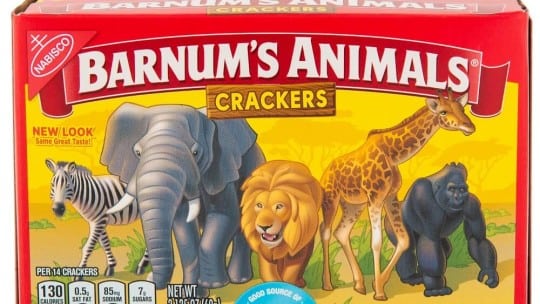 Nothing is sacred in times of change, not even iconography. Nabisco, maker of Barnum's Animals Crackers, has decided to change the illustration on its iconic red box. And no, we're not lion.
The box, along with its décor, houses a staple of snacking that's endured for 100+ years. Its new drawings show animals, such as zebras, elephants, giraffes,  gorillas and lions standing peacefully in grasslands. The old box, seen below, featured animals cooped up in cages in a boxcar, presumably on their way to the Ringling Bros and Barnum & Bailey's Circus.
That's a train without a destination. Feld Entertainment, owner of the Circus for 50 years, decided to close "The Greatest Show on Earth" in May 2017, nearly 150 years after P.T. Barnum acquired it.  Declining attendance and rising costs were the culprits. Downward sales were exacerbated when Feld, bowing to pressure from PETA and other animal-rights groups, chose to exclude elephants from the circus the year before.
It's no coincidence that PETA, the world's largest animal-rights group, also says it initiated the push to free the illustrated critters from their cages on boxes of Barnum's Animals Crackers.
"PETA first contacted Nabisco's parent company (Mondelez International) about the boxes in April 2016,"Ashley Frohnert, PETA's social media manager, tells PR News. Its message "noted the cruelty inherent in animal circuses and the public's growing opposition to the use of animals in entertainment."
It also contained artwork PETA's creative team designed showing animals perched peacefully in a free-roaming setting. Nabisco shared a design with PETA that was "similar in spirit to the box that is now being rolled out around the country," Frohnert says.
Nabisco, she says, "has joined society in taking a stand for all the animals are dragged from city to city in cages and chains and forced to perform confusing and often painful tricks under the threat of punishment."
The story about the updated box has resonated socially, she says. "Since the launch of the box, PETA has been trending on Twitter and the story has been shared by people and media outlets ranging from Sarah Palin and The Onion to NowThis, Time and People."
It's hard to know whether Nabisco or PETA got more of a PR boost from this story. The trade association that promotes cage-free eggs is wondering how it can capitalize on the trend.
Seriously, Nabisco execs say they're always looking to tweak this iconic product so it will resonate more with today's consumers. Rest assured, though, while the box's outside has changed, what's inside remains steady. As a banner on the newly designed box reads, "New Look. Same Great Taste!" Some things never change.
Seth Arenstein is editor of PR News.  Follow him: @skarenstein