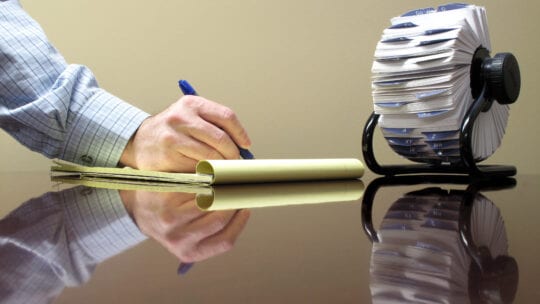 The past two decades have brought a tremendous amount of innovation and efficiency to PR, making certain aspects of the job more efficient. Media-list development is one such task. Formerly, it involved combing through Bacon's Books and countless print copies of newspapers and magazines to find the right target reporter.
In part, PR is about reputation. The media lists we build are a critical part of that. Misguided pitches run the risk of drawing the ire of busy reporters, while poorly vetted media lists, with outdated contacts, run the risk of damaging your standing with those you represent. Here are some tips to avoid those problems:
Start from scratch. Yes, someone will urge you not to reinvent the wheel. But do you know how old that list you're using is and why it was created? Lists often mutate from team to team over many years. In today's constantly changing media landscape, a list 6-12 months old can be woefully outdated.
Identify your audience. If the list is for a new campaign, you'll likely need to conduct research. What media outlets are a priority? Ask company executives what outlets they read and where they'd like to be featured. Find out whom they consider their competitors and research where they're getting covered. Beyond national consumer, business and technology outlets, are there trades you can target to reach potential customers?
Pick your targets. Once you know key audiences and outlets, turn to finding appropriate media contacts. For publications with large newsrooms, you'll need to dig for the right fit. Google is helpful, but often it's not the first place to start. If the company you represent is in the big data or AI sector, for example, try searching the target publication's site for recent coverage of those topics. Multiple journalists may have covered the beat. In addition, notice who, if any of them, is focused on startups, consumer applications of the Internet of Things or companies, such as Apple or Microsoft.
Verify their beat. Just because someone created content about AI or Apple in December 2019 doesn't necessarily mean they're the target for your December 2020 media outreach. The pandemic has resulted in newsroom layoffs and furloughs. Some reporters have new assignments. Review each potential target reporter's Twitter profile to see what they're tweeting and sharing. Also, note clues about them in their bio. In addition, search their most recent coverage. If they haven't published in several months, then you'll probably want to explore alternate contacts.
Collecting contact information. Finding correct contact information can be a trip. Because so many misguided PR pros take the spray-and-pray approach to pitching, some journalists prefer their email addresses remain private. While several major outlets include email addresses on the reporter's biography page, others do not.
Instead of searching the reporter's name and email, if you know the domain name the outlet uses for email try searching for "first last" and "@chooseyourpub.com." That may turn up a narrow list of blog posts, tweets or articles where creators shared their email address. If that doesn't work, try email finders like RocketReach or Hunter.
Cision, Meltwater, TechNews and other tools can supplement list building. Still, there's no substitute for creating media lists from scratch and relying on professional expertise as guidance
Steve Smith is a director at Voxus PR