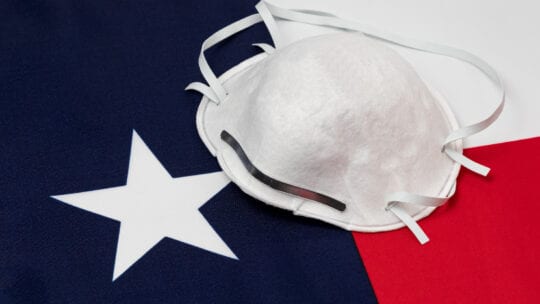 On March 3, Texas Gov. Greg Abbott announced an end to the state's mask mandate. In addition, businesses can open at 100 percent capacity. Both begin March 10. 
In his Executive Order (GA-34), Abbott credited treatments and vaccines, as well as personal responsibility, for his decision. 
"With the medical advancements of vaccines and antibody therapeutic drugs, Texas now has the tools to protect Texans from the virus," he said in a press release. "With this executive order, we are ensuring that all businesses and families in Texas have the freedom to determine their own destiny."
Still reeling from the impact of February's winter storm, where many Texans suffered without power, heat or water for weeks, the Governor may face a new hurdle in earning his citizens' trust. Many healthcare and municipal authorities are concerned about removing the mandate, particularly with COVID-19 variants emerging. 
Houston Mayor Sylvester Turner delivered a simple plea to constituents.  
Please continue to #MaskUpHou. #NewProfilePic pic.twitter.com/hxFkBO7wqB

— Sylvester Turner (@SylvesterTurner) March 3, 2021

And a majority of Texans will continue to wear a mask in public, according to a recent Twitter poll that the Houston Chronicle conducted. 
How do you feel about #Texas lifting its mask mandate next week? Will you still wear one? 😷 Let us know in the comments. https://t.co/BBmjCeFbZa

— Chron (@chron) March 2, 2021
Terry Hemeyer, executive counsel to Pierpont Communications and a longtime PR instructor at University of Texas at Austin and Rice University, told us, "Like most Americans, Texans have different points of view" about the Governor's orders.
How Can Brands Respond?
Many Texas business owners will find themselves between a rock and a hard place trying to determine not only what customers want, but how they can protect the health and safety of their employees. Some small business owners, while strapped for revenue during the pandemic, still expressed concern. 
I'm a Texan. I'm a small business owner. This is a terrible and dangerous decision that can kill people and may cause businesses like mine to have to stay closed to customers for even longer.

— Jenny Lawson (@TheBloggess) March 4, 2021

Hemeyer urged companies to "think of the health and safety of your staff and customers first. That's the number one concern." It's also a question of the kind of business you're in, Hemeyer said. He admitted these are difficult decisions. "Be very careful on this," he added.  
Lana McGilvray, founder and CEO of Purpose Worldwide, and a fellow Texan, advised what businesses should prioritize during this time. 
"It's sometimes hard not to let emotion get in the way of the right communications," McGilvray said. "But, if you use hard times to spark thoughtful discussions with your customers, which two-way channels invite, you'll increasingly be able to communicate based on the true needs and questions the audiences you care about want answered."
McGilvray also noted that most Americans are sympathetic to their favorite brands and businesses during this difficult year, and are rooting for them to succeed. 
"It's no surprise to see many customers publicly cheering for the businesses who are staying active in their communications, committed to serving their customers, protecting their teams and growing their businesses," she said. 
Examples of Outreach
It will be interesting to see how Texas brands and businesses respond. One example, from Lucy's Fried Chicken in Austin, Texas, is an Instagram post upholding the mask mandate, for employees and patrons.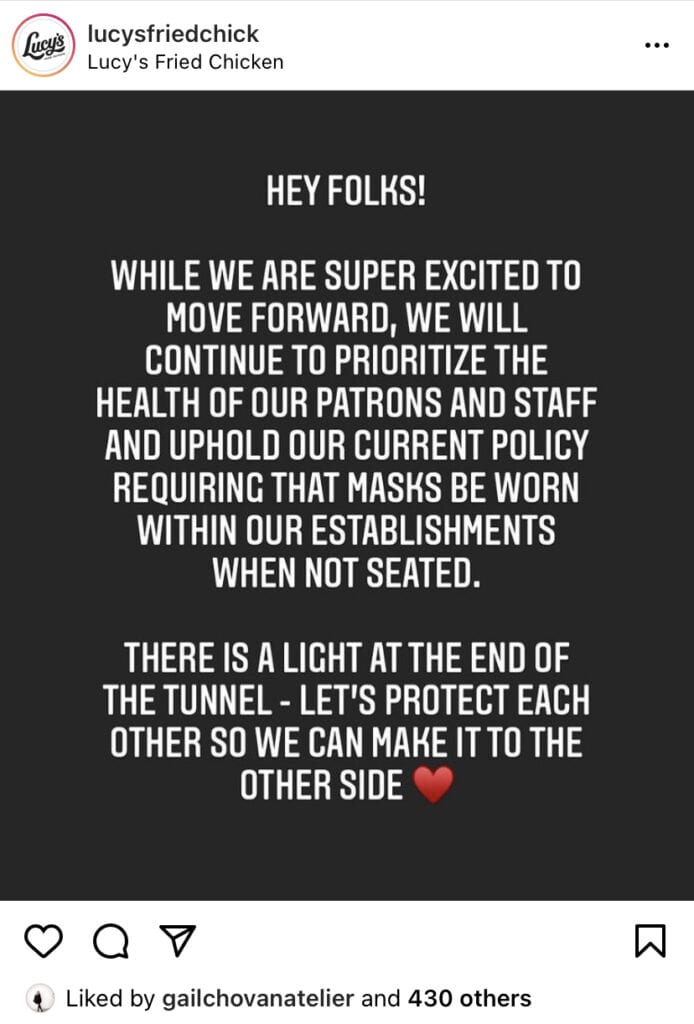 On the other end, beloved Texas grocer H-E-B, whose continual philanthropic actions supported Texas through the pandemic, and most recently the February storm, surprised many by ending its mask policy. Other stores, such as Target and CVS, will continue to require masks for customers and employees. H-E-B's president Scott McClelland said part of the decision comes from having to police belligerent customers—as the store dealt with more than 2,000 incidents last year. 
Here's @HEB's Scott McClelland on safety measures for H-E-B workers as fewer people wear masks inside the grocery store. He said there were 2,000 mask incidents in Houston stores alone over the last year.

More from @chron: https://t.co/3hOUUr25ei pic.twitter.com/n84uhBI6pw

— Jay R. Jordan (@JayRJordan) March 4, 2021
However, many customers aren't having it, and considering abandoning their H-E-B carts.
The minute I see a maskless customer my basket is abandoned and so is the @HEB at Wurzbach. @AmazonFresh and @WholeFoods are only a click away. #HEBrethink!

— Morning Has Broken! (@PrivacyWrites) March 4, 2021
It remains to be seen what impact the mask mandate removal has on Texas. However, after the difficult winter, the future and reputation of the Governor may emerge in the coming weeks.
Nicole Schuman is senior editor for PRNEWS. Follow her @buffalogal