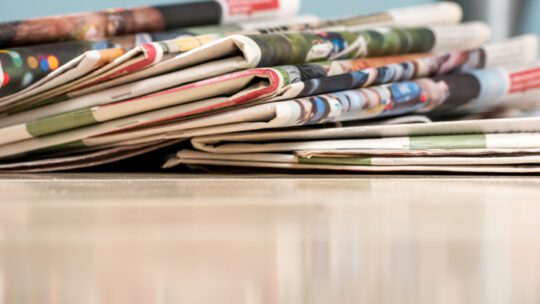 Getting opinions into the press just got harder. Gannett, USA Today's parent company and owner of 250 regional and local newspapers around the country, is urging its regional outlets to reduce editorials and opinion essays.
Poynter's Rick Edmonds reports Gannett found local readers prefer opinion content about regional issues from "expert local voices." Moreover, a series of surveys shows local readers dislike lectures from "the same-old [national] talking heads and political hacks." These articles in local outlets garner few readers, the surveys show.
That's great news for media consumers and PR pros with local messages. It's bad for writers, corporate PR teams and PR firms that favor placing national thought-leadership essays in local outlets.
Moving ahead, Gannett's op-ed editors likely will be more selective than previously. Here's how to get through this suddenly narrower gate.
The basics
Fortunately, media relations advice is similar regardless of where you're pitching. You'd never blindly pitch major media, the trades or local outlets without first reading their guidelines. Wasting an editor's time today can result in future pitches receiving even less consideration.
In the case of Gannett, study its revised submission guidelines. Its opinion editors are unlikely to care about national data, news, or events unless you include a local angle.
Similarly, InsideNoVa publisher Bruce Potter, who oversees several regional publications in the Washington, D.C., and Virginia suburbs, says in an email his publications have long prioritized opinion pages that are locally focused.
"We do not consider columns or letters about national issues; we think the local focus is critical because nowhere else can" local readers "find a variety of opinions on whether the board of supervisors should approve the county budget."
Pitching
Craft succinct pitches that convince editors, at Gannett or elsewhere, to read your essay.
Use not more than three short paragraphs to explain the essay's subject, why readers will care and why you or your executive is the right person to provide an opinion.
Be even more careful with your subject line–use every word you need, and none you don't. "The subject line is everything" when it comes to getting in the press, The Intercept's Ryan Grim told me three years ago.
This is more accurate than ever as Gannett's opinion editors tighten the screws–and remember, you only have eight words to get their attention.
Subject line takeaways
Here are some best practices for subject lines:
Research the relevant gatekeeper(s). Do they prefer formal or informal language? What is their viewpoint of the world and the issue you are addressing? Is it likely they will consider you or those you represent as authors of an essay at this moment?
Use the subject line to turn conventional wisdom on its head or offer unique spin on a subject. Be eye-catching and inventive, not insulting.
Make the topic relevant to the news cycle or calendar. For example, pitch a CPA's tips during tax season, not August. Irrelevance means your pitch will find the trash bin.
It's easy to grimace at how tough Gannett's decision will make placing opinion essays. However, as a media consumer and a former journalist, I applaud it for putting readers first. Redundant partisan drivel has lowered the national political discourse. It's the PR pro's job to help those we represent raise the bar.
Dustin Siggins is founder of Proven Media Solutions
[Editor's Note: The writer's views do not necessarily reflect those of PRNEWS. We invite opposing essays from readers.]