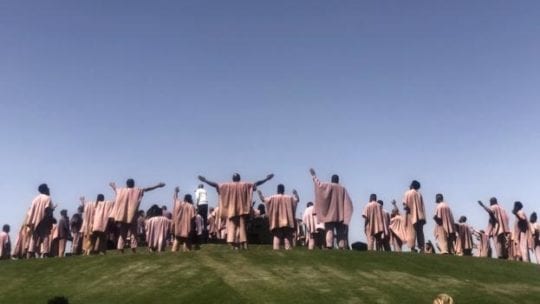 Considered by many fans of live music to be a harbinger of festival season, the Coachella Valley Music and Arts Festival arrives every April in the desert of Indio, California. Held twice during two consecutive weekends, Coachella has long provided artists with an opportunity to go viral around an imminent new album or other release.
As with most festivals these days, it's also not all about the music. The first weekend of Coachella 2019 saw Donald Glover, who headlined both weekends as Childish Gambino, also premiere his Amazon original film with Rihanna, Guava Island, and gift his new Adidas sneakers to lucky revelers via Apple's Airdrop feature.
Other stunts, however, were far less successful. Coachella has a history of being hit or miss when it comes to staging comebacks—one of the most memorable being funk legend Sly Stone's confounding, difficult-to-watch set and onstage meltdown, in 2010.
Never one to let another legend take the crown for long, Kanye West seems to have one-upped Sly. He did so with an opportunistic set during Coachella 2019's second weekend, held Easter morning and branded #SundayService. Seeking to repair the problematic year he's had alienating his audience, Kanye's set was largely received as rushed, opportunistic and appropriative. The overpriced merch didn't help.
That said, there is much that communicators can learn from Kanye. The main lessons center on when branding is inappropriate and how poor visual storytelling can drastically damage reputation.
Spiritual messaging must be genuine, or your audience will know
Ever felt the holy spirit entering your body after spending $165 on merch?

— Brian Josephs (@Bklyn_Rock) April 21, 2019
The Easter bunny is standard-issue, as are its colorful, plastic eggs. Though no one seems to really enjoy them, we have similarly come to accept Peeps as a brand associated with the holiday. Just because a holiday has been successfully branded, though, doesn't mean all branding is fair game.
Kanye has a long history of incorporating religious iconography into his work. It's so long, in fact, that fans have excused his god complex around artistic license—from songs "Jesus Walks" and "Father Stretch My Hands Pt. 1" to the GOOD Fridays series of tracks he released to tease the album, My Beautiful Dark Twisted Fantasy.
#Coachella pic.twitter.com/3E28Ui21Rc

— Def Jam Recordings (@defjam) April 21, 2019
This time the spiritual angle failed Kanye's #SundayService, however, as it was crammed into a festival known for hedonism and paired with minimalistic, incredibly overpriced merchandise—$165 sweatshirts with "Holy Spirit" across the chest, $50 pairs of "Jesus Walks Church Socks." Commercial opportunism is rampant at Coachella—but it's rarely been so blatant and in-your-face.
What branding is appropriate will change—pay attention to sentiment
also, lol at Kanye using the "black church" for his redemption but never apologizing to the black community for his action/words. i can't get into, and i think that's part of the reason it feels off.

— tahirah hairston (@tahairyy) April 21, 2019
It's not news that Kanye has had a problematic year with the black community—from saying "slavery is a choice" to aligning himself with Donald Trump. That made his decision to construct a mountain and hold a spiritual event in the style of a black church service seem disingenuous and artificial.
As PR pros know, a client's reputation is not static. A brand long known for a product, service or reputation might find that focus no longer relevant in the context of current events or changes in audience sentiment. Iterating your strategy with respect to audience sentiment, first and foremost, can prevent tone-deaf PR stunts such as this.
Don't make your audience struggle to see what's happening
Why would #Kanye want his #SundayService streamed using this lens?
What is the artistic advantage or purpose of visually communicating like this?#Coachella pic.twitter.com/mFE1Fg2NKn

— Denise Ratfield ???? #IWCBD (@deniserat) April 21, 2019
The last takeaway concerns visual storytelling. As a fashion designer and brand-builder, Kanye has a reputation for visual flair. To that end, broadcasting this livestream through a pinhole camera lens was confusing, off-brand and straining on the eyes.
Video best practice: horizontal x vertical@kanyewest: hold my beer
????Sunday service @coachella ???????? pic.twitter.com/3nOk46wfsz

— ᴅᴀɴɪ ʙᴏɢᴏ ????️+ (@danibogoricin) April 21, 2019
A pinhole camera's reputation is far from sacred, more associated with hidden camera shows and other acts of deception than a church service. Moreover, capturing video in any format other than horizontal is a bad move for professional communicators, as it commits your footage to dimensions that are much more difficult to repurpose on other social channels.
Moreover, the 50,000 attendees were kept at a long distance from Kanye's 'mountain,' sequestered from the communal intentions of such a performance and struggling to see what was going on while the choir and band literally looked down on them. After the year he's had, maybe Kanye's 'holier than thou' schtick isn't so effective anymore.
Follow Justin: @Joffaloff