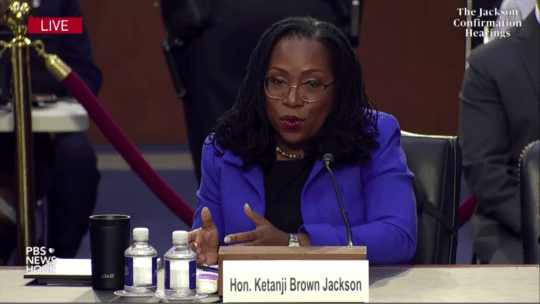 Her name has dominated newsrooms and households for weeks–and rightfully so.
Judge Ketanji Brown Jackson is one of the most qualified judges nominated to the Supreme Court. In addition, she is the only Black woman ever nominated.
No matter where you stand in the sand on her confirmation, the moment is historic. Confirmation hearings were also a live lesson in how to handle high-stakes interviews. Here are some of the most powerful takeaways.
Remain calm
Nerves of steel. There is no better way to describe her grace under pressure. Despite off-topic questions and interruptions, she remained composed. And despite some questions being steeped in poor taste–Do you attend church regularly?– Judge Jackson often began many answers with Respectfully, Senator …
For many of those communicators represent, interviews last just minutes. But, as we are keenly aware, it takes only a moment to end up in hot water over something you said or did on camera. (Will Smith and the slap heard around the world.)
Judge Jackson's ability to maintain decorum after hours of questioning might be a stress test worth including in media training.
Speak your truth
Stick to the matter at hand and remember goals and objectives.
In addition, Judge Jackson was intentional in ensuring questioner's words did not become hers. She never repeated a negative word or phrase.
She was also quite comfortable with silence. Sometimes, due to nerves, we fill silence with words. But, it's okay to take a deep breath, collect your thoughts and provide a response that remains true to your story. You are the driver, not the reporter.
Set the record straight
At times, journalists are not experts on every story they pursue. And despite their best efforts at objectivity, sometimes they get things wrong. This can lead the C-suite to incorrectly assume This reporter is out to get us.
And even if we agree, interactions with media members don't need to be contentious. The reporter is not the only person you're educating.
For Judge Jackson, when questions were presented without proper context, she didn't engage in a sparring match. Instead, she approached it as a teachable moment, often explaining complex ideas in great detail to a group who, no doubt, understood the ins and outs of the law.
Certainly, she was not speaking directly to the media during the hearings. Instead, she had an engaged audience beyond the Senate Judiciary Committee. An interview is greater than you and the person you're speaking to. It's okay to politely correct mistakes or misleading assumptions and then move on.
Over the next several weeks, we await a decision on Judge Jackson and her path to the Supreme Court.
No matter the outcome, may her master class in composure and empathy be a lesson for all communicators who help their organizations navigate interviews, speeches and presentations in front of the camera.
Because how you say it carries just as much weight as what you say.
Wendy Roundtree is founder and lead strategist of Jarel Communications