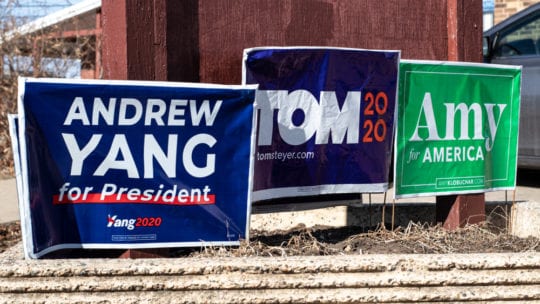 Remember the simplicity of hanging chads?
It seems like 20 minutes ago, instead of 20 years that electoral mishaps corralled themselves within the state of Florida. Iowa made its mark on political history Monday evening. The Iowa Democratic Party (IDP) failed to deliver same-day Iowa Caucus results, a benchmark for those campaigning, and the first chance to win delegates toward the presidential nomination in July.
Mandy McClure, the IDP spokesperson, first addressed eager media, candidates and followers in a statement around 10:30 p.m. CT. She claimed "data inconsistencies," and delayed results. IDP blamed a smartphone reporting application and a coding issue. The vendor is Shadow, Inc. 
While the political community is anticipating those results, slated for 5 p.m. ET today (Feb. 4)*, PR and crisis management pros are debating IDP's miscues. Technological glitches may be common, but to fail on such a grand stage, when you're counted on to provide timely results, shows cracks in an already shaky system, debilitating public trust in a year when it's vital. 
[*Update, Feb., 4, 5:30 p.m. ET: After about a 20-hour delay, the IDP released results, but only 62 percent of the precincts in the state reported.]
"Kellyanne Conway may have it right this time with her tweet: 'Can't run a caucus, can't run a country,'" said crisis expert Gene Grabowski, partner at kglobal. "This error is damaging to voters across the country because it sows doubt about the voting process and the Democrats' capabilities." 
Timing is Everything
After quickly releasing a statement, time did not seem to be on IDP's side. The digital world craves instant gratification, thanks to technology flying at the speed of light. This becomes critical during a crisis, and viewers and PR pros could agree that the pause in political action certainly stirred up the media, which delivered a panicked and confused set of pundits on cable news. 
The longer the media remains without factual information during a crisis, the more the tendency to lean into opinions, hearsay and public outrage. Sean Sebastian, caucus secretary for Story County's Precinct 1-1, had been on hold for almost 2 hours, hoping to report results to the IDP. CNN decided to interview Sebastian, playing up the excitement of live results reporting. The phone call went terribly wrong, resulting in an IDP official hanging up on Sebastian on live TV, with Wolf Blitzer anchoring no less. 
"In an age when news travels as fast as we can type, and things are on Twitter in an instant, the key in any crisis is to try and quickly establish facts, correct inaccuracies, and try and get ahead of the story by pushing your message across every platform available to you," said Eric Koch, managing principal at Precision Strategies. "And don't hide." 
"Last night was an exceptionally challenging situation...given the hyper-focus on the caucus," he added. "There's high stakes at play in getting it right. And people online may have a reason to try and sow discord and spread misinformation."
The IDP's plight included two objectives, leaving it in a very difficult situation. It was "trying to understand what was happening..., while at the same time providing accurate information to the public that was hungry for it."
No Plan? Go With Honesty
Planning for various scenarios is paramount. This is particularly so when depending on technology. Whether it's a controversial rules call in the Super Bowl, or a state-wide power outage, it's important to have a plan before a crisis occurs. 
Applaud IDP for trying modern technology to solve reporting problems of previous years. On the other hand, it needed to thoroughly test, learn and understand every part of the app, and know where things could go wrong. 
Last night's caucus probably was the wrong time to test a new technology, Dan Meyers, senior director and head of advocacy for APCO Worldwide's Washington-based public affairs practice, said.  The opportunity was there to set things right, though, he added. 
"Unfortunately, rolling out [the app] for prime time in this high-profile election cycle is not the best way to test the technology," Meyers said. "In addition, [IDP's] conflicting messages to precinct captains spilling into the public created a historic moment of chaos."
It may have benefited IDP to have contingency plans. The most important thing now is for the Party to be as clear and forthcoming with the public and media as possible, Meyers said.  
"If I were the state party, I would be laser focused on being as transparent as possible...they have a global spotlight shining on them of historic proportions. Any sliver of doubt undermines their entire process and future legitimacy."