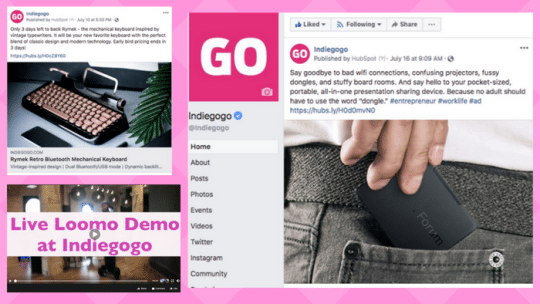 Content marketing is an element of many communicators' daily work. But it can be challenging to tie content marketing efforts to overall communications and business goals like audience growth and fundraising.
Crowdfunding giant Indiegogo is a master of marketing content to its target audience, primarily the backers of campaigns run on the platform. Kira Sparks, the company's director of integrated marketing, spearheads the content marketing initiatives that reach those potential backers.
While there's no one-size-fits-all solution to successful content marketing, Sparks says it's most important to play to your strengths, sourcing content that's close to home.
"Find 'easy' content, whatever that is for your brand," she says. For Indiegogo, that's the wealth of creative content created by the entrepreneurs fundraising on the platform.
Whatever your business model, Sparks points to four ways you can strengthen your brand's content marketing initiatives:
Be laser-focused on your audience. "Don't try to be all things to all people," says Sparks. In an increasingly fractured online environment, audiences seek out brands that specialize. Your content marketing should reflect this. Featuring products aimed at a specific community works well for Indiegogo, such as in the post below. This sends a signal to a particular segment of Indiegogo's target audience—in this case, the gaming community—and offers potential backers multiple touch points back on the brand's home turf (website, product page, etc.).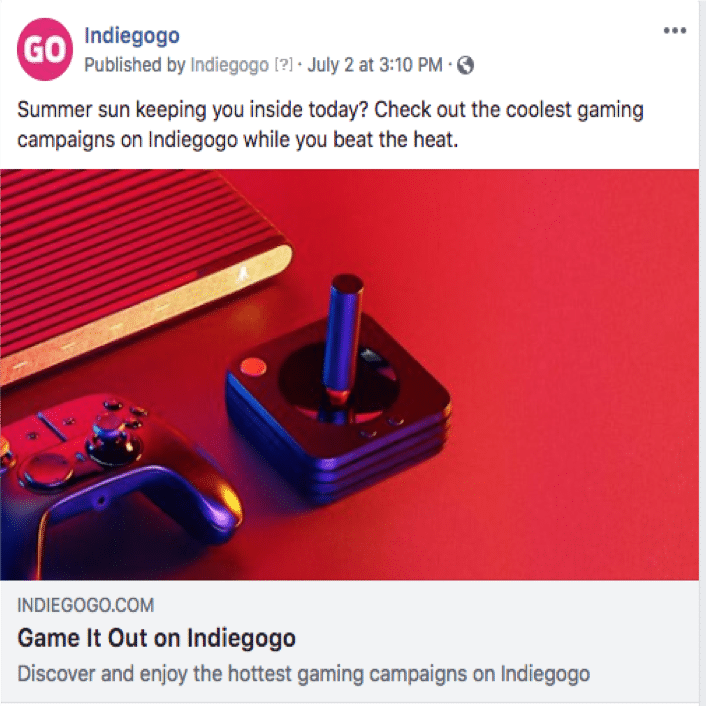 Run compelling engagement campaigns. "Deliver fun, snackable content and package it in new ways," Sparks advises. One example: piggybacking on holidays like International Women's Day, which Indiegogo leveraged to highlight female entrepreneurs running campaigns on the platform.
Figure out ways to tap into other communities. If you incentivize your audience and partners to promote for you, you can open the door to new followers and expand your reach at the same time. Sparks suggests partnering with likeminded companies that have a larger reach than your own, and making social media promotion a required part of all partnerships and co-marketing campaigns. Cross-promoted Facebook Live broadcasts with partners have been especially successful for Indiegogo.
Measure the right things, not everything. The wealth of social media and consumer data available can be overwhelming. Focus on metrics that tie the most directly to your business goals. Currently, Sparks' primary benchmarks are reach, engagement, clickthrough rate and funds raised.
Follow Kira: @kksparks
Follow Sophie: @SophieMaerowitz