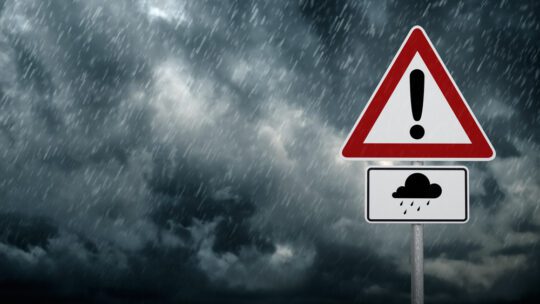 As the climate changes and severe weather events become more frequent, all PR pros have a relatively new discipline to master: emergency weather communications.
While public notices around dangerous weather conditions were once solely the realm of local governments and first responders, just about every type of organization now needs a climate-focused crisis plan in place.
Hurricane Henri, which was downgraded to a tropical depression over the weekend as it drenched large portions of the northeastern United States, proved the most recent test of emergency weather communications.
The not-so-great outdoors
One unique challenge this year has been communicating around outdoor events, which in many cases have taken the place of indoor events amid the pandemic. Canceling can be a tough choice, particularly when a company has made a large investment to put on the event, or if the event in question is an annual gala or conference key to an organization's revenue. The situation is high stakes — given the number of full cancellations in 2020, many organizations likely hoped the comparative stability of 2021 would make up for the previous year's losses.
NYC Homecoming: A case study in bungled events messaging
Mixed messaging is one peril of choosing whether or not to cancel an event. Waiting until the last minute can have consequences, as New York City found out this weekend during its much-heralded free "We Love NYC: The Homecoming Concert" featuring top performers (including Barry Manilow, The Killers and Bruce Springsteen), meant to celebrate the city's revival and reopening.
As reported by The New York Post, chaos unfolded on the venue, the Great Lawn at Central Park, when lightning descended a little before 8:00 p.m., triggering an announcement through the loudspeakers and onscreen for crowds to disperse. Despite these messages, Mayor Bill de Blasio appeared onstage to say the show would go on (the mayor also had announced a state of emergency an hour previous to the concert). A thread from local reporter Jeff Coltin chronicled the chaos; many social media users expressed frustration or ridicule.
THEN, eight minutes after the first announcements as tens of thousands people head towards the exit, de Blasio himself steps on stage on the mic and tries to say the show will go on?!

— Jeff Coltin (@JCColtin) August 22, 2021
The beauty of a simple microsite
While mixed messages and last-minute comms are common during major weather events, it is possible to thoroughly make important information available in an easily updated fashion. Rhode Island was hit particularly hard, with Henri bringing high winds and widespread power outages to the area. Luckily, Rhode Island affiliate WPRI has a dedicated microsite to list weather-related business closures, including whether blackouts had occurred. At the top, the date and time of the most recent update is listed. Although the site design is nothing fancy — simple text; an alphabetical index — the site gets the job done, giving Rhode Islanders a one-stop shop for updates on local businesses and services.
Having a central hub for Rhode Islanders to see the latest on their prized local businesses and government services is a best practice, according to veteran emergency communicators at the American Red Cross. "It's important for organizations to be clear, timely and sensitive to community needs any time we communicate important messages about safety. Knowing the local culture and way of life is paramount, as is tailoring our message to a specific audience," says Elizabeth Penniman, vice president of communications, American Red Cross.
And the northeast U.S. is, in this case, one of those niche audiences for communicators working on severe weather-related messaging to be aware of, according to Penniman. "People in the northeast may not be as familiar with hurricane-related weather terms like many along the south and southeastern coasts of the United States. Going the extra mile to ensure safety precautions are clear and providing additional resources like safety checklists and preparedness guides is essential to help people stay safe in the path of severe weather," she says.
A lesson in clear and concise e-blasts
Although many of us were glued to Twitter watching the incoming storm, not every community is as hooked into what's unfolding on social media in real time. So, the Red Cross relies on many different partners, including local news affiliates and agencies, to ensure on-the-ground messages are being heard, says Penniman.
Separately, email can prove a natural alternative to social media for regular updates.
As with pitching, email missives communicating weather emergencies are most effective when the core message is up top and broken down in a bite-sized format, like bullets. The Red Cross used this approach in its Hurricane Henri email outreach, setting expectations for the organization's role in addressing the crisis, as well as the first steps individuals and families should be taking to prepare for the storm. The email also provided a link for more information, which provides the organization with the flexibility to offer frequent updates.
An excerpt:
The Red Cross is getting shelter and relief supplies in position and has volunteers ready to respond.
While the exact path and potential impact of Henri is still uncertain, the Red Cross is coordinating with community partners and emergency responders to be ready to provide aid. 
How to stay safe:
Get your home ready in advance: cover windows with storm shutters or plywood, store and secure outside items to protect them from high winds.
Fill your car's tank with gas.
Know the difference between a watch and a warning. A watch means conditions are likely and to stay alert. A warning means act now. Stay indoors and away from windows.
Download the free Red Cross Emergency app for access to real time storm information and safety tips. The Emergency app is available in app stores by searching for the American Red Cross or going to redcross.org/apps.
Sophie Maerowitz is senior content manager for PRNEWS. Follow her @SophieMaerowitz.