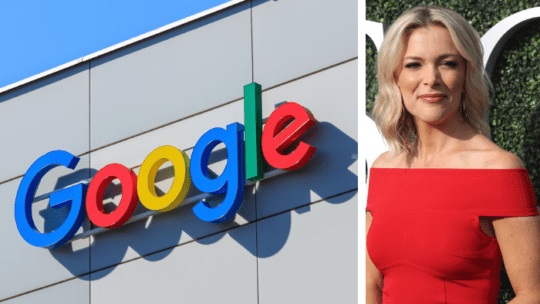 Google and NBC are both under fire this week for employees' inappropriate behavior, which was met with subsequent backlash in the news cycle and on social media.
A Times investigation published Oct. 25 stated that one of Google's top executives, Android founder Andy Rubin, received a "hero's farewell" when he left the company in 2014. Google did not disclose that Rubin had been accused of sexual misconduct at the time—the real reason, according to the investigation, that Google's then-CEO Larry Page asked for Rubin's resignation. Google paid Rubin a "$90 million exit package, paid in installments of about $2 million a month for four years," according to the Times.
NBC, meanwhile, has a different sort of crisis on its hands this week. Conservative television personality Megyn Kelly, host of "Megyn Kelly Today," will not be returning to her show, reports CNN, after comments she made defending blackface during an Oct. 23 on-air roundtable with other NBC personalities.
During the segment, Kelly said, regarding use of blackface in Halloween costumes, "Back when I was a kid that was OK, as long as you were dressing up as, like, a character." Later on in the discussion, Kelly defended Luann de Lesseps, a white cast member of "The Real Housewives of New York," for dressing up as Diana Ross last Halloween.
Kelly's comments drew ire on social media, including Twitter responses from a number of high-profile detractors like Patton Oswalt, Kelly's NBC colleague Al Roker and Padma Lakshmi, who called out Kelly's "ignorance," pointing to blackface's role in upholding Jim Crow laws "which served to humiliate & target Black Americans."
We don't put on white face when we dress up. Don't try and conflate the two https://t.co/tQz2wuO7Ez
— Al Roker (@alroker) October 24, 2018
Meanwhile, Google CEO Sundar Pichai sent out an internal memo to employees on Oct. 25 in response to the Times article, breaking the company's silence regarding 48 employees who had been ousted for sexual misconduct since 2016, including 13 senior-level executives. "None of these executives received an exit package," wrote Pichai, who said Google was taking "an extremely hard line" toward accusations of sexual harassment.
Pichai added that the company had updated its policy to require all VPs and SVPs to report relationships with employees, regardless of whether or not a conflict existed. This was likely a nod to the Times investigation, which uncovered several cases of coercion and inappropriate use of power by executives who pursued relationships with employees lower down on the chain of command.
Pichai's response was clearly co-authored by a communicator in order to address the exposure of Google's broken workplace culture. In the letter, Pichai owned the problem—"inappropriate conduct by people in positions of authority," directed affected employees to internal resources (an internal investigation report; Project Respect, a machine learning initiative to reduce biases), and committed to "serious consequences" for future inappropriate behavior.
However, Pichai's response failed to address the massive severance package Rubin received, and did not specify what the consequences would be for future instances of harassment. It also lacked a sense of remorse or direct apology from the tech leader. And it raised a further question— would Pichai have addressed the issue if the Times hadn't come out with its report the same day? Andy Gilman, president and CEO of D.C.-based firm CommCore Consulting Group, thinks not.
"Google reportedly fired and disciplined many employees for sexual harassment and other inappropriate conduct," Gilman told PR News. "While the brand wants its employees to know the company has no tolerance for these behaviors, it's not dirty laundry you want to air in public unless forced into it."
Andrew Ricci, principal of Riccon Strategic Communications, adds, "Google may have avoided negative press when they quietly separated from the employees in question, but this just shows that in today's age, nothing stays quiet forever." Ricci sees the late timing of the memo as a missed opportunity: "Google now looks like the party at fault here by sweeping it under the rug, whereas they could have taken a leadership role and proactively emphasized their company's values."
In Kelly's case, crisis communications best practice dictates that a direct apology was also called for. And Kelly did apologize—tearfully—live on air. "I was wrong, and I am sorry…Sometimes I talk, and sometimes I listen," she said on "Megyn Kelly Today" on Oct. 24, "and yesterday, I learned."
While Kelly's apology was warranted and timely, it was not enough to save her spot on "Today." Many had long questioned Kelly's move from Fox News to NBC, as her conservative views clashed with the political bent of NBC's core audience. And during a
"Today" airing on Oct. 26, NBC News correspondent Morgan Radford shared that, according to a source familiar with the situation, Kelly entered talks with the network "this morning…about her imminent departure."
"For NBC, there were few options when a public figure, Megyn Kelly, made such an obvious inflammatory and insensitive remark," says Gilman. "While her apology seemed sincere, we are in an environment of zero tolerance for off-hand statements. She wasn't helped by poor ratings of her show and the fact that other NBC employees did not think her apology went far enough." (Kelly's NBC colleagues, Al Roker and Savannah Guthrie, criticized her behavior during the 7:00 a.m. "TODAY" segment on Oct. 24).
Ricci agrees with Gilman regarding Kelly's ongoing strained relationship with the network, stating "Megyn Kelly's comment may have been the last straw for NBC, even though they've been having problems with her for a while."
But unlike Google, Ricci says, NBC can at least point toward its swift response to Kelly's behavior as an illustration of company values. "That lets them at least look like they're demonstrating leadership about what they will—and won't—stand for as a company."
Sorry, Google—looks like the peacock's got you beat on this one.