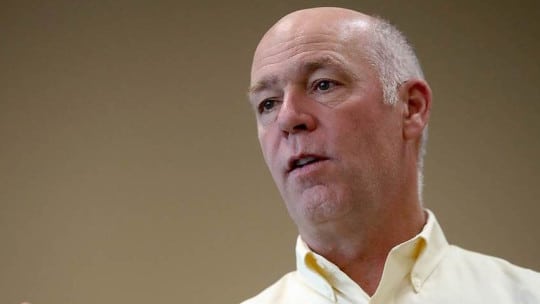 File under "signs of the times": Republican candidate for the House of Representatives Greg Gianforte violently assaulted a reporter May 24, according to the eyewitness account of a team from the Fox News Channel.
The victim, Ben Jacobs of The Guardian, entered a room at Gianforte's Bozeman, Montana headquarters where the Fox News team was preparing for an interview with the candidate and began questioning Gianforte about the controversial American Health Care Act. Gianforte made a brief attempt to put off the question until a later time before grabbing the persistent Jacobs by the neck and throwing him to the ground, breaking his glasses. Audio of the incident is below:
Gianforte currently stands charged with misdemeanor assault by the Gallatin County sheriff's office.
It's easy to read this incident as a trickle-down effect of President Donald Trump's long-running and vociferous antipathy toward the news media and its perceived liberal bias. A statement from Shane Scanlon, Gianforte's spokesman, reinforces such an interpretation: He offers an account of the facts that is contradicted by the victim and the witnesses, then blames the victim, saying "...aggressive behavior from a liberal journalist created this scene at our campaign volunteer BBQ."
In response to the assault and to Scanlon's statement, the Billings Gazette rescinded its endorsement of Gianforte, along with local newspapers the Missoulian and the Independent Record.
It may seem below even media training 101 to say that nobody should physically assault a reporter, but the fact is that reporters ask tough questions and ask them persistently. It can be enough to make many lose their cool, but this incident is a reaction that will be remembered as an extremely poor show—to say the least—of dealing with the media.
Follow Ian on Twitter: @ianwright0101