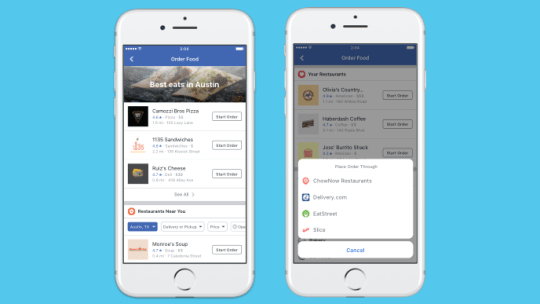 Facebook wants to be your everything.
For long-time users of the platform, it may have happened slowly enough that you didn't quite realize its ambitions. But take a step back and think about all the features that have been added since the days when you couldn't do much more than post a status or picture: games, trending news, classified ads, weather updates, fitness tracking, movie tickets, live video, ride hailing, group video chat, the list goes on.
If Facebook were the only app on your smartphone, you'd still have an amazing amount of functionality at your fingertips.
Food delivery is Facebook's latest endeavor, a move made possible by partnership with DoorDash, EatStreet and several other ordering apps. Noticeably absent from the list: Seamless. (Is a joke about Facebook "eating Seamless's lunch" any less groan-worthy if confined to parentheses? No?) Tapping the new "Order Food" app-within-an-app brings up a list of "Restaurants Near You" and a list of different types of cuisine to browse by. Tapping on a restaurant then links out to one of those ordering partners—your choice, if the restaurant in question works with more than one.
The app, then, is really a discovery app, not a source of revenue: Facebook doesn't charge fees or receive a cut of the order price. It's about getting users to spend more time within Facebook, which brings us back to that hypothetical above about Facebook being the only app on your phone—a situation that must be a fond dream for Mark Zuckerberg and company.
So what's next? Is Zuck, like Alexander, on the verge of weeping because there are no worlds left to conquer? Not by a long shot. Business Insider reports Facebook is testing a résumé feature, indicating that LinkedIn is the next platform in its crosshairs.
Follow Ian on Twitter: @ianwright0101