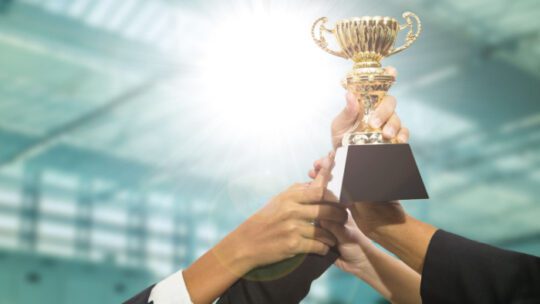 If your business is looking to build reputation and awareness, entering your projects and team members into awards can help.
The lasting impact of becoming a finalist or winner goes far beyond PR successes, carrying wider influence on morale for involved teams.
According to an informal poll by over 950 PR professionals, over 8 in 10 believe that awards are worth the PR investment, although more than half of those polled feel that this is only the case for certain awards. 16% have the opinion that investing in awards is a waste of time.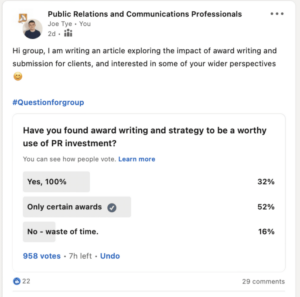 Having entered dozens of entries on behalf of previous clients with varied success, I agree with the majority that being selective about what you enter is imperative.
Selection and Process 
First, approaching decisions around award planning and submissions in a strategic sense is key. Familiarize yourself with the landscape of awards in your sector, understanding the credibility of the accolade and determining which specific target audience is watching.
There are two ways to start the award-planning process. With a category-first approach, you will need to identify ceremonies, categories and relative campaigns; with a project-first approach, you will need to identify a certain campaign or project and categories that would be a good fit.
I've seen success and challenges through both routes and believe a combination is best.
Regardless of the impact of AI in the industry, strong award entries take time to perfect, and engaging teams to work together and write about particular successes of a project, business or individual is valuable and empowering.
What you are doing in this process might lead you to think of other supporting PR tactics. Consider whether it makes sense to promote this case study on your website, whether there's a way to make it work for media coverage, or even whether the stats in the write up could be used elsewhere.
Writing with Impact
Below are a few thoughts that may help you in creating impactful entries.
Only showcase exemplary and relevant work. This seems an obvious point but you'd be surprised how many organizations 'try their luck' with work or outcomes that haven't demonstrated specific category criteria.
If you find yourself bending criteria, it might not be the award for you. The criteria is gospel, and projects closely aligned to that criteria are most likely to succeed. I like to color code my entries against criteria points to ensure everything is covered and nothing is missed.
Show the evidence. Quotes, case studies and statistics covering the qualitative and quantifiable impact of the project are key ingredients in a successful award entry. While requirements will vary, being prepared to share this information is key.
Supporting documentation is equally as important as the entry. The level of supporting documentation will vary with some awards, with some allowing you to share videos, marketing materials, case studies, research papers and the like. This is the icing on the cake, and should be used to solidify evidence and bring your text-based entries to life.
The Shortlist
If your business has been shortlisted for an entry, this is where we see opportunities increase. Most awards organizations will be active on social media to share the shortlist and you should take advantage of this opportunity to engage with the network.
Before the ceremony, speak to the award organizer to learn what they will be doing to promote the finalists. You might be asked to develop more content or prepare graphics or videos in case of a win.
Internally, think about how you can use this success to motivate and empower your team members, create your own website story and share this on your social channels. Awards organizations like it when their finalists are proactive, and are often willing to engage and share your content to their wider audiences.
If you are invited to deliver a further presentation, offer something different from what you have delivered for the entry. As an example, I supported a team to produce two extra video case studies with key partners mentioned in the entry on why they should win this award. Judges admire proactivity.
Additionally, connect to the judges. Research who they are as professionals, to ensure that by the time of delivery of that presentation, that you have something to offer everyone in the room.
If you haven't been shortlisted, learn why. Ask the judges for feedback and re-visit the entry to see what you might have done better and how you can improve for the next call for entries.
The Ceremony
Award ceremonies can be expensive, often balanced with how 'prestigious' the event is. This may be challenging, especially for smaller businesses that cannot afford the luxury of several seats or a table.
It varies by industry, but we do have a preconceived idea that if we aren't able to attend a ceremony in person, we likely won't win the award. Sales and judging teams are typically separated, and most awards organization will judge on impact, not based on who is buying the most tables.
There are plenty of ways you can get involved with the ceremony without having a physical presence. I recommend spending the day of the ceremony paying close attention to social media and engaging with those talking about the event to raise your profile on the night.
I would also see if there are any other opportunities during the evening to get your name out, perhaps a roll-up banner, literature or swag in event goody bags, etc.
For those able to attend, think about who you are bringing along. If the entry was in partnership with a supplier or client, bring them along to celebrate the success together.
You could also use it as an opportunity to raise the profile of some of your managers / COOs or even empower junior team members involved with the project.
While not all will see event attendance as a networking opportunity, if your audience or competitors are in the room, use this as a learning experience. Learn more about the projects entered and take note of the winners on the evening.
Beyond the Win
As a PR tactic, the great thing about winning awards is the longevity of the impact. If used efficiently within your communications, this tactic can create lasting benefits for a couple of years.
Here are a few ways you can build value into your successful award win:
Generate media interest from award win.
Place winner's logo on website, e-signatures, social media cover photos.
Talking about the win / project in new business pitches / presentations.
Using win to empower teams to come up with new projects.
Supporting recruitment through reputation growth.
In my opinion, award entries remain a strong tactic for building reputation and awareness of your business.
With that said, it is important that we recognize that selection / prioritization is key and perceived value can come from more than just winning.
Joe Tye is a freelance communications consultant at Simply Better Communications.