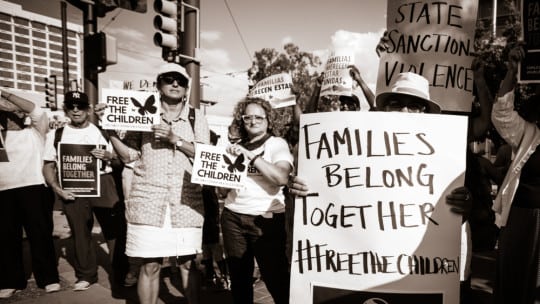 President Trump's "zero tolerance" executive order to break apart families crossing the border—along with some partial backpedaling—has activated an enormous swath of Americans to call for immigrant rights.
Employees of several companies, from Silicon Valley stalwarts like Amazon and Microsoft to professional services network Deloitte and its competitor McKinsey & Company, have publicly raised moral objections to the work that their companies conduct with the U.S. Immigration and Customs Enforcement agency (ICE), which carries out border separations.
The trend presents an question for internal communicators: How should brands respond when employees object to business partnerships on moral grounds?
Jason Meyer, a director of APCO Worldwide's corporate communications practice, says that direct communications from leadership to employees should always be a best practice in such circumstances.
"In addressing the concerns of employees, it is important that leaders clearly demonstrate that they hear and fully understand the root of the discontent," says Meyer.
Sending a message from the top accomplishes two things: First, it clearly defines the business' intentions and relationship to the client or customer. Second, this approach "reaffirms that leadership remains committed to proactively assessing the impacts of its operations," Meyer says.
McKinsey employees learned that the firm had signed a more than $20 million contract with ICE on the same day that the government agency announced its "zero tolerance" policy to separate immigrant families.
Then McKinsey's employees won out—the company agreed to sever all business ties with ICE, according to a report in the New York Times.
In a July 10 all-staff memo, McKinsey's managing director Kevin Sneader got out in front of the crisis. He explained that McKinsey was not working with ICE to implement its border activities, but simply providing "management consulting services" for the agency's "Enforcement and Removal Operations division." He also wrote that the company "will not, under any circumstances, engage in any work, anywhere in the world, that advances or assists policies that are at odds with our values."
This put pressure on Deloitte, McKinsey's chief competitor in the professional service sector, to follow suit. After Deloitte employees learned the firm was consulting for ICE, a petition circulated citing "moral objections" to the business partnership that linked to an article about McKinsey severing ties with ICE.
Daniel Helfrich, who leads Deloitte's government practice, wrote an all-staff email on July 12 that similarly claimed the firm's work "does not directly or indirectly support the separation of families," that "any such work would be inconsistent with our values" and that Deloitte had refused to bid on many contracts out of step with its values.
A similar disconnect between corporate values and employee outrage plagues Silicon Valley—Amazon employees were aghast that the company sold facial recognition technology to ICE, as per a report from the ACLU. And Microsoft offers a cloud computing solution to ICE that enables the agency to facilitate "deep learning" through artificial intelligence that one employee told Vanity Fair "hits a little too close to IBM's work during the Holocaust for me."
As employee activism continues to rise in Silicon Valley and beyond, Meyer emphasizes the opportunity that such moral issues present for companies looking to realign their values with those of their employees. "When developed with clear, employee-centric messages, such communications can serve to realign the understanding of employees about business impacts and rally them around a greater purpose," he says.
Follow Justin: @Joffaloff