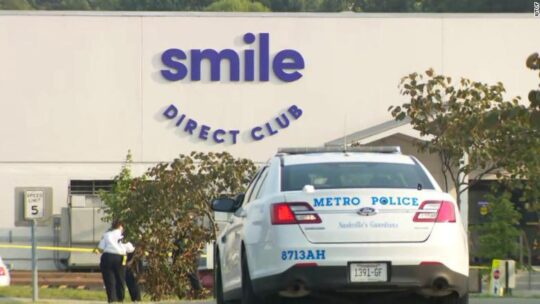 The headlines continue to remind us that we live in a dangerous world. The United States surpassed 300 mass shootings in June 2021, with more than 1,800 people injured or killed, according to research from The Washington Post. 
Today (Aug. 3) added to that total, as a gunman shot three workers at a SmileDirectClub facility in Antioch, Tenn., a suburb of Nashville. SmileDirectClub responded to a PRNEWS inquiry for a statement on the incident. It also delivered a message to the public via Twitter. 
"We are shocked and saddened by the tragic incident that took place at our manufacturing facility this morning, and we offer our full support to the victims and their families.  The safety of our team members is a top priority for our Company and we maintain strict security protocols.  We are grateful that security personnel on site responded quickly to the incident, and we are working to gather all facts and cooperate with local police as they investigate this matter."
One worker remains in critical condition, another in stable condition. A hospital treated and released a manager.
During these tense times, internal, or employee, communication remains a top priority for companies. Whether discussing changes to ever-evolving COVID-19 protocols or delivering clear, consistent communication about procedures for employee safety, PR professionals need to be prepared with a lot more than "thoughts and prayers." 
Gene Grabowski, partner, kglobal, says the response from SmileDirect is fine. "It thanks first responders, expresses concern for the safety of employees and notes that [the company] is gathering facts," he says. However, the statement lacks empathy.
"Like so many statements of this kind—and there are too many of them these days—it sounds rote and edited by attorneys," Grabowski says. "As an extra step, companies are well-advised to add more emotion to such statements, perhaps even adding a note of anger."
Grabowski also notes the importance of adding specifics. 
"When companies offer 'full support,' they should provide some details of what that full support looks like," he says. "Are people from the company with the victims and families at the hospital? Is the company paying for related expenses? Is the facility closed tomorrow or for the remainder of the week?"
Emi Kamezaki, senior account supervisor, employee communications, Cheer Partners, says, "After such a traumatic event, it's important to put employees' wellbeing first, surrounding them with support and understanding." She adds, "Give people the time and space to process in their own way and ensure employees have access to resources, such as therapists or counselors who can help them heal. Additionally, communicate with as much transparency as possible, preparing leaders to facilitate tough conversations and treat teams with empathy."
And because every organization is different, communicators should decide on a platform for and delivery of information to employees well in advance of a crisis or incident. Not every employee sits behind a desk. 
"It depends on their team's primary means of communication—at a manufacturing facility, I would imagine most employees would be desk-less," Kamezaki says. "Typically, email is the most efficient, but if that isn't an option, text messages or phone calls are good alternatives. In a crisis situation such as this, I would recommend leveraging multiple internal channels to ensure you're reaching everyone."
Nicole Schuman is senior editor for PRNEWS. Follow her @buffalogal