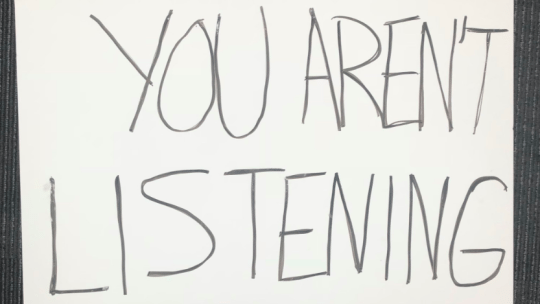 With so many voices clamoring for attention, total silence might be the only way to cut through.
Philadelphia Eagles player Malcolm Jenkins illustrated that point in a June 6 video of a locker-room press conference that instantly went viral on Twitter, and has racked up over 1.88 million views as of this writing.
In the video, posted by Sheil Kapadia of sports website The Athletic, reporters question Jenkins about the White House's cancellation of a June 5 celebration for his team's Super Bowl win. Jenkins ignores their questions, holding up a series of handwritten signs with statistics on mass incarceration and police killings of African-Americans.
Jenkins held up a sign saying "YOU AREN'T LISTENING" when one reporter appeared annoyed at his choice of medium.
Instead of speaking, Malcolm Jenkins holds up signs at his locker to get his message across. pic.twitter.com/mg9JdhFgYZ

— Sheil Kapadia (@SheilKapadia) June 6, 2018
The White House's cancellation came after several of the Eagles players said they would not attend the event, which has been seen by the media as a direct response to Trump's criticism of NFL players' kneeling during the national anthem.
When asked how he plans to continue his social justice initiatives in the off-season, Jenkins held up another sign with the heading "True Patriots," listing names of NFL players who have donated to or participated in criminal justice reform advocacy over the last two years.
You Aren't Listening! pic.twitter.com/41llVxwDEq

— Malcolm Jenkins (@MalcolmJenkins) June 6, 2018
Regardless of where one stands on the contentious issue of NFL players' protests, it's hard to argue with the effectiveness of Jenkins' approach. Most social media users scroll through their feeds without audio, meaning that anyone who comes across the video will by now have processed at least part of Jenkins' message.
Jenkins' verbal silence in the video has further resonance as a messaging tactic: It echoes statements from the Black Lives Matters movement and the NAACP that the U.S. government systematically silences the concerns and advancement of minorities.
Follow Sophie: @SophieMaerowitz