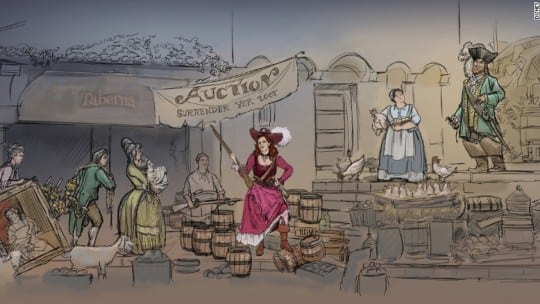 Sometimes you hear about a change being made in the name of optics and think, "Wow, how has that escaped an update for so long?" Such is the case with a section of the "Pirates of the Caribbean" ride at Disneyland Resort known as the "Wench Auction," which features animatronic women characters tied together to be auctioned off for marriage to lusty buccaneers.
Disney did not make specific reference to the above in its June 29 blog post announcing a new spate of tweaks to the ride. It simply said that "a familiar character is playing a new role" in a different auction and shared an artist rendering (see above). But fans of the ride immediately understood that the old scene was being axed, and that quickly became the headline that media outlets ran with.
"We believe the time is right to turn the page to a new story in this scene consistent with the humorous, adventurous spirit of the attraction," said Disneyland spokesperson Suzi Brown, as quoted in CNN.
A glance at the reader comments on Disney's blog post indicates mostly negative sentiment, with people protesting the change, bemoaning political correctness and waxing nostalgic about the old "iconic" scene. But a minority of comments support the change, pointing out that its depiction of women being sold into sexual slavery, something that still happens in the world today, is needlessly insensitive. Disney is making a smart move by risking a pang of fan backlash to proactively eliminate something that likely would have eventually become a heated point of contention.
Note also the savvy timing of the announcement: It was dropped going into a holiday weekend but at the height of the park-going summer vacation season, and just as the theater run for Pirates of the Caribbean: Dead Men Tell No Tales is nearing a close—the perfect time not to draw any attention away from its premiere, but perhaps to give it a boost of buzz in its last throes.
Follow Ian on Twitter: @ianwright0101