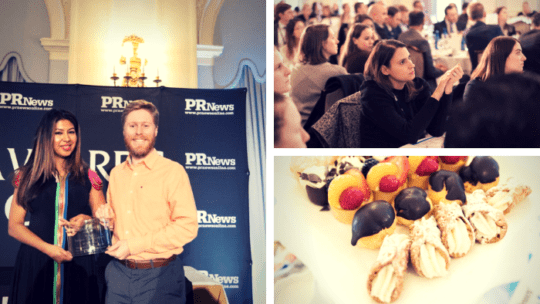 Each fall, PR News celebrates the top digital campaigns and initiatives of the last year at its Digital Awards luncheon. This year, the event will be held Nov. 8 at The Yale Club in New York City. Leveraging video, mobile apps, Twitter, Instagram, Facebook and more, this year's finalists have taken an unrivaled creative and tactical approach toward digital communications.
PR News' panel of judges took a 360-degree look at Digital Awards entrants, selecting finalists based on how well they laid out campaign objectives, strategy, tactics, execution and evaluation of ROI. Finalists come from a range of backgrounds and organizations, from boutique PR firms to tech companies like Cisco and Microsoft. Honorees span a wide number of industries including healthcare, the nonprofit sector, technology, consumer goods, automotive, finance and insurance.
Andy Cunningham, founder and president of Cunningham Collective, a marketing, brand and communication strategy firm, will keynote the Nov. 8 Digital Awards. Cunningham got her start in Silicon Valley, working with Steve Jobs to launch the original Apple Macintosh, and continuing to partner with Jobs as he transitioned to NeXT and Pixar. Cunningham recently published her first book, "Get to Aha!: Discover Your Positioning DNA and Dominate Your Competition," a treatise on how to use positioning strategy for industry dominance.
At the luncheon, Cunningham will discuss the art and science of influencing public opinion since the practice was invented in the 1920s. She'll share how communicators can orchestrate a prodigious digital footprint using channels over which they have complete control—and put an end to the "smile and dial" press relations of yesteryear.
The full list of 2018 Digital Awards finalists is below.
Annual Report
Aetna - The Aetna Story
City of Baltimore - 2018 - 2023 Inclusive Digital Transformation Strategic Plan
Hong Kong Tourism Board - We Make the Difference
National Association of Manufacturers - The Year of the Manufacturer
Priority Marketing - Guadalupe Center Impact Report 2017
Share our Strength - No Kid Hungry Campaign
u-blox
Workiva - 2017 Sustainability Report
Blog
John Guilfoil Public Relations - Rochester News Portal
Microsoft - The AI blog
Microsoft - Transform
 Branding
BrandExtract - Marathon Oil Company 2017 Rebrand
PJ Lhuillier Group of Companies - Virtual Reality Valentines' Date with Alden Richards
Rogers & Cowan - DreamWorks Animation #LiveLifeAnimated
Rogers & Cowan - Hostiles
Rogers & Cowan - Moviebill
Share our Strength
Cause Marketing/CSR
3rd Coast PR - Gift of Adoption Pro Bono Influencer Program: Raising Awareness for a Cause
CB&A - TeenDrive365 In School
HP Inc. - Reinvent Mindsets
Marina Maher Communications - J&J Ignites Its Commitment to Gender Equality in Support of #TIMESUP
NJI Media - DefeatDD: Take the Plunge Interactive Event
Periscope - Enlisting Farm Families to Strengthen the Monarch Flyway
Republica - Broken Crayons
Content Marketing
APCO Worldwide - "Yatte Minahare" and How Suntory "Went for It" in the United States
Cape Classics - Jam Jar #SummerOfSlushies
GMMB - You Can: Choose You
HP Inc. - The Wolf
Northwell Health - The Well
Microsoft - Plugged in: Making gaming accessible for people with disabilities
Microsoft - 'My God, it's better': Emma can write again thanks to a prototype watch
Prudential Financial - Prudential Financial Wellness Interactive Guides
Rasky Partners - The Weight Band: A Rockin' Social & Digital Media Campaign
Weber Shandwick - Taking on Sports Drinks at Their Own Game
Contest/Game
M&C Saatchi Sport & Enterta - Natural Light College Loans Program
WE Communications - #AzureTrivia
Digital Firm of the Year
Marina Maher Communications
PAN Communications
Rogers & Cowan
Tech Image 
Digital Marketing Campaign (100K and Under)
Circa Real Estate – It's About You
Cisco - #WeAreCisco #LoveWhereYouWork #Maythe4th
Horizon Pharma - #RAREis
Identity - ROSSETTI Inverted Bowl
Marina Maher Communications - J&J Ignites Its Commitment to Gender Equality in Support of #TIMESUP
Miami HEAT - Vice Campaign
Newlink - The first-ever campaign filmed out of an iPhone
Newlink - Paramount brings a dystopic future to Latin America with #HandmaidsEnParamount
PAN Communications - Phononic Store of the Future
Sallie Mae - Mission Finish Contest 
Digital Marketing Campaign (100K-200K)
M Booth - The Macallan: Gallery 12 AR/T Campaign
IW Group, Inc - Anna Sui x McDonald's
Solomon McCown & Company for Massachusetts Department of Children and Families Foster Massachusetts
Digital Marketing Campaign (200K-500K)
WE Communications - #AzureTrivia
Racepoint Global - MAIA "Live Boldly. Prepare Accordingly."
Argo - No Risk, No Reward Sponsorship Activation
GumGum - 2018 GO RVing
IW Group, Inc - Jack Daniel's Country Cocktails - Flavors of Pride
 Digital Marketing Campaign (500K+)
GMMB - You Can
GumGum - Honda Odyssey National Campaign 2017
Rogers & Cowan - Dear Basketball Digital Marketing Campaign
Rpr Marketing Communications - RoC Skincare #ForYourAge
Digital PR Campaign
Finsbury - UnitedHealthcare's Step Up For Better Health Sweepstakes
CB&A - Discover Your Happy
GE Healthcare - Lab Invaders LIVE: Inside the minds and machines shaping health and science
HP Inc. - ENVY ISS
HP Inc. - The Wolf
IW Group, Inc - Anna Sui x McDonald's
Johns Hopkins School of Nursing - Nurses are Groundbreakers
Nordstrom - Anniversary Sale
Rogers & Cowan - Dear Basketball Digital PR Campaign
Rpr Marketing Communications - Neutrogena SkinClearing Makeup
Volvo Trucks North America - World's Largest Unboxing
Digital Team of the Year
Dove Global Communications Team (Unilever)
Hunter Public Relations
IW Group, Inc
Microsoft
Northeastern University - News@Northeastern 
Email Newsletter
DEVENEY - Does Health Care
Gallagher Bassett - The Way
NewYork-Presbyterian - Health Matters News
Prudential Financial - Wellness Email Newsletters
Employee Communications Online
Aetna Powers Up their Content Marketing, Raises Brand Awareness & Empowers Employees and Leaders with LinkedIn Elevate
Peraton Does That - Innovation Exchange Series
Facebook Communications
Aflac - Advancing the National Discussion on Childhood Cancer
Association of International Certified Professional Accountants - Human Intelligence
Cisco - #WeAreCisco Facebook Live Culture Contributors
GMMB - Legendary Scams
RXMOSAIC - You Don't Know Jack About MS® Facebook Live Event
Influencer Communications
Brinker International, Inc. - #ChilisRoyalWedding
Marina Maher Communications - Her Life. Her Adventures.
Jackson Spalding - #ShareaCokewithATL
PAN Communications - SAP Leonardo and a Renaissance in Modern PR
Periscope - Taking the Dirt Road to Engage with Farmers
Rogers & Cowan - Dear Basketball Influencer Campaign
Rpr Marketing Communications - Neutrogena® Sun 2017 #MimicMommy 2.0 (The Movement)
Weber Shandwick - Beyond the brand: how MilkPEP built consumer confidence with trusted voices
Instagram Communications
Hunter PR - Pompeian Olive Oil Climbs to Instagram Success
IBM
Listening Campaign
Hunter Public Relations - Outback Steakhouse Teaches Chrissy Teigen and John Legend How to Make a Bloomin' Onion 
Media Relations Campaign
d exposito & Partners - Cada paso del camino (Every Step of the Way): An AARP Documentary on Latino Family Caregiving
DeVries Global - Mucinex #SuperSickMonday
HP Inc. - ENVY ISS
Rx Mosaic Health - Accu-Chek® Guide SimplePay Program Addresses an Underserved Need to Diabetes Control
Stanton - TD Ameritrade: LGBTQ, Millennials and Their Money: Survey
Unum - 2018 Unum Caring Report
Xcel Energy - Hurricane relief restores power while building brand
Microsite/Custom Site
3/Thirds - Customer Interconnection Tool
Microsoft - Launch of Microsoft book: 'The Future Computed: Artificial Intelligence and its role in society'
Microsoft - Marea Subsea Cable Online Press Kit
National Association of Manufacturers - Creators Wanted
Prudential Financial - Financial Wellness Portal
Mobile App 
M Booth - The Macallan: Gallery 12 AR/T Campaign
Univision - Conecta App 
Most Engaged Brand
Cape Classics - Jam Jar Super Fans / Most Engaged Brand
Circa Real Estate - Social Open Houses: Connecting Through Real Estate
Entertainment Software Association - Electronic Entertainment Expo 2018
New Site
BrandExtract - Marathon Oil 2017 Website
CAF America - Diaspora Gives Bangladesh
IW Group, Inc - Launching South China Morning Post in the US
Microsoft - Explanimators Video Series
Northwell Health - The Well
Nuclear Energy Institute
University of Chicago Medicine - The Forefront
Online Community
M&C Saatchi Sport & Enterta - Natural Light College Loans Program
YKK AP - I AM AN ARCHITECT Campaign
Online Newsroom
Alibaba Group - Alizila by Alibaba Group
Finsbury - UnitedHealthcare Newsroom
Gallagher Bassett - The Network
Microsoft Stories
Northeastern University - News@Northeastern
Samsung Electronics America - U.S. Newsroom
Public Affairs Campaign
CB&A - Operation Prevention
CLS Strategies - Medicare the Pod: CLS Strategies' Fight for Type 1 Diabetes Patients
John Guilfoil Public Relations - Rochester News Portal
Kivvit - ReachNJ 
Redesign/Relaunch of Site
BrandExtract - Marathon Oil 2017 Website
Children's Hospital of Philadelphia
The Hoffman Agency - Rethinking and Refreshing the City of Fremont's "Face" to the Outside World
NJI Media - Financial Services Forum: FSForum.com
Snapchat Communications
DEVENEY - Luxury Brand Makes Snapchat Debut 
Social Networking Campaign
Cisco - #WeAreCisco #LoveWhereYouWork #Maythe4th
Entertainment Software Association - Electronic Entertainment Expo 2018
Lambert, Edwards & Associates - North American International Auto Show 2018
PAN Communications - Inspiring Purpose in People, Drives Business Performance
PJ Lhuillier Group of Companies - Virtual Reality Valentines' Date with Alden Richards
Twitter Communications
DeVries Global - Mucinex #SuperSickMonday
FleishmanHillard - Untold Stories brought to life by AT&T at Tribeca Film Festival
IBM
Video
Citrix – GDPR: What You Should Know
Finsbury - "How to Distinguish Between a Cold and a Flu"
Golin - Know Narcolepsy Mechanism of Disease
HP Inc. - The Wolf
Microsoft - Explanimators Video Series
Porter Novelli - T-Mobile Brings Back the Sidekick(s) for April Fools
Rogers & Cowan - Delta Silent Disco Social
Rx Mosaic Health - Accu-Chek® Guide SimplePay Program Addresses an Underserved Need to Diabetes Control
Valley Forge Tourism & Convention Board - Monty the Fox Montco Mascot
Volvo Trucks North America - World's Largest Unboxing
Viral Campaign 
Rogers & Cowan - Dear Basketball Influencer Launch
Volvo Trucks North America - World's Largest Unboxing
WOW! Campaign
Cisco - #WeAreCisco #LoveWhereYouWork #Maythe4th
DeVries Global - Mucinex #SuperSickMonday
Horizon Pharma - #RAREis
HP Inc. - ENVY ISS
IW Group, Inc - Jack Daniel's Country Cocktails: Flavors of Pride
M Booth - The Macallan: Gallery 12 AR/T Campaign
PJ Lhuillier Group of Companies - Virtual Reality Valentines' Date with Alden Richards
Rogers & Cowan - Dear Basketball Oscars Campaign
Rogers & Cowan - Hostiles