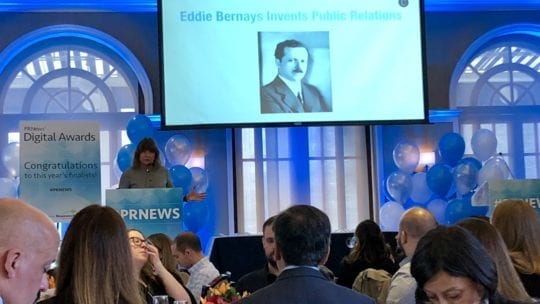 Communicators and marketers are continually adapting and learning new digital strategies to expand their brand reach and recognition. And each year, PR News' Digital PR Awards recognize the year's top digital communicators and campaigns in a variety of media such as video, website design, mobile apps and more. We announced the winners and honored all of the finalists for the Digital PR Awards at our luncheon Nov. 8 at the Yale Club in New York City.
Digital communications are always shifting. The winners and honorable mentions represent the best of the best in keeping ahead of the curve and raising the bar for PR with fresh, innovative ideas.
Keynoting the luncheon was Andy Cunningham, founder and president of Cunningham Collective, a marketing, brand and communication strategy firm.
An entrepreneur at the forefront of marketing, branding, positioning and communicating "The Next Big Thing," Andy has played a key role in the launch of a number of new categories including video games; personal computers; desktop publishing; digital imaging; software as a service and clean tech investing.
Andy came to Silicon Valley in 1983 to work for Regis McKenna and help Steve Jobs launch the Macintosh. When Steve left Apple to form NeXT and acquire Pixar, he chose Andy's PR agency to represent him. She continued to work with Steve for several years and has developed strategies for game-changing technologies and companies ever since.
The Digital Awards received hundreds of entries and winners were announced in 32 categories. Taking home the award for Digital Team of the Year was the Dove Global Communications Team at Unilever. The team led the charge for the brand's "No Digital Distortion" initiative, which spread the word about its commitment to depict real, true and accurate photos in its ads.
The award for WOW Campaign went to tech company Cisco. Capitalizing on Star Wars Day, Cisco asked employees to post why they love where they work and to utilize the hashtags #Maythe4th, #WeAreCisco and #LoveWhereYouWork.
And this year's Digital Firm of the Year is Rogers & Cowan. Among other tremendous work nominated for numerous awards, Rogers & Cowan helped Delta generate buzz with its #DeltaSilentDisco in-flight dance party, also boosting LSTN headphones. That effort yielded 150,000 social engagements and close to 50 million impressions.
Be sure to check out the rest of the award winners and winning campaigns.