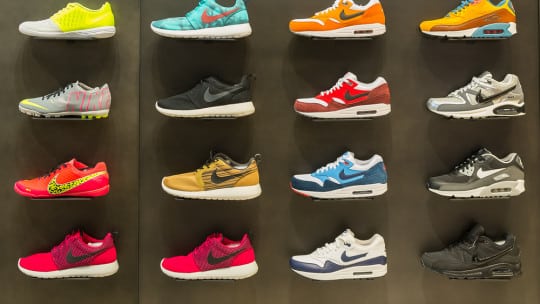 To paraphrase the actor Edmund Kean (1787-1833) very badly, "Dying is easy, transparency is hard."
Nike urges "Just Do It." PR pros might encourage the swoosh brand to just do transparency. For weeks it's been shedding senior male executives with very little explanation.
These departures include Trevor Edwards, who was the heir apparent to CEO Mark Parker. Just a few weeks ago Edwards announced he was retiring in August. Several other senior males also left, though some without even a statement. Parker later told financial analysts he'd work through 2020. He also said steps were being taken to address unspecified cultural issues at Nike.
Toward the end of last month, Antoine Andrews, VP of diversity and inclusion, resigned. About Andrews, Nike said something, although it was cloudy. Andrews, Nike said, engaged in "conduct inconsistent with Nike's core values and against our code of conduct." It added no direct allegations of misconduct were made against Edwards.
A Failure to Gain Traction
A less-quiet bit of news involving Nike occurred in April's initial days when prominent media outlets got hold of a memo Nike H.R. chief Monique Matheson wrote to employees. The memo was about diversity. Nike had just done it—the ratio of men to women in its global workforce was nearly 1 to 1. Where it had failed was at senior levels. Women and people of color were lacking in senior roles, Matheson wrote.
Was this internal memo's leak intentional, meant as an olive branch's worth of transparency? That's hard to know. What PR pros know, however, is anything you say internally can be expected to eventually be seen externally.
Getting back to the senior male executives departing. Of course, when bits of news make their way into the media, piece by piece, journalists often take the bait. While the mysterious Nike departures were hot topics in fashion and athletic trade publications, they barely ruptured the mass media's news cycle.
That changed late last week when the NY Times assembled a large story detailing a culture at Nike that not only featured sexual harassment, but also bypassed or excluded women from senior positions.
Why Heads Rolled
The newspaper's story also hazarded a fairly educated guess at what prompted the sudden departure of senior male executives. Apparently a group of frustrated female employees organized a survey about their time at Nike. A package of completed surveys landed on CEO Parker's desk March 5, the Times reported. Male heads started to roll not long after.
Back to our opening point about how difficult it is sometimes to be transparent. On the other hand, failing to be transparent about what's going on at your company can be devastating for a brand's reputation. It's hard to believe the media stories about Nike's culture are finished. They might just be starting.
Postscript One: Nike last week promoted Amy Montagne to VP/GM, global categories, replacing Jayme Martin, one of the senior males who'd resigned, the Portland Business Journal reported April 30. The company also promoted Kellie Leonard to chief diversity and inclusion officer and elevated the position to C-suite status. She replaces Edwards, the VP of diversity and inclusion.
Postscript Two: The NY Times, which exposed Harvey Weinstein and Bill O'Reilly, reported April 30 its veteran Metro editor Wendell Jamieson resigned. In an article quoting a newsroom memo, the newspaper said Jamieson departed after an internal investigation, but it "did not specify the reason for his departure."
Indeed, transparency is hard.
Seth Arenstein is editor of PR News. Follow him: @skarenstein
Update (May 2, 2018, 9am): The NY Times continues to refuse to provide additional details about the Jamieson matter, yet in what appears to be an unusual situation Times' reporter Tiffany Hsu is advancing the story.  In the May 2, 2018, Times Hsu writes Jamieson was "accused of inappropriate behavior by at least three female employees, according to two people familiar with the investigation." She adds, "According to one person familiar with the investigation, the Times statement lacked detail because the women had asked that their identities not be revealed."