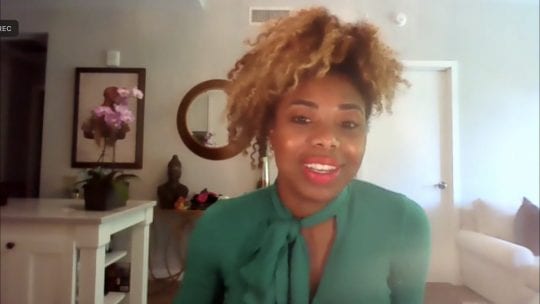 The PR industry sits at a significant point in history. Communicators craft messages during a time that may be remembered as a great boost forward for diversity, equity and inclusion (DEI). 
In turn, DEI was a catalyst for change in 2020, Omnicom chief equity & impact officer Emily Graham said during an impassioned keynote at PRSA-NY's first Juneteenth Summit, "Driving DEI Forward in PR Campaigns, Workplaces, and Beyond" June 16. DEI shouldn't just be a strategy, but a core value, Graham said. 
"You may hear DEI is great for business, but not a generator of revenue," she said. "But just because we don't have a P&L always, doesn't mean we aren't integral."
Graham, who began her PR career in financial services, saw discrimination in that industry's perception of the wealthy and poor. She also said she saw huge wealth and access gaps, and few people who looked like her.  
"When you look at [who represents] banks and wealth management companies—it's rare to see people of color, except occasionally for males in leadership," she said. 
These inequities motivated Graham to become a DEI champion and create strategies that would impact client messaging and thinking. 
If DEI advocates do their job, people no longer will ask, 'What is the business value of DEI?' She added that DEI "IS the business. If people don't invest in it, there will be no progress. There's no way to get leaders to consider DEI strategy, if they don't already."
The Pandemic's Influence
With many daily distractions gone, the pandemic allowed a lot of people time to reflect. Graham noted that before COVID-19, she traveled 60 percent of the time for work. The DEI reckoning proved not a coincidence, but a product of the daily slowdown. 
"With most communicators sitting at home...we were paying attention, reading...we had to sit with ourselves and our thoughts," she said. "It raised our consciousness."
The extra time also revealed new outlets for messaging, bypassing traditional media relations. An example was the social media video post of the murder of George Floyd. It was so significant The Pulitzer Prize Board recognized Daniella Frazier, the teenager who recorded the video, with a citation.
"The veil has been lifted on what people are going to tolerate," Graham said. "2021 DEI is experience-led, leading with things that have happened to them, what they've witnessed. It doesn't make traditional media as critical—it can go on Twitter or LinkedIn. Activism is online. The media is still a critical vehicle, but mostly because people are talking about what they've really been through. George Floyd was a nine-minute video that changed the world. Record and shared, no story written."
Changing the Culture
DEI cannot effect change if it remains in a silo, Graham believes. Nor, she said, should it just be the responsibility of Black and brown people. 
"In order to get things done people have to rally and feel vested, see themselves in it," she said. "It must be someone's full-time job. Accountability and responsibility is not always the same thing. [DEI] must be personal for it to resonate. Develop relationships across the business. Everyone has a role to play." 
Moreover, internal communication and recruiting and retention also play huge roles. Employees, she said, will remove themselves from a situation where equity is absent.  
Employees "talk to one another...to hear what the culture [of an organization] is like. No amount of press releases can mask that."
Graham said exit interviews are critical too. Companies should ask employees why they're leaving and address those issues, she said.
"Representation cannot be duplicated. Someone who is an 'only' or a 'few' will look around and want to see themselves. It will make them feel more invested and happier in their work. If they are leaving in droves, it is definitely you, not them."
For example, employees are noticing which businesses are acknowledging Juneteenth, Graham said.
"A lot of [PR] agencies are not acknowledging Juneteenth, and employees may not tell you that bothered them, but when they resign they will tell you," she said.
Finding Courage
Graham acknowledged that speaking up can cause anxiety initially, and that she struggled at the outset. Following her instincts helped.
"I [went] into a cost/benefit analysis—'What do I have to gain in my work to not be honest and forward in what I believe is important in a professional and personal sphere?'" Adding, "It was a career-limiting move, and I was terrified at first. I didn't know how it would turn out. I had to take that bet because it was my passion and purpose. You can find other jobs, but you have one chance to leave a legacy."
Graham said to see real shifts in the PR industry it has to deal with its inequities. She encouraged PR pros to take action.  
"Find your identity as a communicator. Advance your understanding of DEI and help shape the legacy we are leaving the industry. You can do both—don't let anyone tell you you can't."
Nicole Schuman is senior editor for PRNEWS. Follow her @buffalogal