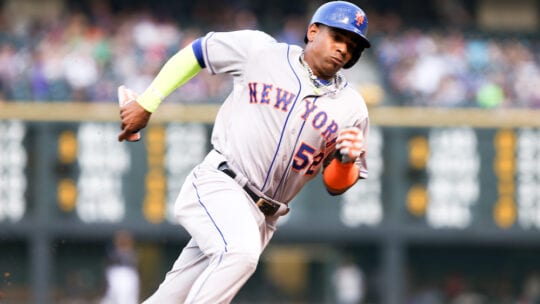 Like a Nancy Drew page-turner, Sunday's mystery of the vanishing baseball player took a shoddy communications road not many PR pros would care to ease on down. Yoenis Céspedes, an outfielder and designated hitter for the New York Mets, chose to opt out of the rest of the 2020 Major League Baseball season out of concern for the coronavirus. But before that acknowledgement, the Mets issued a statement suggesting the blockbuster player was missing. 
Umm… pic.twitter.com/x7246IarrM

— Tim Britton (@TimBritton) August 2, 2020

The statement created a frenzy among Mets fans on Twitter, who hoped the oft-injured slugger was alright. Many fans questioned why the ball club would post such a message before confirming his well-being. 
This doesn't sound good. Hope he is ok.

— 🦈 JP "The Man Of" Steele 🐉 (@DuckyMedwick7) August 2, 2020
Isn't a press release like this (and issued so quickly) rather out of the ordinary? I can't tell if it's supposed to be a public shaming, or their version of an amber alert.

— Gregory Isaac (@GTIRUNS) August 2, 2020
I get his history, but they should make sure he's ok before sending this out

— Matt Straub (@Mattatthebank) August 2, 2020
Thankfully, reporter Ken Rosenthal of MLB on Fox stepped in to let all know Céspedes was not in danger. 
Mets have learned they have no reason to believe Cespedes' safety is at risk, according to a source with knowledge of the situation.

— Ken Rosenthal (@Ken_Rosenthal) August 2, 2020
This led fans and reporters to be more confused, ultimately discovering that Céspedes decided to opt-out of the season, leaving his hotel room bare, without notice to coaches or teammates. 
The Mets had sent security to investigate Céspedes' hotel room this morning when they could not find him. Neither he nor his belongings were there. Brodie Van Wagenen says he found out only later in the day that Céspedes had left the team.

— Anthony DiComo (@AnthonyDiComo) August 2, 2020
This news led fans to react one of two ways—anger at Céspedes for his un-ceremonial, unprofessional sneak-away, or anger at the Mets for handling the situation in such a sloppy manner. Many fans even expressed theories that the Mets knew about the player's decision, but decided to create a smear-campaign online. Either way, no one is happy. 
Completely unprofessional for Yoenis Cespedes to opt out without telling a single soul in the organization ahead of today. Had people out here worried when he could have sent a text to clarify.

— Gary Sheffield Jr. (@GarysheffieldJr) August 2, 2020
From the Mets Perspective
The Mets are riding a wave of shame, especially after a 4-0 loss to the Atlanta Braves, their 5th in a row, following the departure of Céspedes. The team has opened the pandemic-shortened season with 3 wins against 7 losses. Céspedes earned a spot in the history books when he became the first DH to homer in a National League game. Besides that home run, Céspedes showed flashes of his former brilliance. Overall, though, he was batting just .161 through the Mets' first 9 games. Critics joked that his bat was socially distancing from pitches this season. 
Arthur Solomon, a former SVP/senior counselor at Burson-Marsteller, says righting this wrong could have been simple in the early hours of the crisis.
"The Mets should have released all the details the minute they had them and not waited until after the game," Solomon said. "By not doing so, viewers of the [Sunday Mets-Braves national] telecast were left wondering what happened."
Mets leadership maintains it received no inkling of Céspedes wanting to end his season. The Athletic reported that Mets manager Luis Rojas confirmed he was as shocked as anyone else.  
"This is definitely a surprise for me," Rojas said. "Him and I have had conversations regularly about playing time, where he was going to hit in the lineup, building him up in the outfield.''
Fan-favorite Pete Alonso took questions today about Céspedes during his media session. Alonso took the high road, saying he was a "great teammate," and even if there was a "loss of communication," he respected the decision. 
Do you feel betrayed by Yoenis Cespedes?

Pete Alonso: No pic.twitter.com/DrtEqMvqaj

— SNY (@SNYtv) August 3, 2020
While fans may take out their frustration on the Mets due to their communications folly, the Mets did the right thing by pulling together and focussing on the team. But to really earn fan trust, Solomon said the team must put together a better season. 
"The Mets must field a winning team in order to gain the trust of their fans," Solomon said. "It's an 'actions speak louder than words' situation because they have been so bad." (And not just on the field.)
Céspedes and Reputation
This is not the first time Céspedes has wreaked havoc with the Mets organization. He suffered a fractured ankle in 2019 on his ranch, after an altercation with a wild boar. At the time, Céspedes was recovering from a previous surgery that kept him off the field for all but 38 games of the 2018 season. Céspedes  batted .262 with nine home runs and 29 RBIs in those games. He hoped to rejoin the team at the end of the 2019 season. The boar incident ended that possibility.
Just walking away from a position, without notice, never looks good. It's unprofessional and will not bode well for Céspedes should he seek to sign with a new team. In any job, deciding to just not show up, rarely turns out well. The real world is not "Office Space." 
Céspedes has some work to do, according to Solomon. 
"He should hold a presser and give detailed reasons for his actions, and during it apologize to fans for not playing up to his potential," he said. "If he wants to gain an immediate boost to his reputation, he should say that he will donate the salary he earned during the games he played to COVID-19 relief organizations."
While this is about as likely as a second bout with a wild boar, stranger things have happened.
Nicole Schuman is a reporter for PRNEWS. Follow her @buffalogal