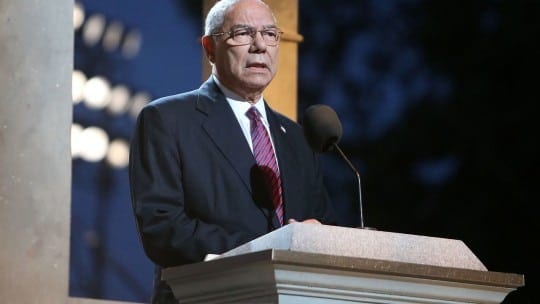 "Colin Powell Urged Hillary Clinton's Team Not to Scapegoat Him for Her Private Server, Leaked Emails Reveal"
"Colin Powell Called the Cheneys Idiots"
"Colin Powell Called Trump a 'Know Nothing' and Compared Him to Jerry Springer"
"Colin Powell: Hillary's Hubris 'Screws Up Everything'"
"Email Leaks: Dem Mega-Donor Tells Colin Powell the Clintons 'Hate' Obama For 2008 Loss"
"Colin Powell Called Benghazi a 'Stupid Witch Hunt' — And Condi Rice Agreed"
"Colin Powell Calls Trump a 'National Disgrace' in Personal Emails"
The above is a sampling of headlines across the web resulting from a hack and subsequent leak of former Secretary of State Colin Powell's emails. The content of those emails is, it is safe to say, impolitic. Although publicly Powell has a history of staying above the political fray, in his private correspondence he made his true opinions clear—and they cut both ways in this election cycle. Therein Hillary Clinton is "greedy, not transformational" and guilty of "unbridled ambition," while Donald Trump is an "international pariah," his anti-Obama birther movement "was racist" and he "takes [black voters] for idiots."
It doesn't stop with the candidates: The word "idiot" is applied to both former Defense Secretary Donald Rumsfeld and former Vice President Dick Cheney, retired Lt. Gen. Michael Flynn is "right-wing nutty" and Bill Clinton is "still [censored]ing bimbos at home."
This leak, beyond its immediate implications, is notable in that it's part of a trend that shows no signs of ceasing: the private correspondence, photos and other data of public figures and businesses being stolen and shown to the world. Just in 2016, notable hacks include the DNC emails, the Bitcoin exchange BitFinex, Oracle's point-of-sale systems, HEI Hotels' payment systems and customer information, actress Leslie Jones' private photos and documents and the Twitter accounts of Mark Zuckerberg, Jack Dorsey, Dick Costolo, Marissa Mayer and more.
It's getting to the point where we should start to doubt whether digital privacy is a reliable concept anymore. For PR professionals in particular, it's time to put that doubt into practice in their internal communications. Email and Twitter DMs are not mediums where one can safely blow off steam or otherwise behave unprofessionally. Before you click "send," here is a thought process we recommend:
Imagine your team seeing it
Imagine your supervisor seeing it
Imagine your whole company seeing it
Imagine your competition seeing it
Imagine the press seeing it
And in each case, imagine what the result could be: A censure? Loss of your job? Blackmail? Your brand's stock price tumbling? Exercise makes you stronger, and what we should be exercising now more than ever is caution.
Follow Ian on Twitter (but please, don't hack it): @ianwright0101