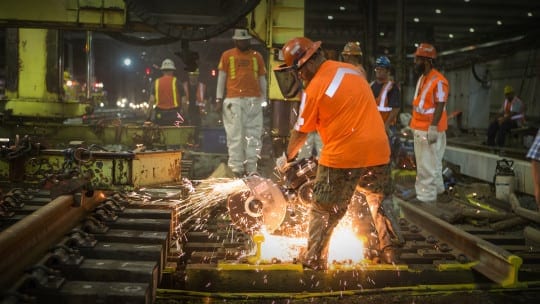 Thousands of commuters from New Jersey and Long Island braced for the worst when they learned about a major refurbishment of New York Penn Station's infrastructure spanning July to September 2017. Before work even started, the communications team at Amtrak, owner of Penn Station, was working at a disadvantage. The media had already dubbed summer 2017 as the "summer of hell."
But after the work was completed and service resumed as usual in early September, commuters seemed to come through the other side unscathed. The New York Times even declared "Summer Was Not So Hellish for Commuters at Penn Station." Amtrak's communications team can claim some of the credit for that success.
Christina Leeds, media relations and business communications director at Amtrak, said the key to the successful PR efforts was having a clear plan for the life of the project, and sticking to it. "We knew that this was going to be a long-running campaign, and we committed to remaining transparent and providing regular updates throughout."
Leeds, who will be talking about the Penn Station project in more detail at the Media Relations Conference, Dec. 6-7 in Washington, D.C., shared the three major pillars to the successful campaign, and how other communicators can apply the lessons learned along the way.
Be as Transparent and Proactive as Possible
The refurbishment project could've easily been a brand crisis for Amtrak. But with the goal of transparency leading the way, Leeds and her team created a clear source of information for the media.
Instead of passively fielding countless phone calls or emails from the media demanding details about the construction, Amtrak established consistent updates. "We held weekly conference calls with the media," Leeds says. "People knew what to expect and when to expect it."
Provide Visual Content, and Lots of It
Visuals played a huge role in Leeds' strategy for this campaign, and was all made available through a single source on Amtrak's website. There, the media (or anyone interested) could find organized and free-to-use videos, photos, infographics and maps, as well as progress reports, FAQ's, traditional news releases and more.
"The time-lapse videos were a great tool to show the scope of the work being done along the way," Leeds said. A great tip for communicators working on a tight budget: All of the time-lapse videos were shot on a simple GoPro camera set up at the construction, and edited by an in-house team, proving that shooting video for the media doesn't have to be very expensive or perfectly polished to be effective.
Don't Forget About Your Customer/Audience
Despite their proactive work with the media, Leeds and her team never lost sight of the concerns of Amtrak's customers in the New York hub.
"One of the greatest challenges of this refurbishment was the space constraints of working in Penn Station," Leeds says. "We tried to tell that story so people could understand why we did what we did."
From social media updates across all platforms, to seat-back cards on the trains, to well-informed employees prepared to answer customer questions, Amtrak worked to provide as much information in as many ways as possible.
Connect with Christina: @ChristinaELeeds
Connect with Samantha: @samantha_c_wood